Kinh doanh
The job is "unlike anyone else": Master… tearing his pants
For the past 25 years, in the heart of Saigon, there is a man who does a strange job every day: tearing jeans. The job is like no other but attracts a lot of customers who are young people…
…even famous artists thanks to their skillful hands create jeans with new colors and unique styles.
Occupation "poison"
The creator of the craft of "tearing pants" manually and living with this profession for the past 25 years is Mr. Truong Tan Vien (58 years old, living in Ho Chi Minh City). Every day, Mr. Vien usually starts work at around 3 pm and ends late at night. For nearly a year, due to the epidemic, he only worked from home, until October 2021, when the epidemic subsided, he reopened his shop, on Ho Xuan Huong street (District 3). Call the shop for luxury, it's actually just a small corner on the sidewalk with a plastic chair and a pole to hang ripped jeans that have already been torn and hung up for sale.
"In Ho Chi Minh City, I must be the only one who does this job by hand. I will continue until I can't anymore, because most of the goods that young people can make now are also industrial machines. With me, each customer will have a pair of pants with their own style, no one touches anyone and only that person owns!" – Mr. Vien is interested
I visited and enjoyed watching Mr. Vien carefully cut each line on his jeans and then tore each fabric, after blowing the dust, the pants had torn pieces in a "unique, strange" style. Seeing that there were customers curious about his profession, Mr. Vien did not show any discomfort, but enthusiastically guided and illustrated in detail how to tear his pants. I wondered: "Aren't you afraid that your child will learn a trade and then win customers and take away the "rice bowl"?", Mr. Vien laughed loudly: "I still hope that many young people come to learn a trade, I will teach for free." .
Having said that, he thoughtfully said that this profession sounds interesting or strange, but almost no one wants to learn it, because the profession "has no voice and no piece". Originally a painter of portraits and signs, he was also a painting teacher in children's houses every summer, but due to "rice and money", Mr. Vien had to give up to sell clothes.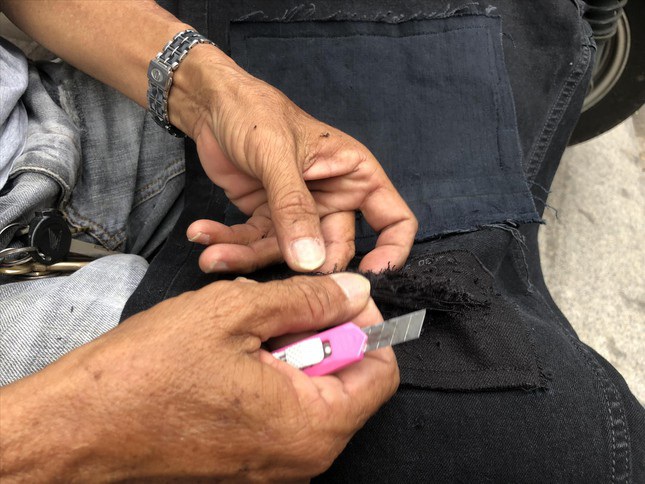 Mr. Vien is the only person working in the "unique" job of tearing pants in Ho Chi Minh City.
At that time, on this Ho Xuan Huong street, there were a lot of shops selling jeans, but only "old goods" (used clothes). Every day, Mr. Vien moves out to fold jeans and feels that this product is too monotonous and has no emphasis. He loves foreign rock stars and they often wear ripped jeans, which makes him extremely excited.
"I thought to myself, why don't I renew them? Then I decided to take old jeans and tear them off, creating a special style. When I made a few, I hung them up to try, and the customer thought it was strange, so they asked. bought. So I followed the profession from there," – Mr. Vien recalls.
Cool and quality
Ripping pants seems to be simple, but it requires technique and has its own secret to the place of tearing but not to perforate. Mr. Vien recalls, at first, having no experience, he once damaged 4 pairs of pants. Having learned from the failures, he gradually found the secret to tearing the customers' pants and jeans to be more beautiful and not as damaged as before.
According to Mr. Vien, a worker tearing jeans is like a painter painting a picture. It's just that the artist uses a brush to paint on the paper, while the jeans tearer uses a knife to cut the pants to create artistic tears that help the jeans increase beauty and value. After that, Mr. Vien showed him a simple tool kit consisting of a paper cutter and a sewing scissors, gently bringing the tip of the knife to make a decisive and flexible cut on the cotton fabric.
The sharp blade creates smooth tears in the fabric. While doing it, he explained: "The fabric has weft and warp threads. I will break the warp thread and leave the weft. The hand force must not be too strong, but not too superficial."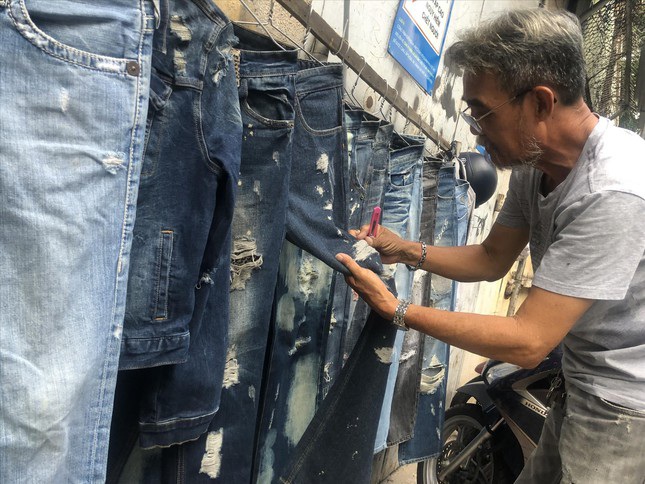 The pants "quality" better when torn.
After making incisions, Mr. Vien used his hands to strip and tear the separate threads. Finally, use a knife to scrub the upper fabric to reveal an intact horizontal layer. Occasionally, there are a few strands that break, he smiled and said that the broken threads will add style and make the pants more natural.
Depending on the needs of the customer, some people like to do less, about 2-3 scratches; Someone with more personality asked him to do a lot, even "broken" all the pants. Such a torn piece costs 20,000 VND, 3 pieces is 60,000 VND, but the 4th and 5th pieces will be charged a lower price. A scratch Mr. Vien only does in 3-5 minutes, he can make 10 pairs of pants in a day.
Pointing to the torn "works", Mr. Vien said that he only accepts to make pants and shirts made of thick denim fabric. However, not all fabrics, when finished, give a beautiful finished product. "I don't do it because the thread is thin, soft, and breaks quickly, wearing it a few times and then making a hole is bad. The black jeans fabric I advise customers not to tear, but to cut each horizontal line, will "quality" " More. Personally, I like to tear off white jeans the most because it looks very "cool and quality" – Mr. Vien said.
Mr. Vien used to make costumes for cult stars. He said: "I used to make costumes for singer Lam Hung's MV. Occasionally, this career opportunity has helped me meet Phuong Thanh, The Bell, Chau Gia Kiet…
Artists don't usually use secondhand, they buy it brand new and ask me to make it different. They often buy clothes from overseas tours and then ask me to tear them up at will. They want to make their pants very special, expressing their individuality." Each product he makes is both creative and respectful of the individuality of the customer.
Mr. Vien also designed the tear array quite sophisticated. After he punctured a large hole, he patched the inside with a different color cloth, then began to tear on the new cloth. The purpose is to create emphasis. Guests own unique "dusty" pants. In particular, when bored, they can bring me to change another cloth. So there are new pants.
In accordance with the times
Mr. Vien said that the years from 1995 to 2005 were the period when he had the best income, "lived well" with this profession, raised two children to study.
"At that time, Vietnam did not have industrial-style torn jeans, so my creativity on the pants was very popular with customers. There were many styles of tearing such as tassel tearing, web tearing, ripping…; which style? It also requires meticulousness, but I have to put my heart into it. Now it's not like before but I am satisfied with my life and income now. Time is over," said Mr. Vien.
"Recycling" jeans into backpacks and bags is also Mr. Vien's "left hand to collect money". "Most people, after seeing old or faded jeans, throw them away. I thought it was too wasteful, so I tried to cut fabric from discarded pants and sew them into cross-body bags to reuse and limit the use. waste into the environment," said Mr. Vien.
(According to Tien Phong)
You are reading the article
The job is "unlike anyone else": Master… tearing his pants

at
Blogtuan.info
– Source:
vietnamnet.vn
– Read the original article
here