Giới trẻ
The 'powerful woman' of the Son Kim family reacts after her son-in-law got into trouble: Ho Nhan and Hong Van are still legally married
March 21, 2022 14:44 GMT+7
After her son-in-law Ho Nhan got into a scandal with singer Hien Ho, Nguyen Thi Son officially confirmed.
After the hugging photos of singer Hien Ho and Mr. Ho Nhan – Mrs. Nguyen Thi Son's son-in-law were posted widely on social networks, in front of the groves, recently, Ms. Nguyen Thi Son made a move. first on this case. Son Kim's "Old Buddha" posted a status line on his personal page, in public mode with the following content:
"SILENCE IS GOLD
1. The old woman today received many messages asking her about the sensitive photos of her son-in-law Ho Nhan. The old woman chose silence as golden.
2. The old woman has 5 children, 5 in-laws, 10 grandchildren and great-grandchildren. 5 children are 5 independent families, have their own careers. The heads of such families are responsible for the well-being of their families. The old woman cares but does not interfere in the private lives of her children.
3. Legally until now, Mr. Ho Nhan and Ms. Hong Van are still legally husband and wife.
4. About the pictures, look at the pictures again, it's a happy family.
5. Last night, two granddaughters confided that they didn't want to go to school because they kept checking their phones and whispering.
6. I would like to ask men, has anyone learned their own lessons to protect children who are entitled to happiness.
* Please do not inbox to ask the old woman again.
Nguyen Thi Son
March 21, 2022"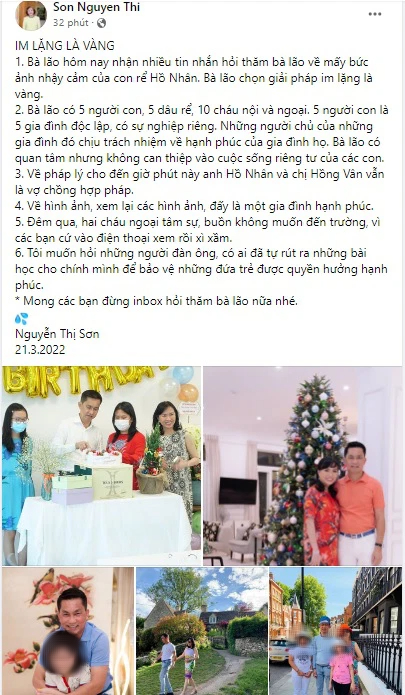 Post by Ms. Nguyen Thi Son. Screenshot of Mrs. Nguyen Thi Son's personal page.
Based on the content of the post, it can be seen that up to now, Mr. Ho Nhan and Ms. Hong Van are still legally husband and wife. "The old Buddhist" Nguyen Thi Son affirmed that "he cares but does not interfere in his children's private lives."
Below the post, many people leave comments to sympathize with her feelings about this incident:
"People in the world only like to talk about things of the world. Miss. But there are many things in the world, so soon they will talk about other things. You can rest in peace."
"I'm so sorry for you, being dragged into all sorts of scandals… All bad news comes at very sensitive and inappropriate times for Nanogen. Then everything will pass. Aunt, I hope that the adults will for the sake of the children's peace without taking things too far. I wish you good health and will soon be able to read your poetry on this facebook."
"You take a break and ignore the unrelated messages, ma'am."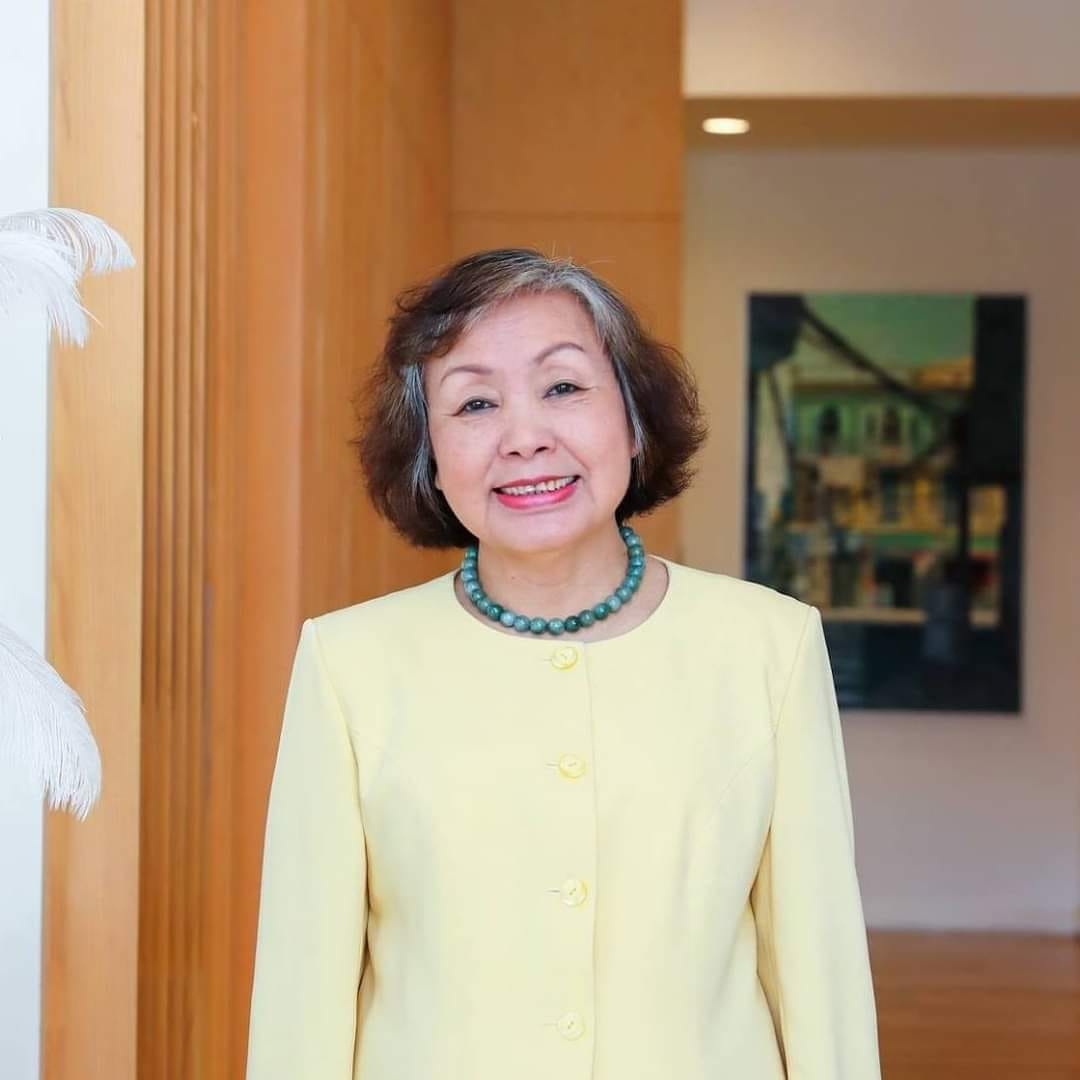 Ms. Nguyen Thi Son – Founder of Son Kim Group is a real powerhouse of the Vietnamese business world. She lost her husband very early, raised 5 children under one arm, but she not only raised her children to grow up to be human but also actively supported them from experience, knowledge to finance; so that all 5 people have become the top entrepreneurs in the city. HCM.
In 1987, at the age of over 30, she was assigned by the State to take charge of the management of Legamex Company. During its heyday, this state-owned garment company had 4,000 official employees, 10,000 employees of satellite companies, exported to countries such as the Soviet Union, Poland, Japan, France, etc., and was a garment company. the largest garment in Vietnam at that time.
According to ttvn.toquoc.vn
You are reading the article
The 'powerful woman' of the Son Kim family reacts after her son-in-law got into trouble: Ho Nhan and Hong Van are still legally married

at
Blogtuan.info
– Source:
infonet.vietnamnet.vn
– Read the original article
here