After 9 years of marriage to a German husband, Ms. Tuyet Ngan (30 years) lives happily in the West. Even though she is a real mother, she loves being the mother of 3 little daughters, 8 year old Anna, 2.5 year old Yuna and 15 month old Mila. Every day now, apart from taking care of his children and small family, he also works on youtube to share about his family life in the Na family.
Tuyet Ngan's little house.
Pregnant 3 times, severe morning sickness in the first 3 months
Mrs Ngan and Mr Danny Nguyen (35 years old) had the chance to meet by chance and were introduced to each other by their uncle and cousin in Germany. Brother and sister are friends through Facebook chat. After researching for a while, he knew that he was someone he could trust for the rest of his life. And when I first met him, I was impressed by how gentle and handsome he was.
"Back then, I didn't speak German, so we could only communicate in English. I also tell my friends that I am in love with a German guy but I have never met, everyone tells me it's just online love, but I always believe in my feelings.
After 1 year of texting and dating via Facebook, suddenly one sunny day he said he would come back to Vietnam to meet me. The first time I met him after a year of long distance love, he proposed to me, I was so happy, that moment I knew I had met the right person at the right time. Just remember smiling.
After marrying a German to live with Danny Nguyen, Ms Ngan experienced a lot of confusion about language as well as communicating with people. But he always had her by his side to help him through it. Initially, he had to be away from family and friends, so he was very sad and homesick. Later, he also studied German and worked part-time, so he gradually integrated into life here.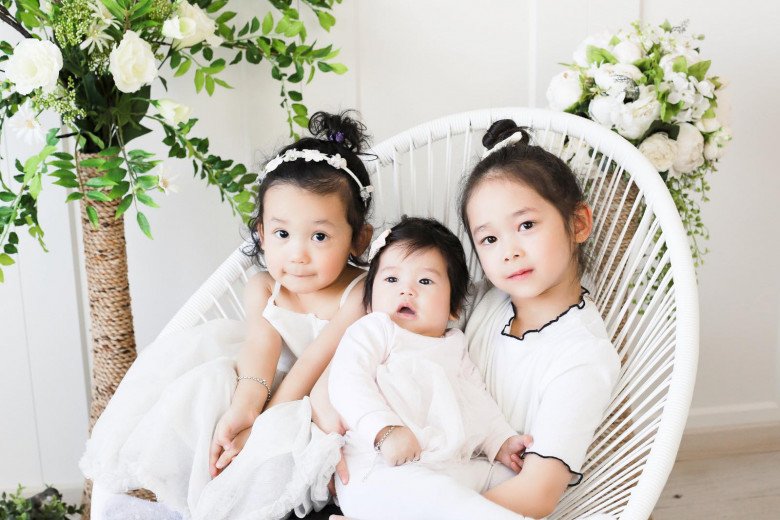 3 Ngan babies are so cute.
Speaking about this, Mrs Ngan said that after 1 year of being in the same house, she and her husband were lucky to welcome their first baby – baby Anna in the joy and happiness of the whole family. She is 7 years old and is in 1st grade. After 4 years, she and her husband gave birth to Yuna. Although the second time is still a princess, but because they both like girls, his happiness is doubled. Unlike her two older sisters, the third child in her family came to her parents as a surprise gift as it was not part of the couple's plans. However, a baby is an invaluable gift for the entire family.
The three pregnancies for Ngan were all very difficult but also full of blissful experiences. It is known that three pregnant children experienced severe morning sickness in the first 3 months, so they could not eat and drink anything. It wasn't until a few months later that he began to crave food, but he had always craved for food in Vietnam. Hence, in her three pregnancies, she only gained 9kg.
"I was lucky during my pregnancy and after giving birth, my husband always took care of the housework so his wife could rest. Outside of work, he always spends time taking care of the children and helping his wife cook and clean the house, so I also have more time for myself. Ngan smiled and confessed.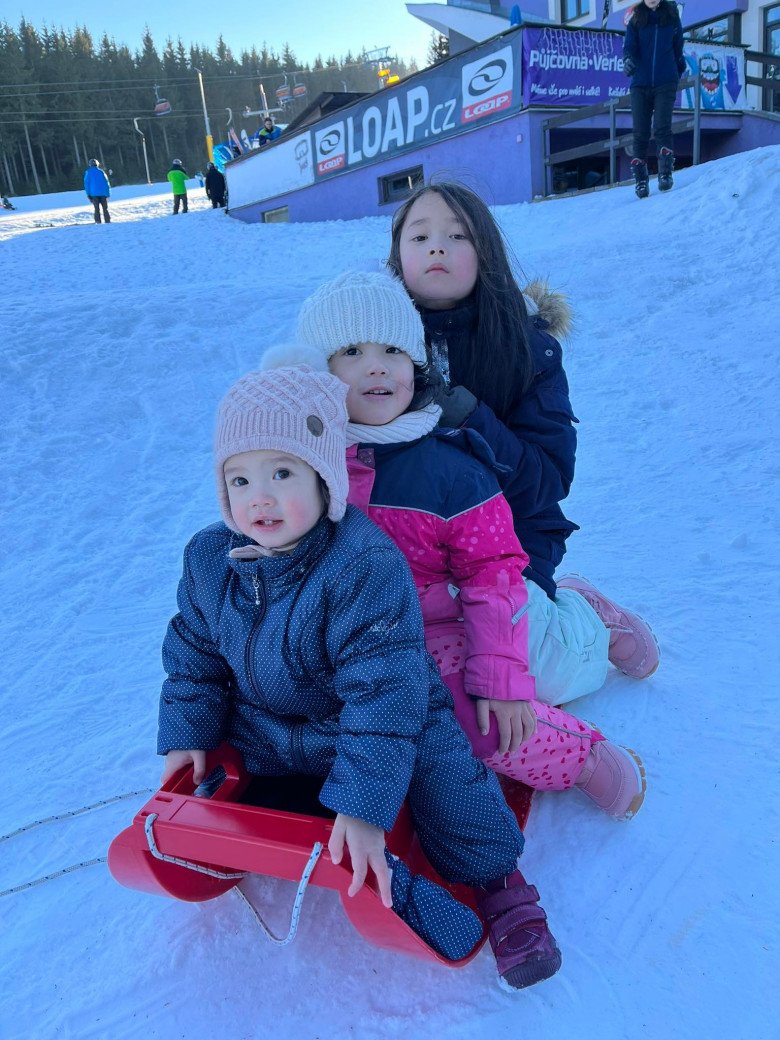 About to give birth a second time, the child was bent on the shoulder by the doctor, Duc's husband fainted
Sharing about her memories of giving birth to three children, Ngan said that giving birth to her first baby was the most enjoyable experience for her. She still remembered the first time she gave birth to Anna's baby, she was scared, but her husband was even more scared, so she had to push him in return to make him less worried. Baby Anna gave birth quite smoothly with a normal delivery, her husband was in the delivery room with his wife, so she also had more motivation on her way to delivery. Baby Anna was born weighing 3.03kg.
"The doctors and nurses here took good care of me, so my birth was quick and comfortable too. My father can also enter the delivery room with his wife, so I have more motivation. The first time I held a baby in my arms, hearing a baby cry was also the most sacred moment in my life that my husband and I were lucky to experience."vent Mrs. Ngan.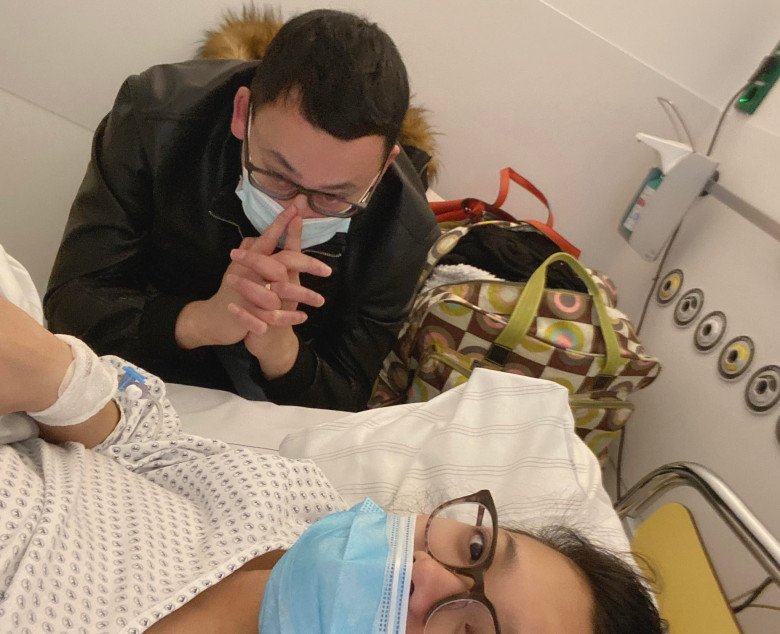 The second time giving birth to a baby is the most memorable time for her and her husband.
However, for Ngan, the second time she gave birth to Yuna's second child was a moment she would never forget. If Anna gave birth to her baby normally, it would be difficult for her baby Yuna because during a normal delivery, the baby suffocated, so she was transferred to emergency surgery, if it was a few minutes late, she might not be able to give birth. get a baby.
"During delivery, the baby suffocated, so I had to turn to emergency surgery. Then a delay of just a few minutes may not save the baby. I still remember that the pain was so severe that I didn't know anything at the time, only when I heard my husband call and then fainted. Due to the speedy emergency surgery, the doctor slashed his shoulder, but luckily the wound wasn't too serious, the baby weighed 3.39kg. said Ngan.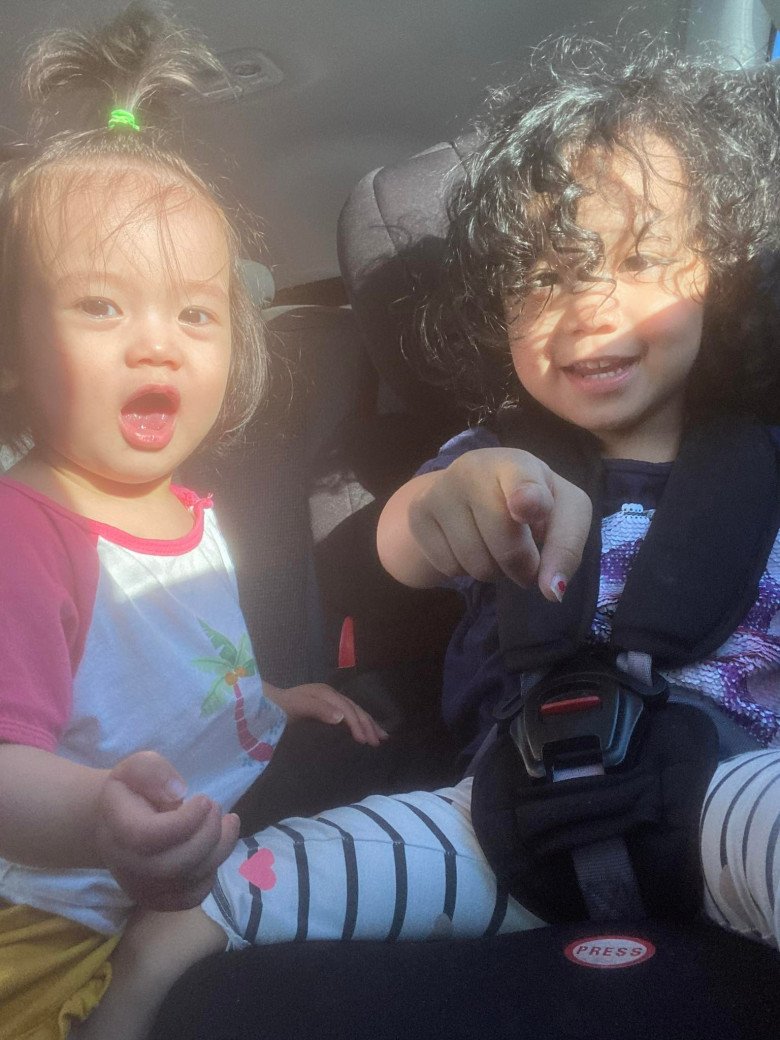 The second baby had to undergo emergency surgery.
After having difficulty having a second child, shortly after giving birth, holding the baby in her arms made Ngan emotional, tears kept flowing. Not only that, she was also told by the nurse that, after being taken to the emergency room, her husband – Danny Nguyen also fainted and had to be taken to the recovery room. That's why giving birth to a second child is an experience that my husband and I will never forget.
As for the third baby, because the second baby was born by caesarean section, the third baby was also born by caesarean section. Baby weighs 3.7 kg.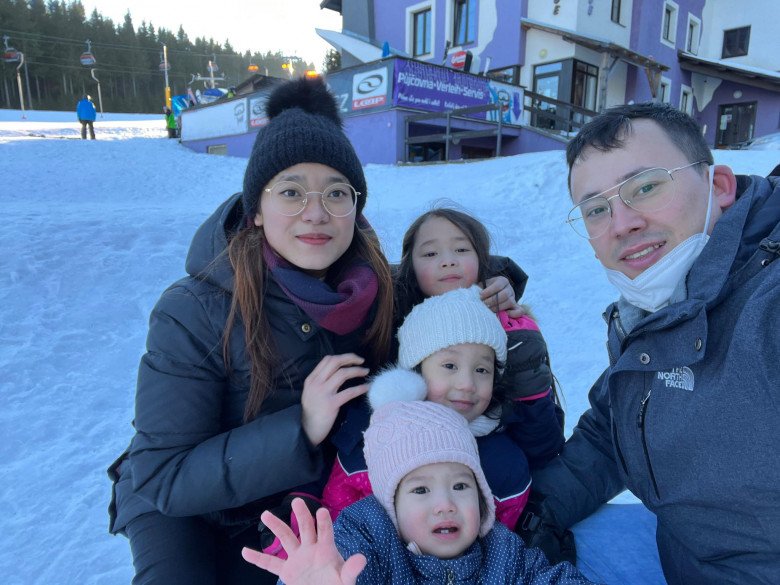 Currently, apart from taking care of his children and small family, he also creates Youtube to share about his family life in the Na family.
It is known that three times when she was pregnant and gave birth to Ngan, she did not need to spend a dime. In Germany, everyone has insurance to cover the entire cost of pregnancy and antenatal care, so you and your wife don't have to worry about money. Women who are about to give birth only need to bring clothes and personal hygiene supplies, while hospitals provide equipment and services for pregnant women. Her husband comes home from work every day, he only needs to visit his wife and children so that his wife is not sad, he doesn't have to do anything. After giving birth, she and the baby were also cared for by doctors and nurses, so her recovery was faster.
However, like most nursing mothers, when she first gave birth at home to care for her children, she was quite tired and exhausted from having to stay up late and get up early. Even though she had a husband by her side to help, she couldn't avoid moments of self-pity. When her husband works at home alone, he often thinks about things, and then feels sorry for himself because he has no relatives by his side. Fortunately, the husband loves his wife, so he is always there to encourage and comfort her to help her cope. In particular, 3 times pregnant and giving birth, her body is much worse, her health is also weaker, but her husband doesn't care about appearance. He always comforted her "as long as the wife and children are healthy and the family is happy, other things don't matter to her" which also makes her happier. Currently, he is happy with his little family.
You are reading the article
Vietnamese mother gave birth by emergency caesarean section, her shoulder was slit, Duc's husband passed out
at Blogtuan.info – Source: Eva.vn – Read the original article here