Kinh doanh
Watermelon costs half a million dong/fruit, super brick crab is surprisingly cheap
While many fruits are "as cheap as giving", watermelons at supermarkets are only 7,000-10,000 VND/kg, organic watermelons cost more than 100,000 VND/kg. And the Norwegian "giant" super-brick crab landed in the Vietnamese market with surprisingly cheap prices.
Watermelon "rich people" costs half a million dong/fruit
When watermelon price In the garden, it is only from 2,000 VND/kg, at supermarkets and fruit shops, the price of watermelon is only from 7,000-10,000 VND/kg, the organic watermelon is 10 times more expensive. According to Dan Viet, organic watermelon is listed at a food store in District 3, Ho Chi Minh City for 125,000 VND/kg. With sizes from 2-4kg, each watermelon costs from 250,000-500,000 VND. A watermelon costs up to 500,000 VND.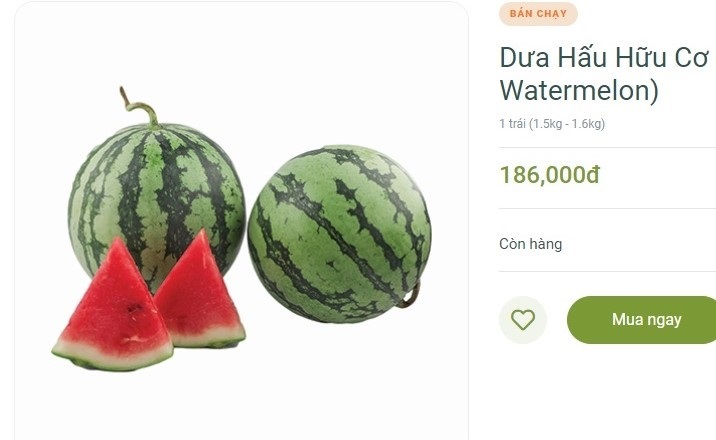 Organic watermelon is sold for 125 thousand VND/kg.
A representative of this food store said that the high production cost, strict quality control process, and low output make the cost of organic products many times higher than the price of other conventional products. .
Cheap "giant" super-brick crab landed in Vietnamese market
Recently, market appeared a type of crab advertised as super brick crab imported from Norway. Dan Viet newspaper information, this crab has a "giant" size, weighing more than 1 kg / fish, but the resale price is only from VND 290,000 to VND 450,000 / kg, making women like to eat seafood bought to try.
Kieu Tuan Vu, Marketing Director of Royal Seafood, said that Norwegian brown crab is rich in protein, vitamins and minerals. But the best quality crab must be fresh crab. Because crabs that have been steamed and frozen for a long time will be degraded. Fresh brown crab is sold for from 700,000 to 900,000 VND/kg, but frozen crab is only 1/3 of the price.
Pineapple price, which fell dramatically
Farmers at pineapple "granary" Quynh Luu, Nghe An are entering the harvest season. But pineapple prices in Nghe An dropped dramatically, falling to the lowest level in the past 2 years. Currently, the price of pineapples sold to traders is from 3,200-3,500 VND/kg, halving compared to the previous year. Pineapple prices fell sharply due to China's restriction on agricultural imports; cannot export to Russia and the European market due to the conflict in Ukraine.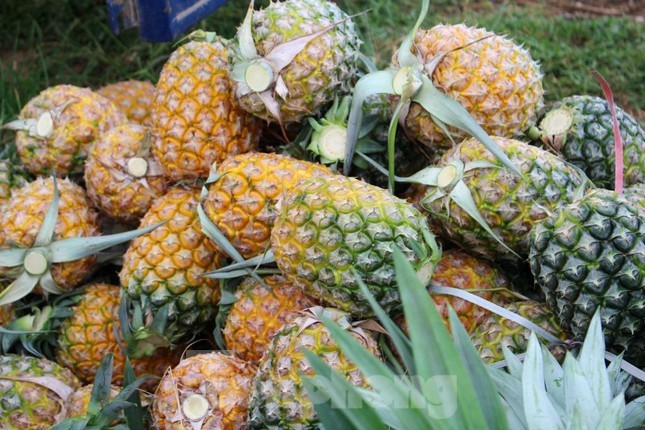 Pineapple prices fell dramatically (Photo: Tien Phong)
And in Binh Phuoc, thousands of cashew growers stood still when fresh cashew prices dropped to a record. If last year, the price of cashew was at 29,000-30,000 VND/kg, now it is only 26,000 VND/kg. Continuous unseasonal rain also causes a sharp decrease in cashew yield.
The price of live pigs has plummeted, pork in the market is still expensive
Live hog price recently plummeted. Zing information, from the end of February, the price of live hog decreased to 53,000-56,000 VND/kg, in early March to 50,000-53,000 VND/kg. Currently, the price of live hogs fluctuates around 50,000-60,000 VND/kg.
However, the intermediate stage accounts for about 40%, plus the record price of gasoline, so the price of finished meat remains high. At supermarkets and traditional markets in Hanoi, the price of pork is currently at 110,000-180,000 VND/kg.
Deep discount air conditioner
This time, along with the launch of many products air conditioner With the new model 2022, many electronics supermarkets also offer deep discounts on old model air conditioners to attract consumers and push inventories.
Many models of air conditioners are strongly discounted.
At electronics supermarkets in Hanoi, many models of air conditioners from well-known brands such as Casper, LG, Panasonic, Samsung, Asanzo, Midea, Aqua,… that are capable of saving electricity are all discounted. . Many models of air conditioners are discounted up to nearly 50%. After the discount, many models of air conditioners are priced from just over 3 million VND/product.
Train fares up to 40% off
From now until the end of the year, groups of 10-100 people will enjoy many discount train tickets. This is considered a solution to stimulate tourism demand of the railway industry.
Passengers traveling on the Thong Nhat train with over 750 km SE3/SE4 running daily from Monday to Wednesday, on two pairs of trains SE7/SE8 and SE21/SE22 can enjoy a discount of up to 40% on fares depending on seat type and departure time. ticket.
Food and vegetables increase according to gas prices
After gasoline prices increased to a record high, a series of food and consumer goods also raced to increase prices, making housewives "stunned". Currently, prices of items from fresh food to dry food have been adjusted sharply. For example, cooking oil increased by more than 10,000 VND/liter, rice increased by 30,000-40,000 VND/bag of 10kg, instant noodles increased by 7,000-15,000 VND/barrel/30 packs.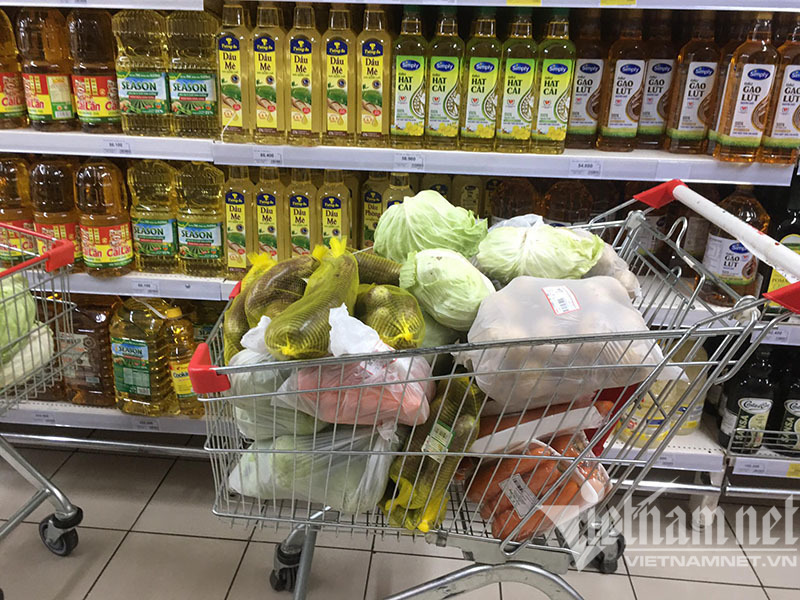 Many staple food and food items increased sharply according to gas prices (photo: BH)
Notably, these days, the price of green vegetables skyrocketed. Specifically, water spinach increased to 15,000-25,000 VND/bundle, chrysanthemum and amaranth were both 10,000 VND/bundle, collard greens 15,500 VND/bundle, spinach 10,000-14,000 VND/bundle, and broccoli also 10,000 VND/bundle. ..
Iron and steel, cement … simultaneously increased prices
On March 15, a series of enterprises announced to adjust the selling price for construction coil and rebar products by 600,000 VND/ton. This is the 3rd increase in steel prices within the past fortnight. Currently, steel prices at some enterprises have exceeded 19 million VND/ton.
In addition to steel, a series of raw materials building materials Others such as cement, sand, concrete, etc. also race to increase prices. Many manufacturers recently announced that from March 20, they will increase the selling price of cement by 100,000 VND/ton of product to offset the increase in input costs.
The high price of construction materials not only makes construction contractors and investors struggling, but customers also suffer because of high house prices.
Airfares on the occasion of April 30 to May 1 increased sharply, room rates increased from April
Airfares the holiday 30/4-1/5 expensive double, triple compared to March and compared to the time before, after the holiday. This situation occurs on some flight routes from Hanoi, Ho Chi Minh City to famous tourist destinations such as Phu Quoc, Nha Trang, Quy Nhon,…
The hotel room price is not as tight as the air ticket price, but it has increased. Since April, most hotels have had new prices, much higher than March prices. In some hot tourist spots like Phu Quoc, guests have asked and booked rooms, the number of rooms is not much. With standard room (range 1-1.5 million VND/night), there are places that are twice as expensive, with high-priced rooms (2-3 million VND/night) the increase margin is lower.
Hanh Nguyen (Synthetic)
You are reading the article
Watermelon costs half a million dong/fruit, super brick crab is surprisingly cheap

at
Blogtuan.info
– Source:
vietnamnet.vn
– Read the original article
here