Life Style
Thế Giới
Abstain from spending money, postpone weddings, quit jobs, sell souls just to have a place to 'get in and out'
Realizing that the rent in Seoul is increasing day by day, Lee Jung Min (over 20 years old) decided to borrow money from her parents to buy a house. "Every day when I wake up, the house price and the rent increase a little bit, which makes me very worried," said Jung Min.
After a few years as an office worker, he saved 50 million won (equivalent to 1 billion VND). He plans to borrow another 160 million won (about 3 billion VND) from his family and borrow more from a bank. Last January, he bought a 66m2 apartment in Geumcheon-gu district (Seoul) with an advance payment of 240 million won (4.6 billion VND), a 30-minute drive from the company.
According to statistics of Kookmin Bank at the end of 2020, house prices in Seoul have increased by 58% in 3 years. The average house price in South Korea has risen to about 16 times the annual income of a middle-class household.
In that context, more and more young people want to buy a house like Jung Min for fear that house prices will increase even more. However, to do that, many people had to "sell their souls". This is a fairly common phrase in Korea today, only young people accept to do everything, from minimizing spending or even delaying the wedding, quitting their job to buy a house.
Lee Jong Hoon (36 years old) is also a "soul seller". Last year, with nine months left on his lease, he thought about buying a house. He and his wife pooled money and borrowed more from outside, received support from their parents to buy a 59m2 apartment in Mullae-dong (Seoul).
Bai Chengmin (35 years old) even wanted to buy a house so much that he asked his wife to quit her steady job as a nurse when Covid-19 first broke out in Korea. At that time, the Korean government introduced a series of house price control policies and incentives for low-income couples. Because Chengmin has a significantly higher income, his wife had to quit her job to realize her dream of buying a house.
The Korean Ministry of Land, Infrastructure and Transport stipulates that families of two with an average monthly income of less than 6.67 million won and a marriage period of less than 7 years can enjoy a "special discount". when buying a house. Even so, Chengmin still couldn't afford a house in Seoul. Instead, he and his wife went to Incheon, a 2-hour drive from Seoul.
In addition to the case of Chengmin's wife, many couples postpone their marriage to buy a house. Seo-woo Eun (31 years old) loved her boyfriend for many years but did not register her marriage. She believes that two people who split up to apply for a cheap home will be faster than one.
According to the National Bureau of Statistics' household financial welfare survey, the average debt of Korean households in their 30s is 182 million won, up 13.1% from 2019. In 2021 , Koreans in this age group have experienced "panic buying" due to high house prices.
As reported by Kyodo News in June 2021, many landlords in South Korea raised prices by 10 million won just one day before signing the contract. If the buyer does not agree, they will cancel the agreement. This has directly led to the situation of "panic buying".
A 30-year-old office worker shared on social media: "If you don't buy a house now, you will be evicted from Seoul and you won't be able to buy it for the rest of your life."
Seoul, the capital, occupies only 0.6% of the total area of ​​Korea, but contains nearly half of the country's population because of its developed economy. This is the center of political economy with leading universities and businesses in Korea, the opportunity and the dream of young people. They come from many places, wanting to buy a house and become "new Seoulites".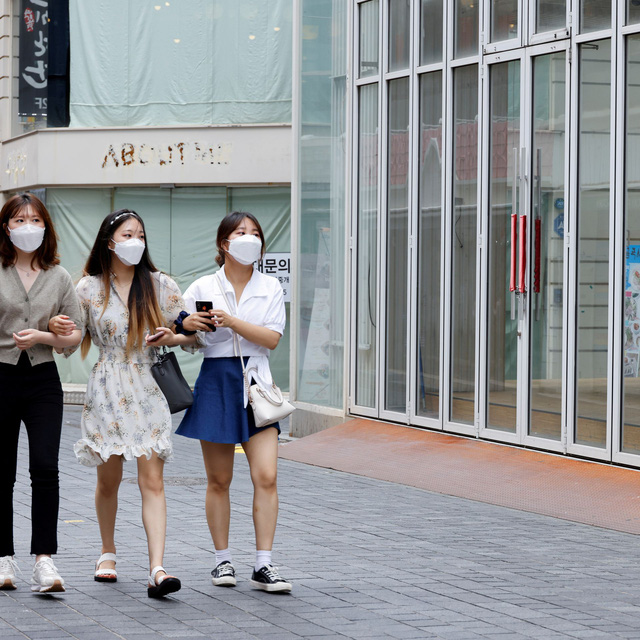 Young Koreans once encountered a situation of "house-buying panic" due to high house prices last year (Photo: Internet).
Koreans in their 30s are in the early stages of separating from family to live independently and a home is just what they need. Although Jingle (32 years old) is still unmarried, he bought a three-bedroom 100 square meter apartment at the junction of Gangseo-gu and Gyeonggi-do in Seoul right after graduating. He is the head of a department of a Korean car company, whose income is not low.
"As a man, I think I should live independently after graduation, and buying a house is a must," he shared.
However, there is also a part of young Koreans who choose to give up buying a house. Seo Dong-Wook (27 years old) complained, "The house price is too high. Even if I work hard for 10 years, I can't afford it." Instead of saving 1.5 billion won with a frugal lifestyle, he bought a house in his hometown, Incheon Province.
Dong Hyun-Ahn, a professor of economics at Seoul National University, said that in the past, Koreans had many options to improve their status in society. But now, if they don't graduate with honors from a big university, it's very difficult for young people to get a job in a big corporation and have enough money to buy a house.
Source: Huxiu
https://cafebiz.vn/bi-kich-cua-nguoi-tre-muon-mua-nha-o-han-quoc-nhin-tieu-tien-hoan-cuoi-bo-viec-ban-linh-hon- how to get out -20220317104011573.chn
https://cafef.vn/bi-kich-cua-nguoi-tre-muon-mua-nha-o-han-quoc-nhin-tieu-tien-hoan-cuoi-bo-viec-ban-linh-hon- how to get out of the house -20220321142519702.chn
You are reading the article
Abstain from spending money, postpone weddings, quit jobs, sell souls just to have a place to 'get in and out'

at
Blogtuan.info
– Source:
Afamily.vn
– Read the original article
here