"Driving chickens" via Tinder
As reported by Dan Viet, the Dong Da District Procuratorate (Hanoi City) has just completed the indictment and prosecuted former police captain Le Thi Hien (SN 1983, Thanh Hoa, who used to cause riots in the courtyard). Tan Son Nhat Airport, Ho Chi Minh City in 2019) and 17 accomplices for the crime of "Robbery".
The defendants charged include: Vu Anh Hoang (SN 1991, Quang Ninh), Nguyen Duc Thang (SN 1992, Thanh Xuan, Hanoi), Le Thi Hien, Nguyen Thi Minh Trang (SN 1993, Ha Dong, Hanoi City), Nguyen Tien Dung (born 1991, Tay Ho, Hanoi), Dinh Quoc Dung (born 1996, Nho Quan, Ninh Binh), Hoang Thanh Tung (born 2001, Lang Son), Nguyen Phuong Trang (SN 2006, Thanh Tri, Hanoi), Le Thanh Dat (SN 2001, Dong Da, Hanoi), Pham Tuan Thanh (SN 1998, Long Bien, Hanoi), Nguyen Dinh Nam (SN 2001, 2001). Thuong Tin, Hanoi), Bui Duong Anh Hung (SN 2002, Phu Tho), Hoang Duc Anh (SN 2001, Hai Phong), Tran Minh Hieu (SN 2002, Phu Tho), Do Duy Hung (SN 2002, Nam Dinh) ), Do Hai Tuan (SN 1995, Hoang Mai, Hanoi), Nguyen Tai Nam (SN 1997, Thanh Xuan, Hanoi), Nguyen Dang Ha (SN 2001, Hai Duong).
Former police captain Le Thi Hien is accused of making untrue statements and not admitting to a crime. Screenshot clip of the riot of Mrs. Hien at Tan Son Nhat airport in 2019.
The indictment shows that in 2019 Vu Anh Hoang, Nguyen Duc Thang and Le Thi Hien jointly contributed an initial capital of more than 2 billion VND (Hoang and Thang 80%, Hien 20%) to open the Magic Lounge (106 Tons). , Dong Da, Hanoi) trades drinks, laughs.
Hoang has the task of collecting effective operating methods from other shops to apply to the Magic shop; Thang is responsible for running ads to find customers; Hien manages revenue and expense logistics, oversees activities and takes care of external affairs; Profits will be divided according to the percentage of capital contributed by each person.
During operation until March 2020, Hoang, Thang, Hien signed a contract to hire Nguyen Thi Minh Trang to organize the operation program for Magic Shop with 3 goals to be achieved in 3 months, including: In the first month, Trang must build, recruit and train 50 staff for table bookings, 6 staff serving tables, 1 security guard, 1 receptionist, 1 cashier with the condition that the first month's sales must reach 1.6 billion VND, then Trang will be paid 150 million VND.
In the second month, he had to recruit 50 more staff to book a table, with sales reaching 1.7 billion VND, so Trang would be paid 60 million VND. In the third month, recruited another 50 staff to book a table, if sales reached VND 2 billion, Trang would be paid VND 90 million.
After 3 months, if the goal in the contract is not achieved, Trang must continue until he achieves it. All daily activities of the restaurant will be reported directly by the staff through a separate group on the social networking application for shareholders to understand, and shareholders will receive information through Dinh Quoc Dung, Quoc Dung will be the one to Transfer the daily income of the shop to the account of former police colonel Le Thi Hien .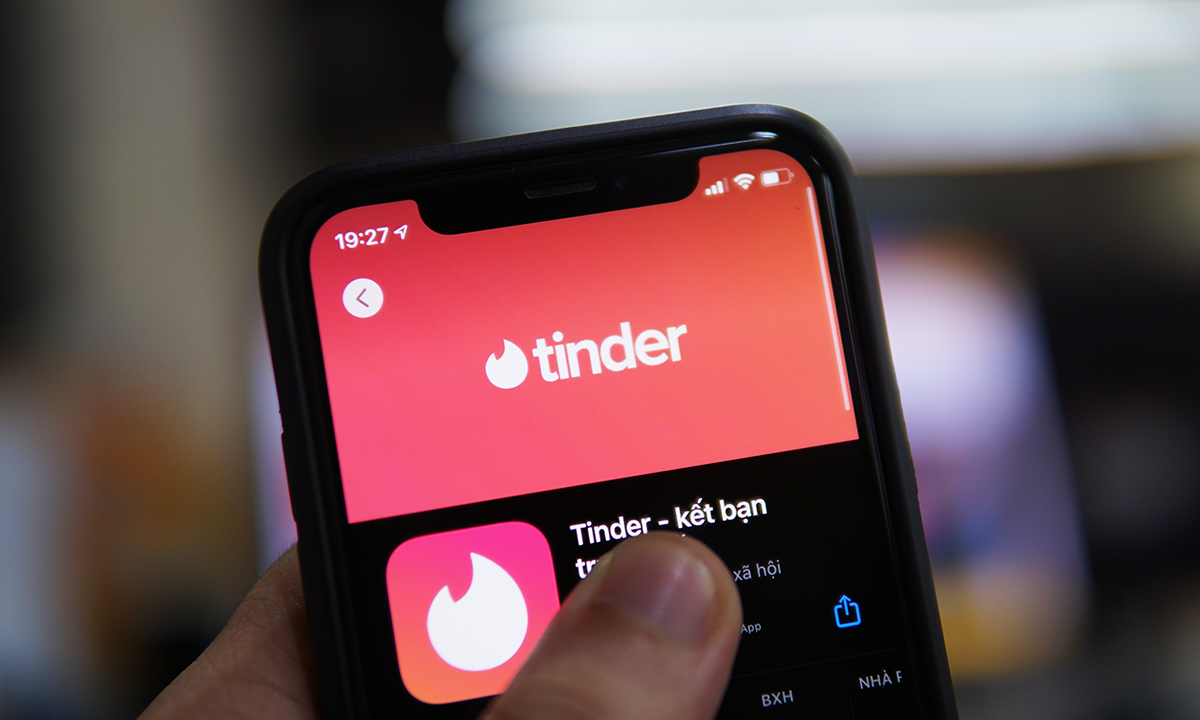 Subjects used social networking dating apps to "pull the chickens" back to their bar, after calling the furniture to the table, the staff would run away so the customer had to pay. Photo: VnExpress
After signing the contract, Trang began recruiting staff and managing the operation process and activity of the Magic bar and sending it via Facebook to the shareholder group, including content on how it worked to find customers through the social network Tinder. find customers to return to the shop, if they find customers with money, they will find ways to push more food (fruits), drinks (wine), smiley balls so that customers have to pay or have to leave valuables.
Due to the Covid-19 outbreak, Magic Shop has no customers, Trang has to keep working until March 2021. To complete the contract, Minh Trang applies the method of using female restaurant ordering staff (looking for guests) on social networking sites such as Tinder, Badoo… until now this, get acquainted, and then attract customers to come to the store , bring customers to the restaurant. The restaurant service was up and then the female employee ran away to let the customer stay to pay. At the same time, a security team was formed consisting of male employees in the ordering group who had the task of acting as a security team, to beat and coerce customers if they did not pay, this method in restaurants is called "dí bill." ".
Through monitoring the activity of the store, Hoang and Thang found that the store had "billing" activity starting around January 2021. In March 2021, Trang completed all the goals signed in the contract, so the shareholder group wanted to sign a new contract with Trang 1, with the aim of making Trang continues to make a profit.
At 280 Xa Dan Street (Hanoi), Hoang, Thang and Trang have verbally agreed to contract content for Pages to run Magic Shop revenue for 3 months, Trang will receive a percentage of the sale. .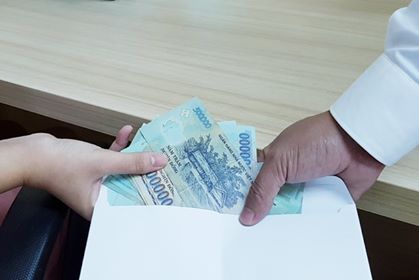 Each month, subjects deduct 31 million dong from the restaurant's revenue to spend on external relations, ensuring that abuses are not addressed. Image is for illustration only
In particular, the sales to be achieved in 3 consecutive months are VND 1.5 billion, VND 2 billion, and VND 1.8 billion, and Trang will enjoy percentages of 6%, 8% and 10% of the profit. store accepted.
Trang told Hoang and Thang that with sales targets so high, they should promote implementation of the "on the bill" form, fearing that if they did so vigorously, it would be easy to get caught up in the law. However, Hoang and Thang agreed, asking Trang to push harder to achieve revenue.In the operation process, if it is linked to the law, the board of shareholders will stand to complete it.
After reaching an agreement with Trang, Hoang and Thang exchanged information with Hien to inform Hien. Every month the store operates, it will reduce the revenue of 31 million VND for Hien to spend on external relations, ensuring that violations are not dealt with by the authorities.
How did the "dirty bill" game play out?
In the business process, Nguyen Minh Trang has built a human resource model and defined the roles and responsibilities of Magic staff.
Therefore, Minh Trang is in charge of general management, Tung is in charge of the staff serving the table; The ordering staff is responsible for finding customers to come to the restaurant, which is formed into 2 groups to create a competition, including the Foenix group led by Nguyen Tien Dung, the Win group led by Nguyen Dinh Nam.
For Dinh Quoc Dung, who is the trustee of the board of shareholders, he is responsible for the income and expenses of the restaurant, directly reporting daily income and transferring money to Le Thi Hien.
To ensure the sale is in accordance with the agreement with shareholders, Minh Trang popularized and asked female booking staff to use dating apps on social networks, get acquainted with male guests, and then attract guests to come to the shop together.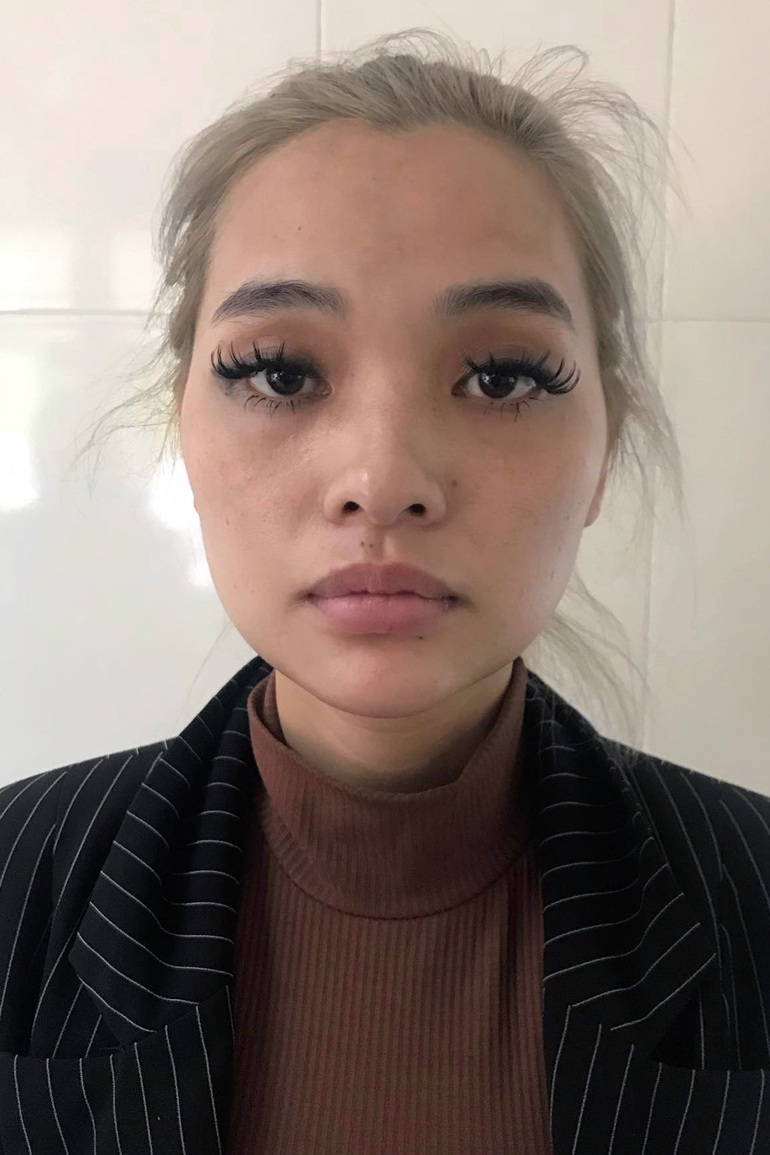 Subject Nguyen Thi Minh Trang. Photo: CACC
Before guests arrive, the booking staff will order food and drinks that are ready at the table. After the guest comes to play for a while, the booking staff will run away from the guest, from which the restaurant staff will force the guest to pay this table amount, if the guest has no money, he must leave the property. .
For guests who refuse to pay, Dinh Quoc Dung, Hoang Thanh Tung, Nguyen Thi Minh Trang, and Nguyen Tien Dung will take turns talking, threatening guests, forcing guests to pay. beaten by the subject of assigning more restaurant staff to force customers to pay or leave the property.
Through monitoring store activity and information on social networks, as well as listening to reports from Dinh Quoc Dung, Hoang, Hien, Thang learned that Trang was promoting the use of the social network Tinder to attract customers "bills" and incidentally staff beat up customers when customers refused to pay and "did bill", the store is "undercover" in social networks.
With the above model, the subject commits 4 customer robberies at Magic in 2021.
At the investigative agency, Vu Anh Hoang and Nguyen Duc Thang confessed to their crimes. During additional investigations into the case, Hoang and Thang changed their testimonies and did not admit to the crime. The prosecution said that this change in testimony had no basis to be accepted and was inconsistent with the content of the case.
With former police captain Le Thi Hien, this man's investigation process was tortuous, and he did not confess to a crime. However, based on the documents and evidence in the case files, there is sufficient reason to conclude that Vu Anh Hoang, Nguyen Duc Thang, and Le Thi Hien committed the above offenses.
You are reading the article
Bill tricks in the case of former police captain Le Thi Hien masterminding the robbery
at Blogtuan.info – Source: Eva.vn – Read the original article here