Establishment of mobile medical stations in schools
At the University of Social Sciences and Humanities, Vietnam National University, Hanoi, with more than 8,000 students, the school divides the morning and afternoon shifts. The method of distributing school shifts will limit crowded gatherings and make it easier for schools to manage in the context of an epidemic. In addition, the school has also set up a mobile medical station on campus to immediately respond to F0 cases or students who show signs of suspected COVID-19.
Assoc.Prof.Dr. Dang Thi Thu Huong – Vice Chancellor of the school said: "The school has a very thorough preparation plan before students return to school in person. The school has installed an automatic temperature measurement system. In the case of F0, F1 students, the school has a lot of practical support for students such as: create channels both online and face-to-face so that students can study online at home so as not to miss class schedules, the desire of most students.However, class sizes are often short of two thirds of students due to COVID-19. dealing with F0, F1, schools are ready and always ready to be flexible, incorporating teaching methods to help students who do not have gap knowledge".
Disease prevention and control at Hanoi National University.
Directly returning to school is also something that teachers and students have long desired, but in the context of the rapidly increasing number of cases in the community and the number of student cases showing no signs of decreasing, many universities have many proactive plans to support students.
At the University of Commerce, Mr. Nguyen Viet Thai, Head of the Department of External Relations and Communications, knows that any F0 student with a need can enter the isolation area of ​​the school, including those with homes in Hanoi. family does not qualify for isolation. The school supports all medicines, has a support team to buy essentials on demand. The school will always support and accompany students as much as possible, so that they are truly guaranteed treatment if they are infected with COVID-19.
Create all conditions, best support for students
In the first two weeks of reopening, the number of COVID-19 infections among students increased rapidly, around 70 cases per week. According to Mr. Vo Trong Nghia, Head of School Communications Department: Initially the school only opened one floor of the isolation area, but then had to keep opening more rooms and other floors. Many students outside, when infected with COVID-19, the owner of the dormitory did not agree to let them live in the dormitory, so they asked to go to the isolation area of ​​the school.
In addition, the school supports one million VND for each student with an F0. Students are provided free medication, meals are served in their rooms, and a team of medical staff is on duty day and night to quickly help deal with situations that arise and provide them with moral support. .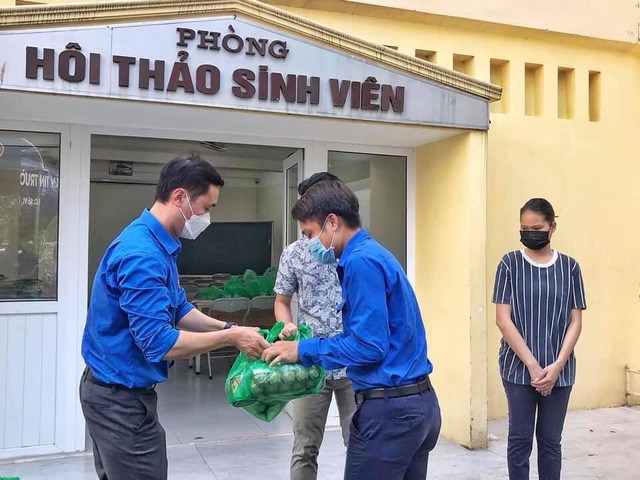 Hanoi Foreign Trade University empowers students to tackle the COVID-19 epidemic.
As for Hanoi Foreign Trade University, according to Ms. Vu Thi Hien, Head of the Foreign Trade University Training Management Department, in addition to caring about the physical health of students, school leaders have analyzed together to have the best support solution for them. and realize that apart from medication, psychology is one of the very important issues when students go to boarding schools to study away from home, without relatives by their side. "We regularly meet with class leaders and teams to listen to suggestions because they will know the students' important needs," said Ms. Hien.
The Foreign Trade University has activated a series of systems with many surprise groups to support each specific issue. In particular, the health system has a drug distribution support team, a treatment counseling team, a post-COVID-19 counseling team, etc. To provide psychological support and needs, the school formed an online group F0, in addition to the global group. The school also has unit groups with homeroom teachers so students can more easily share personal things that cannot be shared in large groups. The school also has a large shock team, taking turns on duty, and has a hotline so F0 can ask for support if they are afraid to contact the teacher about any problems in life.
Volunteers actively support F0 for direct treatment at the hostel
Many students at Hanoi Cultural University, after returning to concentrated schools, have contracted COVID-19, before that situation, the Youth Union and the core of the youth shock team, the club has become an effective spearhead for the collection, treatment and isolation of F0s.
Since February, Hanoi Cultural University has made detailed plans for welcoming students to ensure safe adaptation before the pandemic, emphasizing F0 screening to create a safe learning and teaching environment. . Welcoming students is also a top priority because with thousands of students from various regions returning to the dormitory, this area becomes a very risky place if no screening is carried out.
Facing the above situation, Shock Security Club (CLB) has supported each student to complete the declaration procedure, take body temperature, and check-in procedure. Such timely support has made the epidemic screening and prevention work in the university dormitory areas very effective, creating a sense of peace and comfort for students before returning to face-to-face learning.
Mr. Vu Hoang Hiep – Captain of the Shock Security Club said: "There was a time when 30-40 F0 cases were detected in the dormitory, so the members coordinated to collect and support F0 patients in immediate care on campus. Board Management has requested the 5th floor of Unit A as isolation area, ensuring the safety of other students."
In addition, during the treatment days, F0 received enthusiastic support from union members and young volunteers. All support activities are clearly planned to create favorable conditions, every day there will be 2 cases of receiving/processing information from F0s via social networking platforms, from which reports, in total send them to the Management Board to understand the situation.
In addition, it is also important to ensure that the diet is full of nutrients for F0 to help patients have adequate nutrition and enthusiasm for a speedy recovery. The Shock Security Club captain happily said: "Every meal not only ensures nutrition to help F0 get well soon, but also shows the heart and solidarity of the volunteers."
Regarding the collection and classification of waste for around 100 F0 in the Dormitory, club members also share to do this to ensure the correct process as per the instructions from the Ministry of Health. Despite facing a high risk of contracting the virus, a smile and enthusiasm remain on the lips of every club member when making a small contribution to support students who have contracted COVID-19.
Even though it has only been established and operating for more than 1 month, the F0 youth support team has already shown a certain effectiveness. The clearest evidence is that the number of F0 treated in the inpatient ward has increased from hundreds of students until now only 16 students have been isolated and treated.
Source: https://suckhoedoisong.vn/sinh-vien-mac-covid-19-tang-nhanh-cac-truong-dai-hoc-vat-va-u…
Source: https://suckhoedoisong.vn/sinh-vien-mac-covid-19-tang-nhanh-cac-truong-dai-hoc-vat-va-ung-pho-169220321121549787.htm

You are reading the article
COVID-19 March 22: Back to school, students infected with COVID-19 are increasing rapidly, universities are struggling to cope
at Blogtuan.info – Source: Eva.vn – Read the original article here