Chuyên đề
Da Nang female students are beaten up in school: School violence must be tackled at the root!
Recently, a clip of a female student hitting her friend went viral on social media, causing a stir in public opinion.
Specifically, according to the clip recorded, both female students fighting were wearing uniforms. In it, a female student wears a red scarf, dressed politely, and the other girl wears shorts.
The female student in shorts had the act of hitting, hitting and kicking her friend. At times, this female student also dragged, pulled your hair, kicked your face on the floor in a rather brutal way.
In the middle of the fight, there were many other students who witnessed but no one spoke up or intervened.
It is known that the incident happened at Nguyen Ba Phat Secondary School, Hoa Lien commune (Hoa Vang district, Da Nang).
The female student who was beaten was NPT – 6th grade, and the female student who beat her friend was NY – 7th grade. Before that, these two female students had a quarrel, so after school Y got into a fight and assaulted T.. The incident happened right in the classrooms of the school.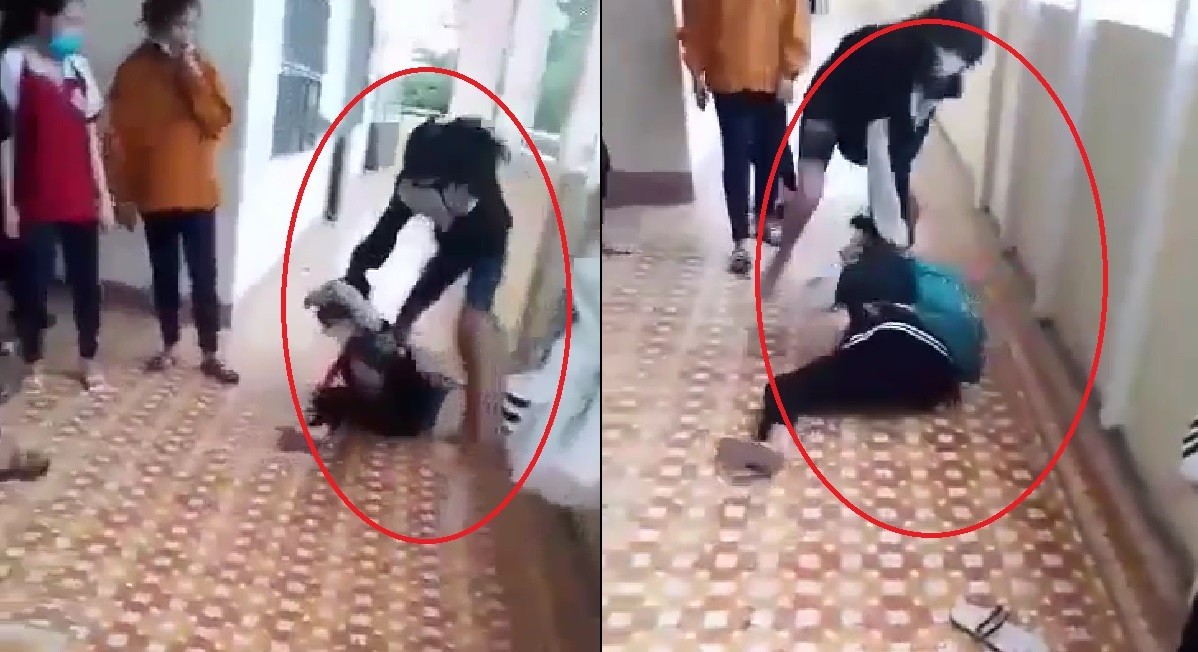 6th grade girl was brutally beaten in school (photo cut from clip)
After the incident, the school invited the parents of two students to discuss and solve the case. However, the family of female student Y. did not come, making the family of female student T. upset.
At the meeting on March 21, T.'s parents expressed their sadness and anger at the scene where their child was beaten by a friend. This parent said that this situation had happened before, but because her child was afraid, she did not dare to say it, only when she saw the clip online did she know. This parent wants the authorities and the school to take appropriate measures to prevent similar incidents from happening in the future.
According to the representative of Nguyen Ba Phat Secondary School, currently the school and the police agency are still working with parents on both sides. The incident was also reported by the school to the leaders of Hoa Lien commune, Hoa Vang District Education Department for guidance.
It can be said that school violence is a problem that has directly affected the school environment, especially the quality of moral education for students. In fact, the education management agency has also stepped in strongly with many solutions, but it does not seem to be enough to control this situation.
According to master Ha Thai Huong – Hanoi National University of Education 2, first of all, it should be emphasized that school violence is a phenomenon that will coexist in the educational environment. We can only find ways to control and limit it, not eliminate it immediately.
Because, in an educational environment of hundreds of students, when they work together, differences will arise into conflicts and conflicts, and when they are not intervened in time, they will resolve conflicts by violence. force.
"The most worrisome is the violence that occurs for very simple reasons. Maybe just because of looking "smug" but immediately sarcastic, gathering forces to fight inside and outside the school. This shows that students tend to use violence as a tool to resolve conflicts.
Then, under the negative influence of society, violent movies, online games today, plus understanding, incomplete personality, impulsive nature, lack of restraint when impulsive, there are contradictions, suspicion… at the age of teenagers, high school students, it is easy to lead to the phenomenon of students fighting and fighting.
This also shows that the children seem to be more excitable, tend to be more aggressive.
In addition, the cases of insensitivity are not only in the violent group of students, but are showing signs of spreading to the adult witnesses. Indifference is as dangerous as violence.
Students who witnessed violence and posted clips on the internet showed no less standard behavior than students who performed violent acts, "said Master Ha Thai Huong.
In order to completely solve the school violence situation, according to this expert, it is necessary to analyze right and wrong behavior so that students and parents realize their mistakes and responsibilities.
In addition, it is also necessary to apply disciplinary measures to students who violate, notify the class or the whole school. It must be resolved and handled promptly and resolutely to limit and push back violence out of the school cultural environment.
Hoang Thanh
You are reading the article
Da Nang female students are beaten up in school: School violence must be tackled at the root!

at
Blogtuan.info
– Source:
infonet.vietnamnet.vn
– Read the original article
here