Stone snails are considered a local specialty in several districts of Ninh Binh and Hoa Binh provinces. These snails only live in caves and rock holes in high mountains, making them difficult to detect. From May to August, when the rainy season begins, the new mountain slugs crawl out of the caves in search of forest leaves to eat and breed. In the remaining months, mountain slugs bury themselves deep in the ground, in crevices of rock or thick leaves.
Mountain snails have the same shape as snails, but are flat, flat and small, coiled up to form many rings (so they are also called flat snails). This type of snail has a small, round, coin-shaped appearance. They are light but the snail meat is very full, crunchy, tough, and has a sweet taste.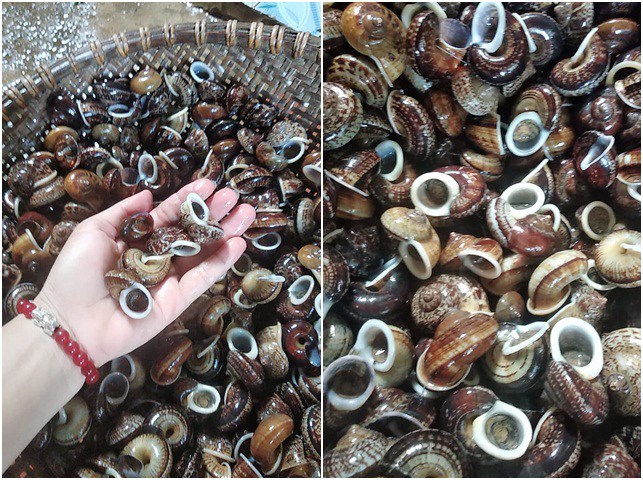 Rocky mountain snail is a famous specialty in Hoa Binh, Ninh Binh
Ms. Hoang Khanh (in Ninh Binh) said that mountain snails often go foraging at night. To catch mountain snails, one has to pass through a banana forest towards a rocky hill, using a flashlight to catch each one. Also called stone snail, banana snail because this type of snail lives on soil and rocks in mountains and often crawls out of banana trees to eat.
"In the rainy season, around 7 pm, after dinner, families in the neighborhood call each other up the hill to look for mountain snails. Because it is dark and wet, it is easy to slip and fall, besides that the rocks are jagged and sharp. We also had to prepare sticks to support us. Once there, we had to turn on the very bright flashlights and crouch near the ground to identify the mountain slugs, as they are similar in color to rocks, which are difficult to detect. night.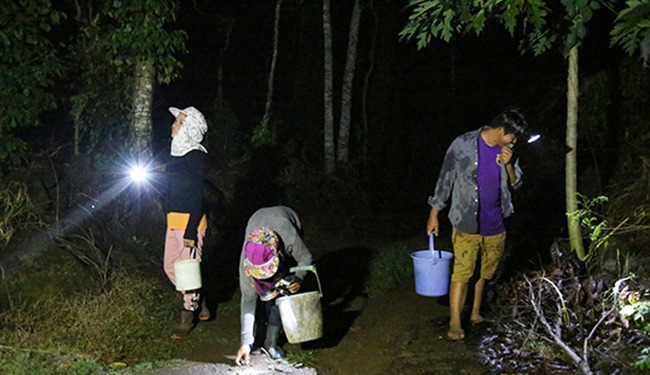 Mountain snails often appear in the dark and are abundant in the rainy season
In the past, when they were poor, mountain snails were caught to eat, if they couldn't eat them all would be brought to the market to be sold at a very cheap price. But in recent decades, because it is a natural snail, so strange that buyers love it and sell it at a good price, since then many people have invited each other to hunt mountain snails. Every day there are many, everyone also catches tens of kilograms of mountain slugs and sells them to traders or wholesalers between 70,000 VND to 100,000 VND/kg," Khanh shared.
Ms Khanh said that in the past, mountain snails were abundant, but now many people are taking advantage of them, so mountain snails are rather rare. To catch a lot, they have to go deeper into rocky hills. An experienced person "hunting" mountain slugs can catch about 10kg of snails/night with earnings from 800,000 to over 1 million VND/night.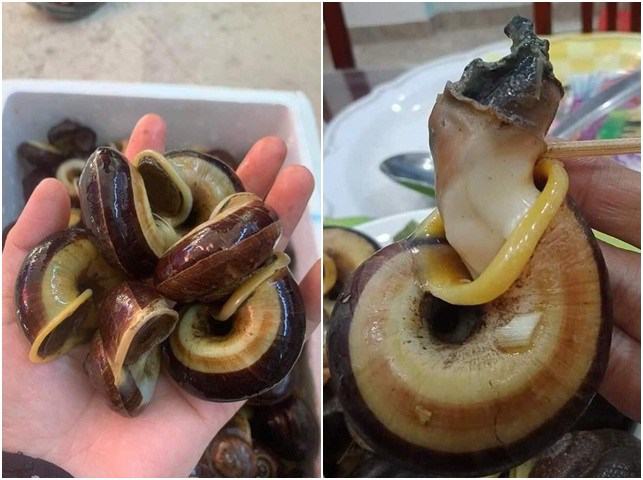 The mountain snail is thick, the meat is tough, delicious, and sweet
Mountain snails can be processed into a variety of delicious and interesting dishes such as boiled, fried with bay leaves, steamed with ginger, steamed with lemongrass, fried with lemongrass and chili, mixed with salad… Sell mountain snails on Jalan To Huu (Ha Dong, Hanoi), Mr Anh and his wife said: "My wife and I have been selling mountain snails here for 3 years, many regular customers come and buy them or call to order in advance so I can keep them until the afternoon when I get home from work. Average On average, I sell 15-25 kg per day, the number of items sold is uneven because it depends on the source of goods from suppliers."
According to Mr. Anh, this type of snail is very fatty in season, with tough, crunchy and sweet flesh, which is why many people like it. Moreover, mountain snails live well, can be kept for a few days without worrying about dying, so if you are busy and can't process it right away, it's okay to leave it 1-2 days later. On weekends, the number of golden snails sold is higher because many family and friends gather to eat and drink at home.
Not only on sidewalks but also in groups, forums, apartment markets, mountain snail specialties are also sold for up to 150,000 VND/kg.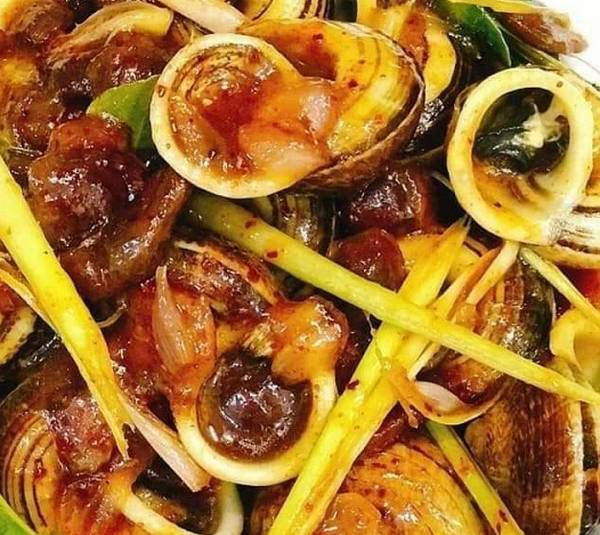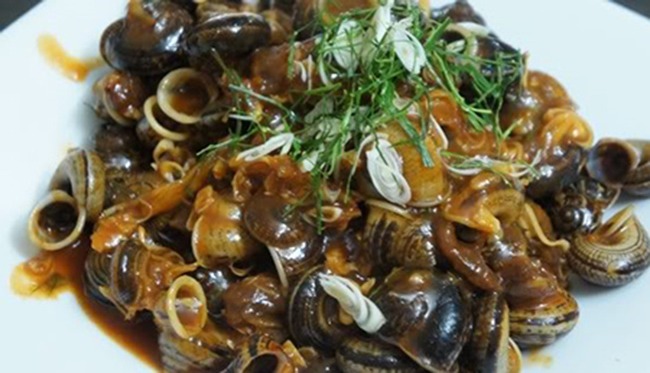 Stir-fried mountain snails with tamarind are liked by many women
The first time I saw mountain snails being sold at the apartment market, Anh Duong (in Linh Dam, Hanoi) ordered 1kg, then asked his sister how to make steamed snails with lemongrass. "Really, the taste of the mountain snail is very attractive, the meat is chewy, sweet, and everyone in the family praises it. Since then, every day when I see mountain snails selling in the apartment market, I order them in their entirety. enjoyed with the family. Although the price is quite expensive compared to other snails, but I only see it occasionally sold, so I still dare to order a few kilos. Listening to my recommendation, my colleagues also tried it and were very pleased with the odd snail dish. It's great," said Duong.
You are reading the article
Grasshopper paradise in Vietnam often appears in the dark, catch them and sell 150,000 VND/kg for easy money
at Blogtuan.info – Source: Eva.vn – Read the original article here