A Boeing 737 passenger plane carrying a total of 132 passengers crashed in southern China today (March 21).
On the afternoon of March 21, a Boeing 737 carrying 132 people of China Eastern Airlines flight MU5735 crashed in Dang district, Wuzhou city, Zhuang autonomous region in Western Quang province.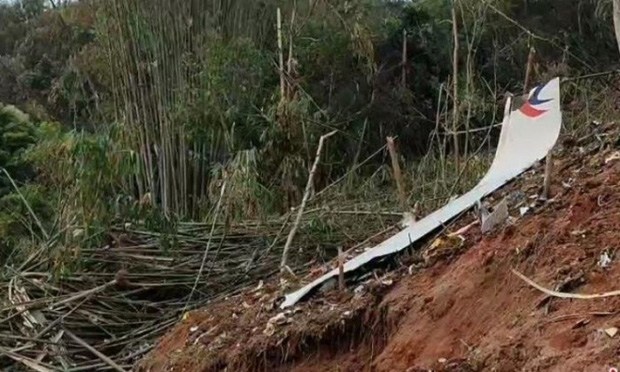 A lot of plane wreckage has been found
According to security camera footage, the Boeing plane crashed 90 degrees straight down a deserted mountain in just about 5 seconds. According to aviation data, there is no information that the pilot of the plane made contact with the ground before the crash. On the evening of March 21, China Eastern Airlines announced that the cause of the incident was still under investigation and could only be clarified after finding the black box.
Many local residents who witnessed the incident said the plane was "totally destroyed" after the horrific crash, which burned the entire forest. There are currently very few signs of survivors, although the number of victims has not been announced.
Debris from the crashed plane was found strewn everywhere. Witnesses at the scene who participated in the rescue said they saw no casualties as the plane "shattered to pieces" after it crashed. However, several items and clothing believed to belong to the people on the ill-fated flight were found.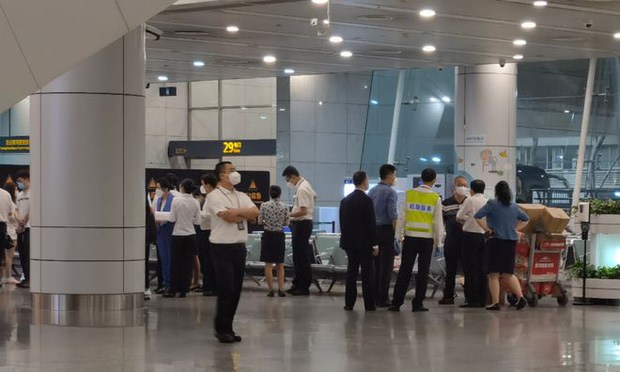 Many family members of passengers present at Bach Van airport waiting for a miracle
The tragic air crash shocked the people of China and the world, praying for the victims. At Baiyun International Airport, Guangzhou Province, a special area has been set up to welcome and assist families whose loved ones are on the list of 132 people on the Boeing 737.
Pictures from the airport show the heavy atmosphere. All are in pain and very worried for the safety of their loved ones. Airport staff rushed around and tried to help and reassure everyone.
The man was on the phone wiping his tears in the airport lobby. Photo: ChinaNews
In the waiting room, the scene of a middle-aged man crying uncontrollably on the waiting bench attracted great sympathy from the public. She burst into tears as she handed a cell phone screen to an airport employee to inquire about the situation. Seeing the situation of the victim's family, no one could stop themselves from choking.
A tragic plane crash also causes the newlyweds to be separated forever. "My wife was on the plane. She is only 22 years old this year, we have only been married for 5 months," Van told reporters from news site Ctdsb.net.
"My wife and I are both from Wenshan city in Yunnan province, China. Today, my wife sat on flight number MU5735, to go from Yunnan to Guangzhou for work. Now I am preparing to drive from Guangzhou to Wuzhou city in Guangxi, where the plane crashed, while his wife's parents also have plans to go to the crash site from their hometown," said Van sadly.
You are reading the article
Husband cries because he lost his wife, relatives wait for news in vain
at Blogtuan.info – Source: Eva.vn – Read the original article here