Life Style
"If you are in peace, you will naturally be a sister"
Welcoming a new member will change the lives of families a lot, especially with the first child. Children will often have different emotions when their mother adds a younger sibling, happy and happy, but also worried and sad because they are afraid that they will no longer be loved by their parents. Therefore, before the birth of the second child, parents often advise each other to do ideological work and behave smartly and fairly with both children.
Recently, Ms. Dang Hong Ngoc (28 years old, living in Hanoi) shared a photo of her children, attracting the attention of the online community. In the photo, baby Nguyen Ngoc Linh Dan (nicknamed Alice, born in 2019) is holding her sister Nguyen Ngoc Thien Kim (nicknamed Alley, born in 2021) in her arms. But the highlight of the photo is the "as sharp as a knife" eyes towards the sister, making everyone laugh.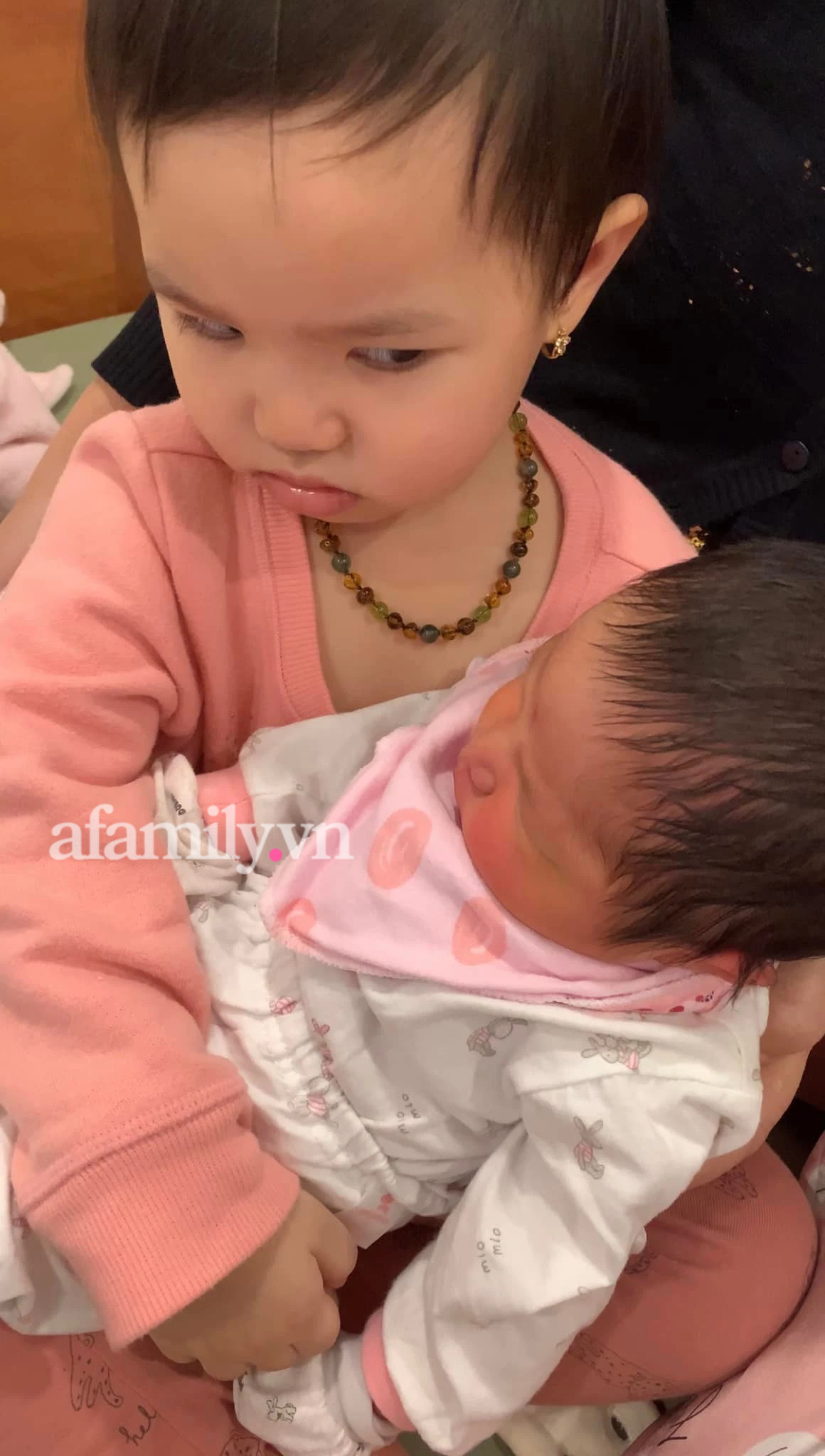 Many people don't know why Alice is so angry, but in fact, she is just too unfamiliar with an extremely beautiful baby, so she looks at her with questioning eyes and a strange expression. Sharing more about her two children, Ngoc also said that the photo was taken at the time when Alley was born at the hospital, Alice asked to try to hold her and the unique moment was born.
"The older friend asked to try holding me, but I don't understand why they glared like that. The two sisters are 2 and a half years apart. My friend still doesn't know how to play with me, so every time I say I love you or hold you, I refuse. Now the baby is accepted. It's been more than 2 months but I still don't dare to touch him. But I know how to protect my brother: like not allowing the cat to come near for fear of biting him."Ms. Ngoc confided.
Having given birth to 2 children, but stealing their hearts, the children were all good, so Ngoc did not have many difficulties in taking care of the children. After adding a new member, Ngoc and her husband are also very concerned about the feelings of their eldest child, try to treat them fairly and spend time with the two of them equally, and also often talk to their first child. .
"Every day, my husband and I still whisper to our big friends: that's our baby. You must love me, not bully me. Or say loving words to your child like parents love you the most. Besides that. , we also spend a little more time with her older sister so that our children don't get jealous or feel sorry for being shared with her.
Thief is an older friend with a fairly independent personality who loves going to school. I went to school from the age of 9 months and never cried at school. Less than 2 years old, he can recognize all the dials from 1 to 10. He can distinguish colors and shapes. He speaks with a lisp but often sings. My baby friend is now 2 and a half months old, she knows how to talk and is practicing rolling."Ngoc shared more.
Having 2 daughters who are both pretty and lovely, everyone admires the young mother. Immediately after giving birth, taking care of and nurturing babies is a challenge, but Ms. Ngoc is still trying to fulfill her role well. Two little girls Alice and Alley are famous for their funny but also super cute photo, this moment is competed by mothers who are about to have a second child to tag their husbands.
When the family has a new member, parents also need to prepare mentally for the first child, try to love and care for both children, so that the children feel happy and happy.
https://afamily.vn/be-gai-luom-em-chay-mat-dang-yen-dang-tinh-thi-tu-nhien-lam-chi-va-su-that-phia-sau-khien- Ai-gong-cam-dong-20220318100222958.chn
You are reading the article
"If you are in peace, you will naturally be a sister"

at
Blogtuan.info
– Source:
Afamily.vn
– Read the original article
here