Giải trí
Is it true that beautiful girls who go to the golf course are "crabs" to get rich? -Young
Recently, the saying "go to the golf course to earn G63" is stirring up the online community.
Recently, the case of a female singer accused of snatching her husband, buying branded clothes, buying a billion-dollar car, regularly dating on the golf course is causing a stir among people. Immediately after the incident, some people mocked many girls who entered the golf course just to "hunt" the giants and get the "life-changing ticket".
Golf is a sport for the rich because of the expensive costs that players will have to pay to pursue it. The payment for a golf practice session is about 3-5 million VND. Not to mention buying very expensive tools and clothes. Therefore, the golf course is often a gathering place for many successful businessmen and giants.
For a long time, many people believe that women come to the golf course for the reason that they want to marry a rich man, but have no passion at all. In particular, with golf, income and economic ability must be high, so those who come to the golf course are often qualified. Therefore, the golf course is often a gathering place for many successful businessmen and giants.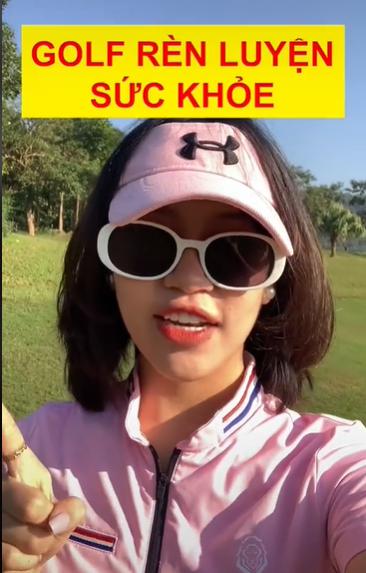 Besides, many golfers also share the same point of view. If you are a TikTok player, you will also see this girl sharing everything related to golf. Specifically, this girl once shared her opinion about going to the golf course to get a rich husband.
Accordingly, she shared: "It's easy to find giants on the golf course. I've seen rumors from all of my friends. Well, give me a little less, I've been playing for almost two years and no one has picked it up yet."
In addition, this girl also added: "Playing golf can exercise health. Secondly, it can give us more relationships, many CEOs and business owners to help us do business. Thirdly, golf helps us to become rich, our own thinking is to have more contact with rich people, then we will get rich. Fourth is stress reduction, many researchers believe that when playing golf, it will release a type of endorphin."
Agreeing with the above girl, a representative of Hanoi golf cafe said:I think depending on the person, each person has a different goal orientation. To say that women go to the golf course to earn riches is too negative. In fact, anyone who comes into contact with golf will find that this sport brings a lot of benefits not only to health but also to practice many good virtues such as patience, concentration, discipline… and helps to expand relationships. generation. As for her golf cafe, she also wants to bring the experience to Vietnamese people closer to this aristocratic sport."
The collection of LP's workout clothes is countless, enough for her to have 1 set every time she goes on the field, no two days are the same.
The biggest reason why LP (SN 1994) – the owner of a Vietnamese beauty salon used to make MXH Trung "wobble" in 2016 to play golf again because the training equipment was too beautiful.
"I'm passionate about golf partly because the training gear is so beautiful, I wear one every day. Of course, it depends on the individual's style, but basically, golf training equipment is much more expensive than gym equipment. "she shared.
LP started playing golf in July 2020 and only 3 months later, she boldly declared that she was "addicted" to this sport. The "addiction" of LP is reflected in the fact that almost every day she is on the field or in practice. Besides, she is also not afraid to spend money to invest in playing tools, tuition fees, and training clothes.
About the fact that many people think that girls now invite each other to the golf course to find rich people, P frankly said that whoever needs something can find it. As a businesswoman, LP looks to golf as a pastime outside of work: "Friends, brothers and sisters that I met at the golf course were all talented people. They simply chose golf as their favorite sport like me. From the golf course, everyone became friends in real life."
Many people still haven't forgotten the story of MC, actor Thu Hoai thanks to playing golf, he met his other half and happened to be a giant. MC Vu Thu Hoai once found his "other half" during golfing trips. It is known that the husband of sports MC named Hoang Nam is currently the CCO (Business Director) of a leading high-tech golf training center in Vietnam.
"From a student who worked hard to get 10 scholarships, she has now received a full scholarship. Happy ending like in the movie", Vu Thu Hoai shared.
In addition to congratulation for the beautiful love story of the female sports MC, there were also many comments that Vu Thu Hoai "took 7 years of golf to get rich".
Faced with mixed opinions, the sports MC did not hesitate to respond: "In your opinion, what is the concept of a tycoon? Hoai himself has a stable job, does many jobs, and perhaps while Hoai was still working, you all went to sleep. Every month my income is not less than 9 numbers are their own giants, so never judge anything just through your subjective view, guys!"
Talking more about the point of view "women go to the golf course to hunt giants", MC Thu Hoai also commented: "I'm just joking. I don't care if you're looking for a rich man or not, but it's obvious that you're expanding your relationship.
It's not easy to find giants on the golf course, if you find it simple, you don't know the rules of golf."
But of course, the story of going to the golf course to find a rich husband is still very controversial because if there is, sometimes it is only a very small part. This problem cannot be attributed to all because many successful women still come to golf to train themselves after stressful working hours.
You are reading the article
Is it true that beautiful girls who go to the golf course are "crabs" to get rich? -Young

at
Blogtuan.info
– Source:
24h.com.vn
– Read the original article
here