Business
Looking back at the catastrophic plane crashes of the Boeing 737 series to solve the mystery of the China Eastern Airlines disaster
On the afternoon of March 21, China Eastern Airlines flight MU5735, carrying 132 people, suddenly plummeted at an altitude of nearly 9km down a mountainside in Guangxi, southern China.
Investigators are currently focusing on the unusualness of the incident to find out what caused the plane to crash.
Most plane crashes happen during takeoff and landing. Incidents like the March 21 crash have a large fatality rate among airline accidents. Airplane crashes while in flight will almost be a "death sentence" for all passengers and crew members on the flight.
The Boeing 737-800 took only 1 minute 35 seconds to disappear from view after plunging from a height of nearly 9km at a speed of about 560 km / h.
Hassan Shahidi, president and chief executive officer of the Virginia-based nonprofit Flight Safety Foundation, said it's too early to say what happened. "In the coming days, China Eastern, China's aviation regulator, Chinese investigators and Boeing will have more information from flight recorders, cockpit voice recorders, aerial data," he said. save and other data available".
The Boeing 737-800 has a high safety record among aircraft types. To date, out of more than 7,000 aircraft delivered in 1997, only 11 fatal accidents have occurred.
Although the cause of this accident is still unclear, several past accidents may provide similar clues.
Sriwijaya flight 182, January 9, 2021
A 26-year-old Boeing 737-500 operated by Indonesia Airlines took off from Jakarta with 62 passengers and crew members on board. Initially, the flight went normally. After reaching an altitude of about 3 km, the plane stalled for about 45 seconds.
At that time, an air traffic controller reported that the plane had veered off course but heard no response. At about the same time, the plane turned to the left about 40 degrees and began to plunge into the Java Sea within minutes. All passengers and staff on the flight were killed.
While the final investigative report is still pending, a preliminary probe shows that the plane's left engine has reduced power while the other is still operating normally. There are also indications that the pilot was unable to maintain his intended course and may have been distracted trying to avoid the storm.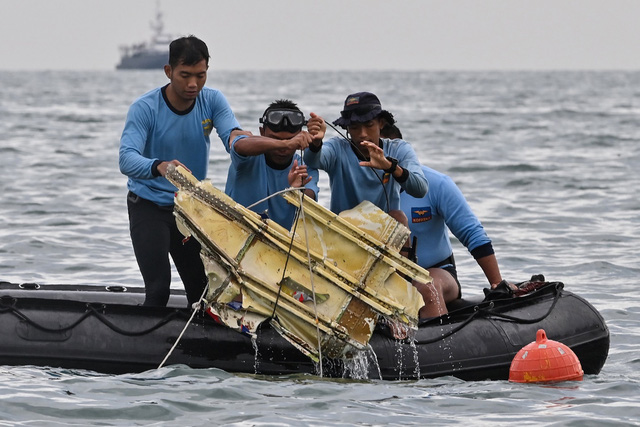 The Indonesian Navy recovered the wreckage of the Sriwijaya Air plane. Photo: Getty Images
Flydubai plane crash in Rostov-on-Don, Russia, on March 19, 2016
This catastrophic crash was also caused by a pilot disorientation similar to the Atlas Air flight. According to the Russian Air Accidents Investigation Committee, the Boeing 737-800 plummeted from an altitude of more than 1.2 km. All 62 people on board were killed.
Silk Air flight 185, December 19, 1997
A 737-300 plane carrying 104 people mysteriously plunged into a river in Indonesia when two data recorders were disabled.
According to investigators, from an altitude of more than 10km, the plane crashed at such a speed that parts on the plane began to break.
The NTSB assisted Indonesia in the investigation of the accident. They concluded that the captain intentionally brought down the plane. While Indonesian investigators said there was not enough evidence to determine what happened.
USAir Flight 427, September 8, 1994
The Boeing 737-300 carrying 132 passengers and crew members began to descend gradually to land at Pittsburgh airport, USA. But when it was about to land at an altitude of more than 1.8 km, the plane's rudder had a problem causing the plane to flip to the left and begin to plummet to the ground in a spiral. No one survived the terrible accident.
This is the second crash caused by a 737's rudder failure. A few years after the crash, the US Federal Aviation Administration (FAA) ordered the 737's entire rudder to be repaired. Since then, nothing has been done. any accidents caused by system errors.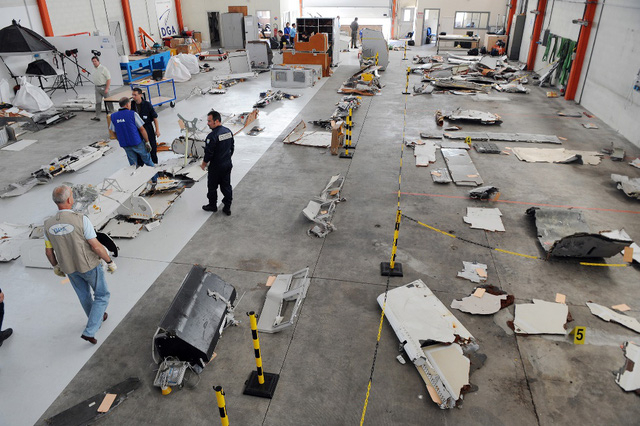 Debris from Air France Flight 447 was collected and investigated in France. Photo: Getty Images
According to Bloomberg
https://cafef.vn/nhin-lai-nhung-vu-tai-nan-may-bay-tham-khoc-cua-dong-boeing-737-nham-giai-ma-bi-an-cho-tham- hoa-crab-china-eastern-airlines-20220322105922289.chn
You are reading the article
Looking back at the catastrophic plane crashes of the Boeing 737 series to solve the mystery of the China Eastern Airlines disaster

at
Blogtuan.info
– Source:
cafebiz.vn
– Read the original article
here