The story that female singer Hien Ho is rumored to have an unclean relationship with the giant U60 Ho Nhan is causing public opinion to stand still. On many forums, people pose the situation: "If you can buy a car, give a gift of brand name, and have a luxurious meal, will the girls accept to be a minor?". This question has caused a fierce controversy. The faction insists on not being a third person, criticizing the destruction of other people's family happiness. But also many opinions agree to accept the married rich couple. to obtain material values.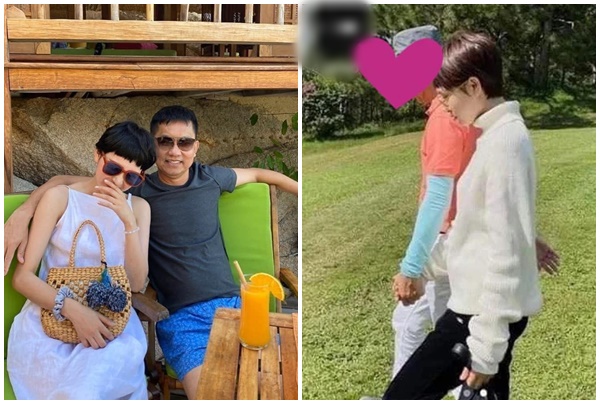 Hien Ho and the giant Ho Nhan revealed their intimate and intimate photos
Discussing this story, Huyen Trang Bu Hoi (real name Trinh Huyen Trang, female author of 5 books about women) gave her perspective. "From yesterday until now, every time I read articles like, if you hit the G63 car in the face, everyone has to shut up, it's normal for every money to crush someone to death. As long as we love each other, we don't need to know right or wrong, is it embarrassing to say that?
Only women who are not able to make money see men's money as valuable. Only a woman who is unable to take care of her second half of life can borrow other people's husbands and fathers of innocent children to support her life."
Huyen Trang analyzed, love and sex do not discriminate against age, but dating a married man is completely wrong. This out-of-the-way relationship is also not recognized by any law.
"To be honest, making easy money for the second half of life is liked by everyone, but making money on other people's failures is kind of bad. evil"the female author emphasized.
The female writer cited: "Unexpectedly, on the marriage registration paper, there are only husband and wife names. So don't let anyone advocate for the wrong, and don't think that money comes first, because isn't the first lesson your parents taught you to live with Ethics?!".
The female writer Huyen Trang Realty commented on the provision of luxury cars and villas ready to date with married giants.
Talking about the adultery of today's men, the female writer thinks that men with a lot of money or little money, success or failure, may also have an affair, but whether adultery leaves his wife or not is a different story. . The better a man is, the easier it is to cheat because when one has everything in hand, lust is what people bring out for entertainment.
Commenting on the man having an affair, she frankly said: "If you can't even protect your own family, then how are you qualified to struggle in the ocean?"
The female writer also did not forget to confront the mistresses and point out the position of the person who destroys other people's family happiness. "Those who pass through the hands of married men, for them, you are just a commodity in their pastime. Don't think it's good to be with a married man because talent is never good make reason.".
https://soha.vn/duoc-xe-sang-biet-thu-san-sang-cap-ke-voi-dai-gia-co-vo-kiem-tien-tu-su-do-vo-la- ac-nhan-2022032213271683.htm
You are reading the article
Making money from breakdowns is evil

at
Blogtuan.info
– Source:
Soha.vn
– Read the original article
here