Đời sống
Musician Hong Dang "Floating" to heaven
Even though he knew that musician Hong Dang could not escape the fate of heaven, it was still very sad. In my ears, the lyrics of the song "Floating" echoed in my ears.
Knowing and being close to him for nearly 20 years, seeing him always relaxed and happy. I asked him to summarize his life in a few words, he said in two words "floating".
This is also his favorite song, so much so that he named it the only music night of his life, and then named the DVD "Swimming the Sea" with that name. And now, at the age of 86, he is "floating" back to heaven…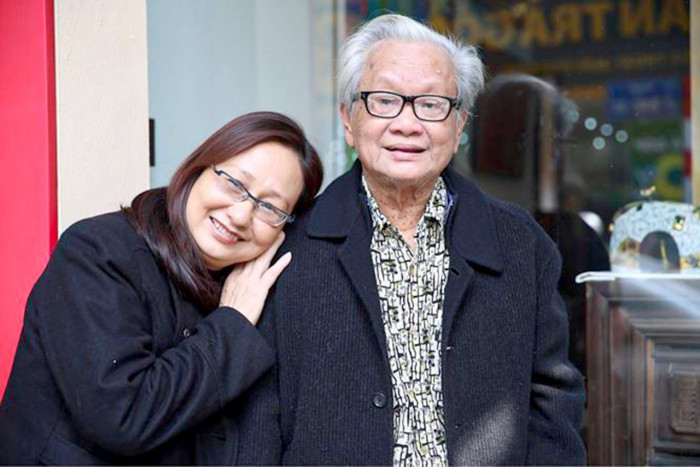 Musician Hong Dang and his wife Le Anh Thuy.
"Floating" it lucked into me
One morning in 2006, musician Hong Dang invited some close friends to Cay Da cafe on Tran Nguyen Han street (Hanoi).
I thought he invited him for a normal coffee, but it turned out to publish and give his friends a DVD "Driving to the sea", recording songs from his private concert in 2005 at the Hanoi Opera House.
Thus, after a whole year of music, he had a DVD for his friends. He joked: "The name of the night was right on me. After a year, but still floating…".
I asked why? He whispered, "The number is floating, it keeps pushing me. That day I told Thuy (Le Anh Thuy, his wife) that organizing this occasion was difficult. I said that before but Thuy did not listen, told to organize. It's like, something happened."
The life of a musician is inherently "poor and noble". Before him, no musician had dared to spend money to make a luxurious music night like him at the Opera House.
He never dared to think about it. But because he cherished and loved his music, a leader in the banking world offered to sponsor the concert.
But when the organizational stages were closed, suddenly the internal disunity, sued each other, the other leader had to cancel the contract.
"The bad thing is that there are only a few days left, so I can't make it in time, and the concert can't be postponed, tickets are sold out. At that time, not only me but also the directors, props, lighting, arrangement… were all stunned. Only water to cry …", he confided.
The total cost for the music night was nearly billions of silver. This was too much money at that time, for a poor musician like him. But it is not possible to cancel, but the ticket is sold, how can it be canceled? So I had to bite my teeth to borrow, plus the help of friends, who gave 5 million, who gave 10 million, who worked to help without taking money.
Many people like the sophomore Tran Manh Tuan flew from Saigon to perform for free, singer Hong Nhung flew back from France to sing without taking any pay… and the concert went on as usual.
Before organizing the music night, friends and brothers said that they had to do a great job, to help Dang earn some money. Unexpectedly, the loss was heavy, it took nearly two years to pay off the debt…
"Thinking back, I was poor but played too well. Up to that time, no musician had organized a private music night as spectacular as "Driving to the sea". Music night to celebrate. Many brothers are so good to me, so I'm happy," he confided.
The most precious thing, as well as the greatest asset he has, is his friends. Thanks to that, when he was in trouble, everyone joined hands to do one thing. The music night that recorded his life's mark still went on completely, spreading more than expected.
I am a whole generation older than him, but I have never been swayed by the feeling of age gap. Surrounded by friends near and far in the South, outside in the North, there are countless, all genders, all of whom are treated sincerely by him.
Ten years ago, when he discovered that he had diabetes, heart disease, and sometimes had to go to the hospital for treatment, the people who took care of him and directly treated him were mostly his friends.
Horoscope story, general number
With Hong Dang, his musical talent revealed very early, in 1953, when he was only 14 years old, he was a resistance student in Inter-zone IV, he composed his first songs such as: "Sun on the Northwest". , "Remembering Uncle Ho", "Student life". To date, he has more than 700 works, including many famous timeless works such as: "Milk flower", "Singing sea this afternoon", "Floating" …
Many people know him as a musician, but few people know that he also has a special ability. In his time, there were three famous people who watched horoscopes and horoscopes, GS. Tran Quoc Vuong, Major General Nguyen Dinh Ngoc and musician Hong Dang. He once told me about him and Prof. Tran Quoc Vuong bet many times, it's just a funny story, but there are many hidden meanings he sent in it.
He said, for the first time, Mr. Vuong and I went to Mr. Vien's house (singer Hong Nhung's father) to play.
At that time, Mr. Vien talked about his wife's pregnancy again, Mr. Vuong guessed "this time his wife has given birth to a daughter (there was Hong Nhung at that time), he has to try again to find a son". I said, "don't worry, boy!".
The two sides agreed to bet a bottle of Western wine (at that time it was very luxurious) and a live castrated chicken to see who was right. At that time, there were many people watching. Finally, his wife Vien gave birth to a son. That story is still mentioned from time to time.
Another time, Mr. Vuong and I went to Professor's house. Nguyen Van Khai (Hanoi University of Education).
Mr. Khai boasted "my wife is pregnant", Mr. Vuong guessed his son, I confirmed his daughter. So Mr. Vuong said, "What do you say differently than I do?" I said "not only your daughter, but your wife also has to have a caesarean section".
Then, one day when I was about to have lunch, Mr. Khai called to receive a reception at Bodega Trang Tien restaurant. Mr. Khai announced that "my wife gave birth to a daughter and had to have a caesarean section and almost died. Just like you said."
Listening to him tell funny stories, I didn't quite believe it, but I was also convinced by many stories of "real people, real things" in the decades of being friends with musicians for many decades.
For many people, he helps his best with his "self-made ability", sometimes with explanations of horoscopes, advice to do this way, that way to avoid the things that people often call "great things". term".
Where does his talent come from? He said, his father is a good horoscope, good general. "Perhaps part of me inherited my genes from my father, part of my research. In 1968, I had a son. When he was more than two years old, he happened to meet an old man, he looked at the boy's face and said "this boy can't live more than three years old", I didn't believe him because at that time he was very normal. But all of a sudden, I had an accident at the kindergarten, went to the hospital, and died.
Since then, I have always been haunted by inexplicable things about human fate, plus a number of other things that happened, I think this is a science worth studying, he confided.
He said, for a long time, people believed that horoscopes and numerology were superstitious, so they rejected it. But in the US, there is a research institute on spiritual sciences (horoscopes, psychics, etc.) and many countries do very in-depth research. This "resource" should not be wasted.
For example, if we do deep research and when it becomes science, from a young age, we can orient our children to what professions they should go to to learn to maximize their abilities.
* Yesterday morning, March 21, I received a phone call from Ms. Thuy (who, because of her love of music and the person he had volunteered to live and take care of him for decades), informed that musician Hong Dang had passed away. finally at Huu Nghi Hospital (Hanoi).
Even though he knew, he could not escape the fate of heaven, but it was still very sad. In my ears echoes the lyrics of the song "Floating": There are two nostalgia stirring the wind on the side of the dyke / There are two hearts with the same way back / The sky is so blue / Life is so blue / Floating in the stars far away / Floating the clouds are far away / But the stars are still floating, floating… The lyrics seem to be wearing him, just floating, floating. Now he just drifted, floating but did not set a date to return.
Hong Dang's real name is Phan Dang Hong, born on January 1, 1936, in Nghe An. He is the grandson of revolutionary Phan Dang Luu. Up to now, he has written more than 700 works, with many genres such as songs, choirs, vocal plays, scenes, instrumental skits, film soundtracks, stage music.
In 2001, he received the State Prize of Literature and Art for his works: the song "The sea sings this afternoon", "Milk flower", "Gift in May", "Celebrating the childhood city" and the collaboration between the two artists. chanting "Burning Fire"'; On October 28, 2021, musician Hong Dang was awarded the Grand Prize "Bui Xuan Phai – For the love of Hanoi" for his outstanding contributions to the Capital's music industry.
According to baogiathong.vn
You are reading the article
Musician Hong Dang "Floating" to heaven

at
Blogtuan.info
– Source:
infonet.vietnamnet.vn
– Read the original article
here