Thế Giới
The solution hidden in the ground: Groundwater
More than 2 billion people around the world live without clean water to use, including those in the poorest quintile. Over the next few decades, this situation will get even worse as the world continues to suffer from increasingly severe droughts, widespread water pollution, saltwater intrusion and inadequate water use management. An "invisible" solution is believed to be hidden underground: Groundwater.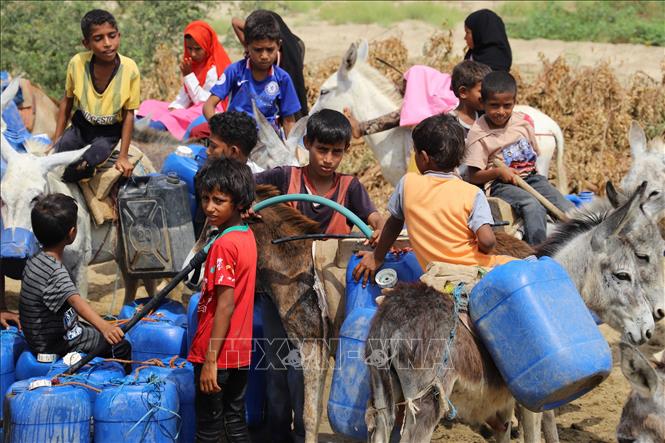 Groundwater helps maintain ecosystems, river flows, and prevents land subsidence and saltwater intrusion, is an important part of climate change adaptation measures and an important solution. important for places where water is lacking for safe use. Therefore, the World Water Day (March 22) in 2022 is organized by the United Nations (UN) with the theme "Groundwater – Making invisible resources visible" ("Groundwater – Making the invisible visible"). emphasizes the important role of groundwater in water systems and sanitation, agriculture, industry, ecology and adaptation to climate change. The theme of this year's March 22nd is to raise awareness about this invisible water source, promote the exchange of knowledge and cooperation, thereby increasing awareness on the role of protection and sustainable use. groundwater resources.
According to scientific data, only about 1% of the water on Earth is freshwater, concentrated mainly in the polar ice sheets and the rest in the form of salt water in the oceans. Of the fresh liquid water on Earth, 99% is groundwater of generally good quality. Therefore, this water source can be used safely, affordably and without complicated treatment. There is about 10-20% of groundwater that can be regenerated naturally, groundwater can also be extracted at moderate depths. What remains is called "fossil water" that has been underground for thousands, even millions of years. Although this water source is not renewable, it is abundant.
Meanwhile, surface water, such as water from lagoons and reservoirs, are finite, high-cost resources, often affected by pollution and climate change such as drought. , while these methods of water extraction entail ecological and social consequences. The United Nations estimates that the amount of water used in the world increases by 1% each year. Climate change and unplanned exploitation and use of water are causing surface water supplies such as lakes and dams to gradually dry up. In 2018, 3.6 billion people in the world did not have enough water to use for at least 1 month and this number will increase to 5 billion by 2050. Therefore, according to the United Nations, groundwater will gradually become a human factor. element plays a leading role in maintaining the essential supply for all living things on Earth.
Today, groundwater systems play an important role in natural environments such as forests and provide about 25% of the water used for farming. About 50% of the world's household water use comes from underground aquifers and it is also the cheapest source of drinking water for many people in rural areas and villages, who have almost no access to water. connected to public or private water supply systems. Besides, 40% of irrigation water in agriculture and about 30% of water for industrial production comes from groundwater. The development of groundwater resources is seen as a catalyst for economic development by expanding the area of ​​irrigated agricultural land, improving crop yields and diversifying crops.
However, according to the UN World Water Development Report 2022, despite its important role, groundwater is still a "mysterious factor", with very little knowledge about this resource, its value. has not been fully promoted, along with insatiable and even wasteful use. The report's lead author, expert Richard Connor, said the sustainable management and exploitation of groundwater resources represents a great opportunity for the world to escape a water crisis with unpredictable consequences. This is all the more important as the world's population is increasing day by day, putting increasing pressure on water supplies.
Overexploitation can lead to serious consequences such as land subsidence and water disputes. In 2018, as India experienced the worst water crisis in its history, a government think tank forecast that at least 40% of India's 1.3 billion people would not have access to clean water. stabilized by 2030. Droughts are also occurring more frequently as the climate is getting warmer, making life and production activities more difficult for farmers, while water disputes between states also increased.
In the Indonesian capital Jakarta, rapid urbanization has also caused the water storage areas to gradually disappear, forcing people to increase their dependence on underground water sources, causing the megacity of Jakarta to sink by about 5-11cm per year. five. Groundwater can be contaminated by improper sanitation and waste disposal systems, as well as industrial waste from mining operations and the use of agricultural chemicals. Compared to surface water, groundwater is less affected if contamination occurs, but once it occurs, it is more difficult to treat and protect.
Therefore, expert Connor calls for more action to protect groundwater by strengthening the capacity of environmental protection agencies, environmental protection regulations and enforcement forces. . Governments need to invest in water infrastructure, research institutes on this resource and train experts. Water is not the source of tension and disputes, it is the management of water use that matters, especially where water is available. In this respect, governments need to form systems such as committees in charge of groundwater management to share information and find ways to manage appropriate uses.
From a personal perspective, expert Connor believes that each person who has a sense of self-consciousness about saving water use will create great community strength. The habit of using water in the home is fundamental. If everyone has a sense of saving water, it will reduce the amount of used water, reduce the amount of water that needs to be treated, help save energy, thereby helping to protect the environment and combat climate change. Queen
Vietnam is a country with a fairly rich source of groundwater in terms of reserves and good quality. With the view that "water is a particularly important resource, an essential component of life and the environment, determining the existence and sustainable development of the country", Vietnam always strives to strengthen and perfect , institutions and policies in the field of water resources; promote cooperation with countries that share water sources; rational exploitation and use of clean water sources in order to contribute to the sustainable development of the country. The Government focuses on investment activities to upgrade and complete the construction and operation of a monitoring system for underground water exploitation to monitor and detect works with excessive water level decline and have a timely handling of judgments; upgrade and complete the database system on underground water…
In his message on the occasion of World Water Day 2022, UN Secretary-General Antonio Guterres emphasized, "Groundwater cannot be seen, but we can't help but think and care about it. In many places, we simply don't know how much of this precious resource is left. Let us pledge to strengthen cross-sectoral and cross-border cooperation so that we can achieve a sustainable balance between the needs of man and nature; at the same time exploiting and using groundwater sustainably for current and future generations".
You are reading the article
The solution hidden in the ground: Groundwater

at
Blogtuan.info
– Source:
baotintuc.vn
– Read the original article
here