According to specialist doctor I Ngo Cao Ngoc Diep, Department of Nutrition – Dietetics Hospital (BV) University of Medicine and Pharmacy, Ho Chi Minh City, obese patients suffer from obesity. Covid-19 will shift weight very quickly. In cases that are being monitored and treated at home, patients need to strictly follow the instructions of the local health, discuss with medical staff about the treatment of the underlying disease (if any).
Immunosuppression disorder
The survival of a 140 kg male patient with Covid-19 after nearly 3 months of recent treatment in Ho Chi Minh City is a medical miracle and even luck. Dr. Dr. Nguyen Hoang Hai, Deputy Director of Gia Dinh Hospital and Director of Field Hospital No. 16, said that the male patient (28 years old) had a severe Covid-19 infection, acute respiratory distress, grade 3 obesity (index) body mass BMI 48 kg/m2), type 2 diabetes. The respiratory failure in a rapidly progressing patient required invasive mechanical ventilation and ECMO (extracorporeal membrane blood oxygenation) within the first 24 hours after admission.
"Pathological obesity (with BMI > 40 kg/m2) is considered a poor prognostic factor in ECMO intervention because of the risk of complications, according to the world literature, this case has a very high mortality rate. up to 80%-90%" – Dr. Hai informed.
"During nearly 3 months of ECMO intervention, there were times when lung damage was so severe that despite complete ECMO support, the patient's blood oxygenation was still inadequate, even threatening to die. Inter-specialist consultations are carried out continuously; all modern medicines, equipment and medical supplies are mobilized to support intensive resuscitation with the tireless efforts of all doctors and nurses. , the male patient's life was saved" – MSc-BSc Giang Minh Nhat, Head of the Intensive Care Unit 1 Field Hospital No. 16, recalls.
According to Dr. Ngo Cao Ngoc Diep, if the elderly are at high risk of being hospitalized with Covid-19, the second group is those with underlying medical conditions, especially obesity. New studies show that obesity is a risk factor for severe Covid-19 disease and high mortality in both adults and children. Obesity leads to persistent immune dysregulation, increased susceptibility to infections, sepsis and death.
The hypertrophic adipocytes dysfunctional in obesity produce too many cytokines leading to an increase in macrophages, which produce large amounts of proinflammatory molecules. Fat accumulation in the lungs will also make it easier for the virus to enter the spleen, stem cells and brain, activating the immune system. This weakens the body's immune function.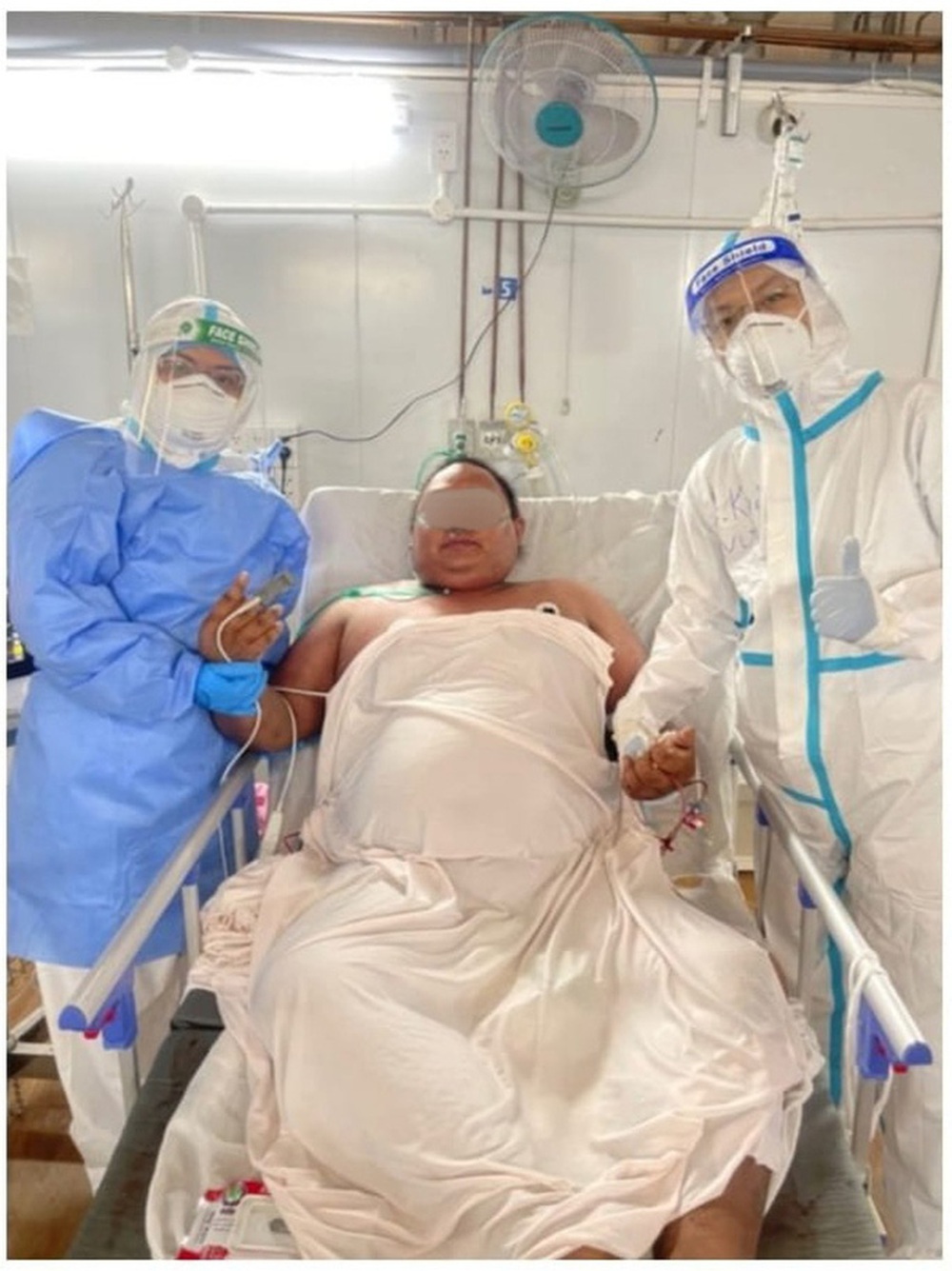 A 140 kg male patient with Covid-19 was saved after nearly 3 months of treatment
Lifestyle change
Dr-BS Tran Quang Nam, Head of the Department of Endocrinology, Ho Chi Minh City University of Medicine and Pharmacy, said that a body mass index (BMI) ≥ 30 is considered obese. For Asians, this index is lower, specifically, people with BMI ≥ 23 are considered overweight and BMI ≥ 25 are obese patients. Obesity is associated with more than 200 different diseases. This is the cause of 2.8 million deaths each year.
Some of the typical serious complications of obesity include: diabetes, heart disease, stroke, high blood pressure, kidney disease, liver disease, sleep disorders, bone and joint problems, and health risks. risks to women during pregnancy and some dangerous forms of cancer. Studies show that, from a BMI of 25 or more, for every 5 BMI unit increase, the risk of premature death increases by 31%.
"Regular health checkup is very necessary, especially when BMI has exceeded the overweight level. There are 3 directions to treat obesity: lifestyle changes, medication and surgery to remove part of the stomach. In which, the persistence of following a suitable diet and exercise to maintain a reasonable weight is the decisive factor," said Dr. Tran Quang Nam.
Dr. Ngo Cao Ngoc Diep noted that a reasonable diet for obese people with Covid-19 is very important. During infection, patients need to have a nutritious diet, especially protein from fish, lean meat, beans, skim milk; need to eat enough green vegetables to provide vitamins and minerals, micronutrients. This is an important factor to ensure the effective functioning of the immune system, helping to repel Covid-19.
Besides, symptoms such as loss of taste, fatigue when infected will make the patient not eat well, pale mouth. Therefore, it is necessary to supplement vitamins and micronutrients, this supplement should be prioritized from food sources.
"Covid-19 disease in children is mostly mild or asymptomatic, but for children over 10 years old with high risk factors such as being overweight – obese, having underlying medical conditions, they often develop respiratory failure. very fast breathing due to severe lung damage, so it is necessary to promptly detect signs of respiratory failure such as shortness of breath, shortness of breath, rapid breathing or a drop in SpO2 (blood oxygen concentration)… This plays a role. important in treatment to help reduce severity and mortality" – Dr. Pham Van Quang, Head of Intensive Care Unit 1 Children's Hospital (HCMC), recommended.
You are reading the article
Warning obese people when they have Covid-19

at
Blogtuan.info
– Source:
Soha.vn
– Read the original article
here