Thị trường
20 businesses on the stock exchange hold 400,000 billion VND, most of which are deposited in banks for interest
20 businesses on the floor hold a total amount of VND 400,000 billion, of which are mainly short- or medium-term bank deposits.
20 businesses on the floor hold an amount of VND 400,000 billion
According to statistics on December 31, 2021, there are 20 enterprises owning a cash amount of over VND 10,000 billion, including cash, cash equivalents and term deposits. The total amount of cash and cash equivalents of these 20 enterprises exceeds VND 400,000 billion.
Hoa Phat is the company that holds the top position in this cash race with more than VND 40,700 billion including cash, cash equivalents and term deposits. The steel industry's weather has caused Hoa Phat to increase profits strongly, usurping the No. 1 cash king on the stock exchange.
The second position belongs to Vingroup with about VND 26,400 billion. Other businesses with more than $1 billion in cash include ACV, GAS, FPT and Vinamilk. Thus, from the number of 3 businesses owning more than 1 billion USD in cash in 2020, there are 6 enterprises participating in this list in 2021.
Hoa Phat Group is the enterprise with the strongest increase in cash in the past year, with an increase of nearly 19,000 billion VND. Next is Masan of billionaire Nguyen Dang Quang with an increase of 14,400 billion VND, reaching nearly 1 billion USD.
Some other businesses with a strong increase in cash in the past year are Masan Consumer Holdings, FPT, Gelex with an increase of more than 9,000 billion dong.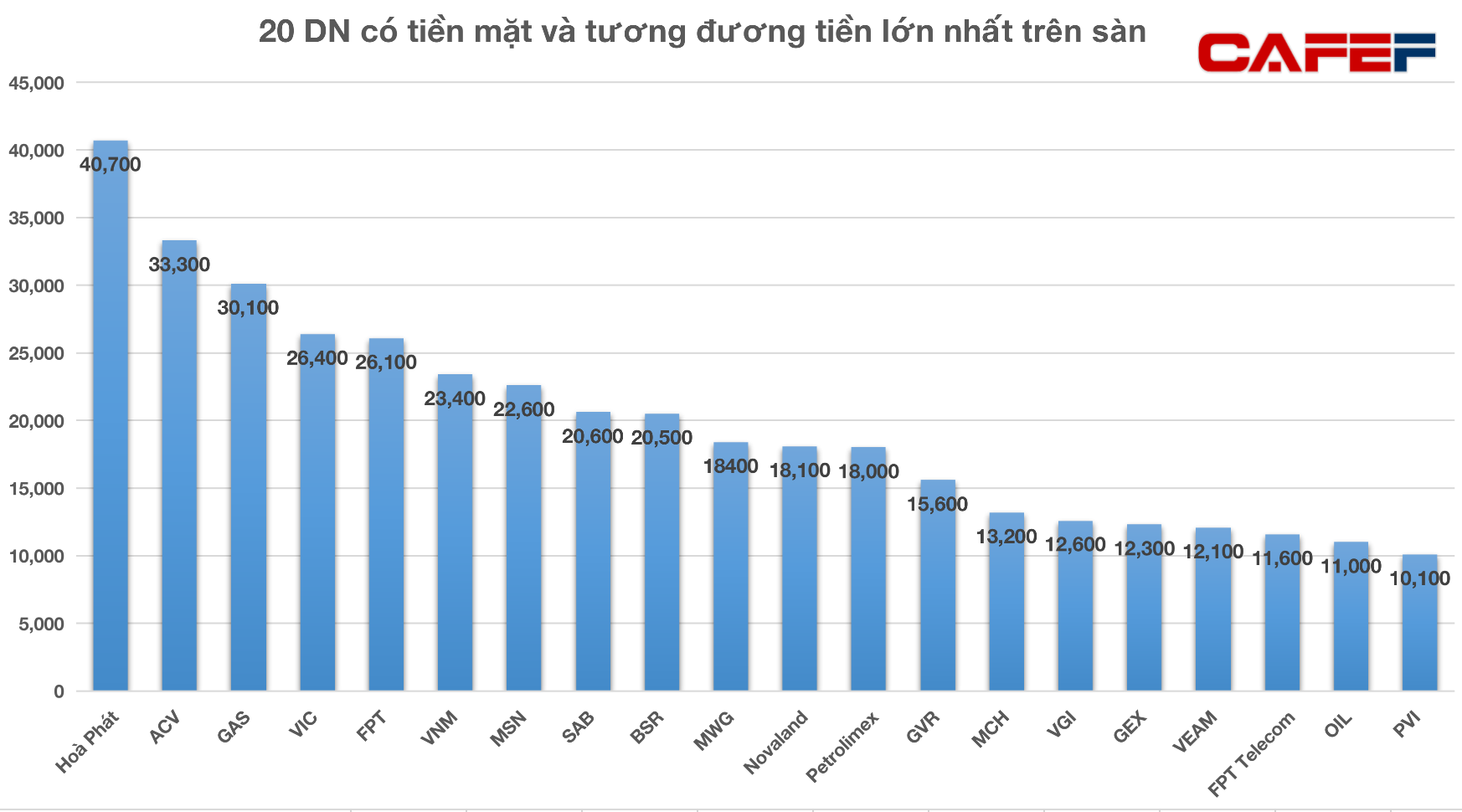 Top 20 enterprises owning the largest amount of money on the stock exchange. Unit (billion VND)
In general, businesses almost always keep a small amount of cash in their accounts, the rest put into short-term savings (1-3 months) or medium-term (3-12 months).
Most businesses carry bank deposits. These can be money for working capital, production and business but in the time of not being used, temporarily deposited in the bank for interest. However, in this list, there are many businesses with main business lines that have accumulated good profits every year to achieve this "huge" amount of money such as Hoa Phat, FPT, ACV, VEAM, GAS…
Among the enterprises mentioned above, in some cases there is a mother-child relationship, such as FPT Telecom which is a subsidiary of FPT; Masan Consumer (MCH) is the son of Masan. Therefore, changes in the amount of cash of subsidiaries will cause the amount of money of the parent company to change accordingly.
Many banks pay the highest deposit interest for large deposits
For businesses with a high amount of cash deposited in banks, in the context of inflation and interest rates, which many organizations believe has created a bottom in 2021 and will rebound from 2022, they will meet "a favorable time", which is very favorable. benefit in interest rate hikes.
In fact, the interest rate in March of Vietnamese banks has created a new ground, inched up with large deposits aimed at corporate customers.
A survey at more than 30 domestic commercial banks in March showed that some banks pushed up savings interest rates quite high, but only for large deposits with long terms. In which, SCB is the bank that lists the highest savings interest rate at 7.6%/year at the counter, but with the condition that customers have to deposit at least VND 500 billion with a term of 13 months.
Techcombank and ACB also joined the interest rate race with large deposits aimed at businesses. Techcombank mobilizes a savings interest rate of 7.1%/year, applicable to customers who deposit from VND 999 billion or more, with a term of 12 months and a commitment not to pay off early. ACB also mobilizes savings interest rate at 7.1%/year, but requires customers to have a deposit of 100 billion dong and receive interest at the end of the period.
The deposit interest rate of 7.0%/year is also applied by many banks more than the previous month. For example, MSB mobilizes a savings interest rate of 7%/year with the condition that the deposit amount is VND 200 billion, with terms of 12 and 13 months. At SCB, if customers deposit with a term of 12-24 months, they also have the opportunity to receive an interest rate of 7%/year.
Many banks also apply the highest savings interest rate below 7%, such as LienVietpostbank at 6.99%/year; MBbank and VietABank have the same highest savings interest rate of 6.9%/year; HDBank is 6.85%/year; BacABank is 6.8%/year…
Statistics show that Vietnam's interest rate level in 2021 has fallen to the lowest level in the past 10 years. Therefore, experts say that interest rates in 2022 may increase again when the demand for credit capital increases to serve production after the pandemic.
Bao Viet Securities Company (BVSC) said that Vietnam's CPI inflation rate after the first two months of the year reached 1.68%, relatively low compared to recent years. However, in the coming time, inflation pressure will be higher when the prices of many materials tend to increase sharply, especially gasoline prices, which will cause banks to increase deposit rates and maintain interest rates. positive real to suck money from the market.
BVSC forecasts that the interest rate level in 2022 will be difficult to decrease further than the end of 2021 and will likely increase slightly (around 0.25-0.5 points), especially in the second half of 2022.
VNDirect Securities Joint Stock Company also forecasts that deposit interest rates in 2022 will increase by 0.3-0.5 percentage points. Increased capital mobilization demand on the back of increased credit and inflationary pressures plus competition from other attractive investment channels such as real estate and securities could drive interest rates up.
The US Federal Reserve (Fed) has officially announced to raise the reference interest rate by 0.25 percentage points, to around 0.25 – 0.5%; At the same time, it signaled that there could be 6 more rate hikes from here to the end of 2022. This is the first time the Fed has raised interest rates since 2018, due to fears of record-high inflation.
At the recent general meeting of shareholders, answering questions from shareholders when assessing the impact of the Fed's interest rate hike on bank profits, Mr. Han Ngoc Vu, General Director of Vietnam International Commercial Joint Stock Bank (VIB). This will essentially affect the cost of capital in the international market. Currently, VIB is one of the banks aiming to mobilize capital internationally, with an interest rate that is said to be more attractive and stable than the domestic residential deposit market.
At the moment, the pressure on capital costs is also pressing on some banks when deposit interest rates in the market are showing signs of increasing.
Statistics of SSI Securities Company show that deposit interest rates for businesses have inched up at some big banks with an increase of 20 basis points for terms over 6 months. With increasing inflationary pressure, SSI believes that the interest rate level has bottomed and the rate of interest rate increase in the coming time will depend on the recovery speed of the economy and inflation.
ACBS estimates that interest rates in Vietnam will likely increase in the last 6 months of 2022 and up to a maximum of 0.5 percentage points.
According to Economic Life
You are reading the article
20 businesses on the stock exchange hold 400,000 billion VND, most of which are deposited in banks for interest

at
Blogtuan.info
– Source:
infonet.vietnamnet.vn
– Read the original article
here