Life Style
Xã Hội
"Aunt Ba's crab tray" in Saigon used to be famous throughout social networks, how is it now in foreign newspapers?
Suddenly becoming a "star", paying off all debts
4 years ago, "Aunt Ba's tray" is a name that makes waves on social networks. The sudden popularity makes Aunt Ba's crab sales run out in the blink of an eye.
At that time, Aunt Ba had not brought the crab tray to the selling point, alley 565 Nguyen Trai (District 5, Ho Chi Minh City), there were dozens of people waiting from beginning to end of the alley. Until the crab tray of about 50 crabs from Aunt Ba appeared, customers scrambled to buy them all within 5-10 minutes.
There are days when it seems that Saigon people are waiting around the class inside and outside to buy Aunt Ba's crabs, many Youtubers also constantly appear to update reviews, making "Aunt Ba's tray" even more famous.
"Aunt Ba's crab tray" is crowded with customers scrambling to buy. There were more crab trays then than now
According to Aunt Ba, at that time, 130kg of crabs were sold every day, averaging 4 fish/kg, each costing from 200,000 to 250,000 VND, minus the cost of each crab, about 70,000 VND.
Not only "sweeping" public opinion in the country but also abroad, so much so that a Chinese newspaper also reported on this "phenomenon".
However, the "strange phenomenon" only lasted for about a year. Also because of its popularity, during that time there were many controversies behind such as being slandered by jealous people, being "bombed" or bought but "forgot" to pay, etc. From these events, Auntie Ba gradually became back to "ground" afterwards.
Now, alley 565 Nguyen Trai is no longer crowded and bustling because of Aunt Ba's branded crab cakes. The alley is less crowded, in addition to "aunt Ba's crab tray", the surrounding shops are also sluggish.
The area selling crabs of Aunt Ba is currently very few people, and there are few customers to buy crabs
According to people in the alley, the reason for the absence of customers is because they have just experienced the epidemic, so people's lives are still difficult.
Huynh Thi Minh Chau (52 years old) is considered the "right hand" of Aunt Ba during the process of selling crabs, from when Aunt Ba was not famous to "star" and until now. Mrs. Chau is always close by, dedicated to helping Aunt Ba sell crabs in the most difficult times.
Currently, Mrs. Chau still sells fruit next to "aunt Ba's crab tray" to conveniently support Aunt Ba selling crabs. Recalling the time when Aunt Ba's crab tray just put down, customers bought it all after 5-10 minutes, Nhung shared: "At that time, Aunt Ba was famous and loved by everyone, so she had more income to cover her life and pay off all her debts. Now, when I think back to that time, everyone is happy for her."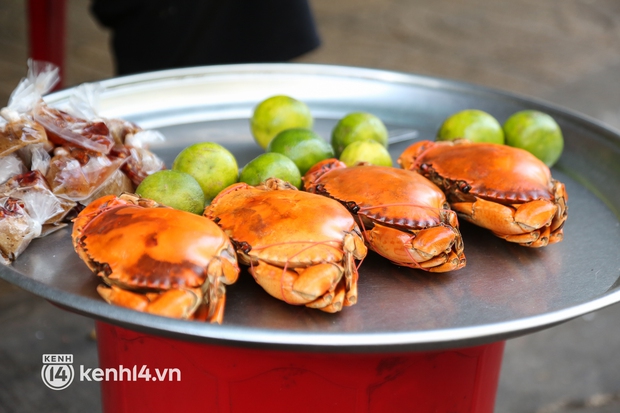 Currently, although selling only 5kg of crabs per day, the sale is very slow, there are days when the crabs are sold out from 10am to 4pm on a tray.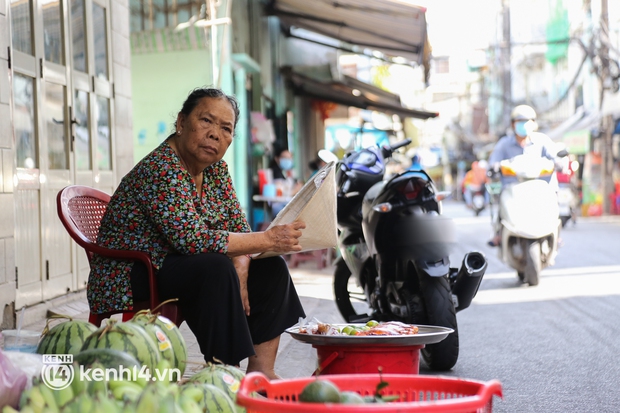 Aunt Ba sat contemplatively waiting for customers to buy crabs
According to Mrs. Chau, many times, Aunt Ba shared with her and everyone in the alley that she had paid off all her debts, so now her mind is at ease, no worries, everyone is happy for her.
"Auntie Ba has paid off all her debt in the late afternoon, so I feel secure, but before that, she was very poor in debt. At that time, we helped her sell crabs when it was crowded, just hoping that she would earn a lot of money to repay the debt to people. Now that I think about it, our wish has come true when Aunt Ba has a stable life and has paid off all the debt.After paying the debt, she still has a little money left to pay. body during illness and used as capital to trade crabs"Ms. Chau added.
The crab tray is empty, Aunt Ba can't speak out loud anymore
Currently, "aunt Ba's crab tray" is no longer the same as before, much less guests, especially after this epidemic, there are fewer customers. Ms. Chau said that one day the crabs were empty, they had to be brought back to the refrigerator and sold again the next day, but at a cheaper price than new crabs.
Auntie Ba can't speak out loud anymore after surgery for goiter, making selling crabs a bit of a problem
While we sat and talked with Mrs. Chau, Auntie Ba sat in front of the crab tray looking out at the alley with distant and slightly sad eyes. Seeing that, we started talking to find out that Auntie Ba can't speak out loud anymore. Currently, Auntie Ba only describes it with hand movements and mouth movements for others to understand.
Pointing to her neck, which still had a scar after surgery, Aunt Ba said that it had been almost a year since surgery for goiter, but for some reason, her vocal cords were turned off, unable to speak out loud. Although Auntie Ba tried to speak loudly for us to hear, she couldn't. Every time I try to say it out loud, it makes Aunt Ba quite tired, so now I mainly listen to other people's questions and then nod.
Seeing that Auntie Ba had difficulty communicating, Ms. Chau shared with us: "Currently, Aunt Ba's health has also declined somewhat due to sequelae after goiter surgery. While selling crabs, sometimes Aunt Ba feels tired, at times like that, I and everyone else are also very worried."
Mrs. Chau is like Aunt Ba's "effective arm" because she always accompanies Aunt Ba through the ups and downs in selling crabs.
When Aunt Ba was often so tired, Mrs. Chau and everyone advised her to stay at home to rest, but she refused. At that time, my aunt said "it's better to go to the store, but at home, it's easier to get sick". "My aunt's goiter also affects her heart, so she's often tired."Ms. Chau said.
According to Mrs. Chau, Auntie Ba operated on her goiter for almost a year, but until now, she still can't understand why she can't speak anymore. Auntie Ba shared, the doctor told her to practice speaking often, but seeing that she practiced talking all the time but she didn't make a sound, now she only whispers in her mouth and everyone looks at her mouth shape to recognize and communicate.
"Now I hope that Aunt Ba can tell me that I can feel more secure, but seeing her like that makes me feel so guilty, I don't know what to do when I'm old and weak anymore. Feeling so guilty, Aunt Ba is living alone again. , there is no one to look after, take care of", Mrs. Chau shared.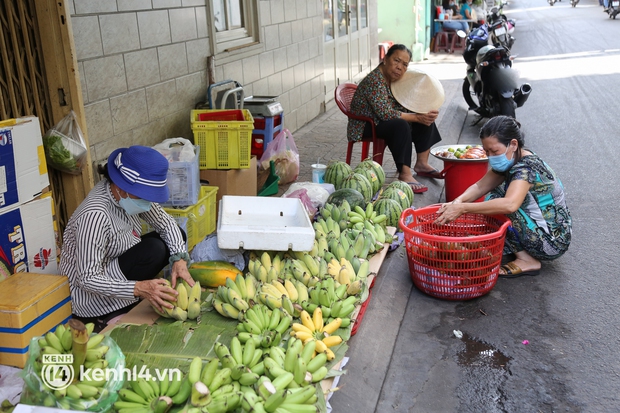 Mrs. Chau (left) sells fruit while helping Aunt Ba sell crabs
Aunt Ba also shared, now that life and the crab business have stabilized, regular customers sometimes come to support, although not as much as before, but she is happy to have customers to buy. Now, Aunt Ba just wants to have good health so that she can do business and earn a living every day.
When recalling the heyday and compared to now, Aunt Ba is not very sad and feels satisfied even though the guests are not as crowded as before. Because according to Aunt Ba, she has received too much help from everyone, so she cherishes those days very much.
Now, there are no customers, only 5kg of crabs can be sold every day, there are days when not all crabs are sold, but Aunt Ba still feels secure.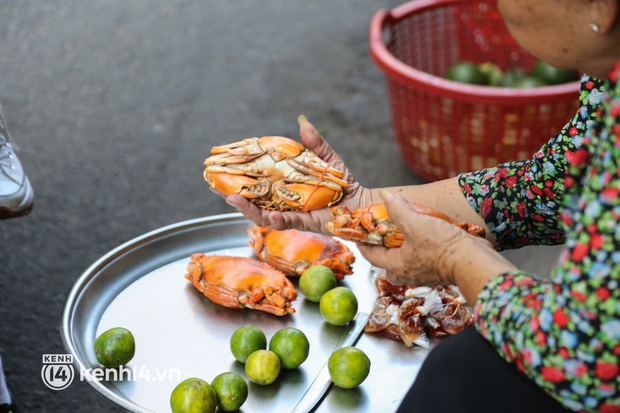 Auntie Ba chooses to hold crabs for customers to see before buying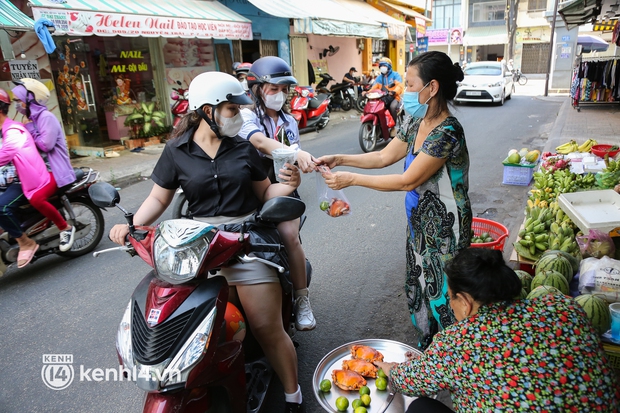 Rare guests visit in the afternoon to buy crabs from Aunt Ba
According to Aunt Ba, the current price of crab has increased slightly compared to before, with shell crab is 1.1 million VND/kg, brick crab is 1 million VND/kg, meat crab is 950,000 VND/kg.
Hang (Binh Tan district) came home from work and stopped by to buy crabs to support Aunt Ba sharing: "I am a regular customer of Aunt Ba, sometimes come to buy and support her. Compared to a few years ago, when it was bustling, now Aunt Ba's is much quieter, sometimes when I pass by, I see my aunt sitting looking out at the alley waiting for customers to feel guilty. Because after the epidemic everyone tightened their spending and saw that the price of crabs was also high, so few people bought crabs to eat."
'Aunt Ba's crab tray' in Saigon is famous for social networks, how is it now in foreign newspapers?
https://kenh14.vn/mam-cua-di-ba-o-sai-gon-tung-noi-tieng-khap-mang-xa-hoi-len-bao-nuoc-ngoai-hien-gio-ra- star-20220322164636905.chn
You are reading the article
"Aunt Ba's crab tray" in Saigon used to be famous throughout social networks, how is it now in foreign newspapers?

at
Blogtuan.info
– Source:
Kenh14.Vn
– Read the original article
here