Business
Chinese fruits are sluggish, Vietnamese goods are priced from 7,000 VND/kg as expensive as hot cakes
Imported fruit is sluggish
As noted by reporters at some local markets and traditional markets in Hanoi, fruit products originating from China such as apples, pears, super-sweet tangerines… are sold all year round. quite sluggish because prices are being pushed up.
Specifically, at Phung Khoang market (Nam Tu Liem), the price of fruits originating from China "escalated" quickly such as apples selling for 60,000 – 70,000 VND/kg, pears selling for 45,000 – 70,000 VND/kg. 50,000 VND/kg, super sweet tangerine from 60,000 – 70,000 VND/kg.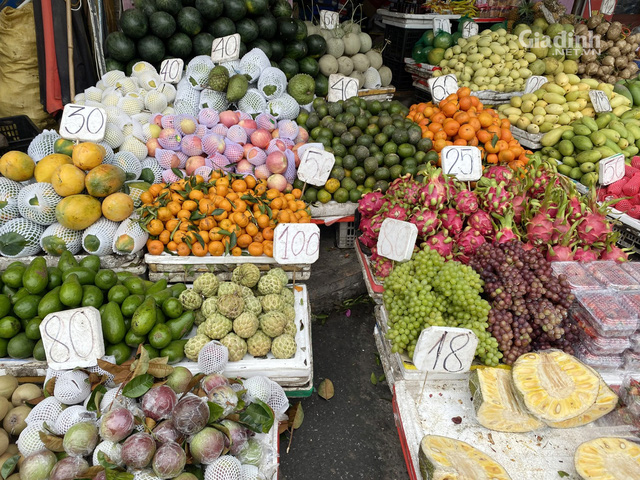 The price of super sweet apples and tangerines at Ha Dinh market (Thanh Xuan) ranges from 60,000-70,000 VND/kg. Photo: My Duyen
Meanwhile, at a time when gasoline prices have not been adjusted, the selling price of fruits of Chinese origin is about 40% lower than the current price.
Ms. Hue (35 years old) – a small trader at Phung Khoang market (Nam Tu Liem district) said that currently, the price of imported fruits has increased sharply and there is no sign of "cooling down", some clues are out of stock. .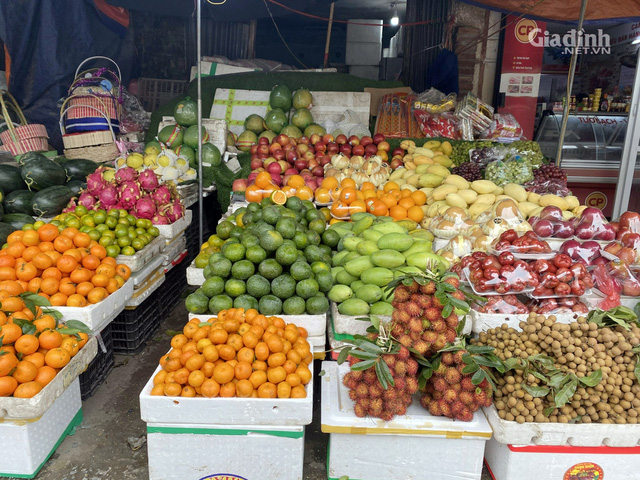 Hue's fruit stall at Phung Khoang market (Nam Tu Liem) is quite empty because the prices of imported fruits are all "high". Photo: My Duyen
Similarly, Ms. Nguyen Thi Hoa (40 years old) has nearly 10 years of experience selling fruit at Nga Tu So market (Thanh Xuan district), but at the time when the price of goods increased with the price of petrol, Ms. Hoa did not dare to increase the price. fruit prices are too much, but accept "take profits" to keep customers.
Ms. Hoa said: "At this time, when I buy goods from the wholesalers, the price is also up to 40,000 VND/kg of apples, 30,000 VND/kg of pears. Compared to the time when the gas price has not increased, the purchase price has doubled. The price is high, but I still have to import and sell more to ensure that there are goods for customers, but the profit is not much."
Local fruit as cheap as cho
Although imported fruit has become familiar on stalls, at a time when many people have been infected with COVID-19, locally sourced fruits are sold at very cheap prices.
For example, melon, jackfruit, mango, pineapple… have the lowest selling price from 7,000 VND/kg.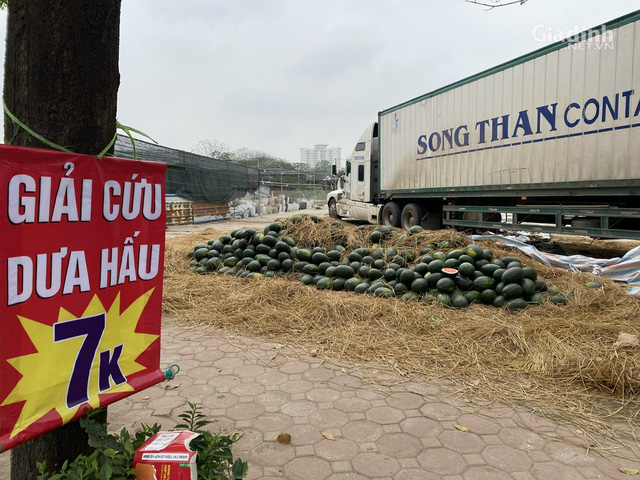 The price of watermelon is only 7,000 VND/kg on Nguyen Xien Street (Thanh Tri). Photo: My Duyen
These fruits are not only present at people's markets, on supermarket shelves, but also along To Huu, Pham Hung, and Nguyen Xien streets… are also sold in large quantities.
Seeing from the actual sales, Ms. Hoa – a small trader at Nga Tu So market affirmed: "Buyers give priority to choosing domestic fruits, especially pressed / juiced fruits such as melons, oranges, and pineapples. Moreover, because watermelon and pineapple are in the main crop, the price is very cheap."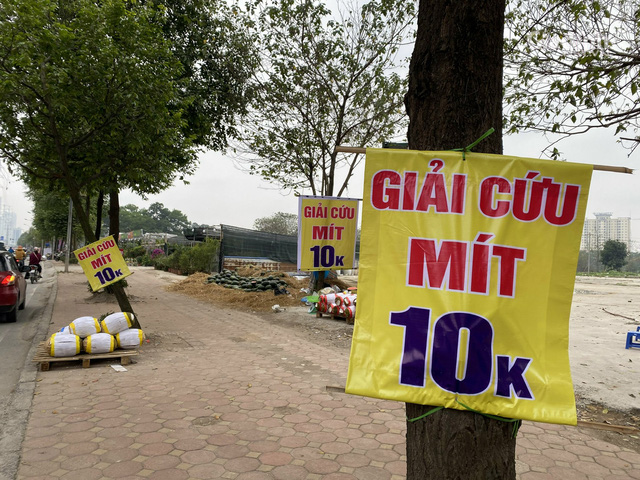 The sign "rescuing" jackfruit 10,000 VND/kg is hung on To Huu Street (Nam Tu Liem). Photo: My Duyen
As a consumer who likes fruit juice, Ms. Lan Phuong (33 years old, Ha Dinh, Thanh Xuan) said: "During the time when there was no epidemic, I sometimes bought fruits from foreign countries such as apples. , grapes, with prices ranging from 25,000 – 90,000 VND/kg, depending on the type, but now, I am hesitant to buy fruits according to my preferences. juice derived from water to supplement vitamins, restore the body".
As a believer in Vietnamese agricultural products, Ms. Thuy (45 years old, from Mo Lao, Ha Dong) is happy when watermelon, jackfruit, mango, pineapple… in the main season are having very cheap prices.
"My whole family loves to eat watermelon. Now the price of melon is cheap from 7,000 – 10,000 VND/kg, I buy it for my children to eat comfortably. Melon is grown by my relatives, so I feel secure to support", Ms. Thuy share more.
You are reading the article
Chinese fruits are sluggish, Vietnamese goods are priced from 7,000 VND/kg as expensive as hot cakes

at
Blogtuan.info
– Source:
cafebiz.vn
– Read the original article
here