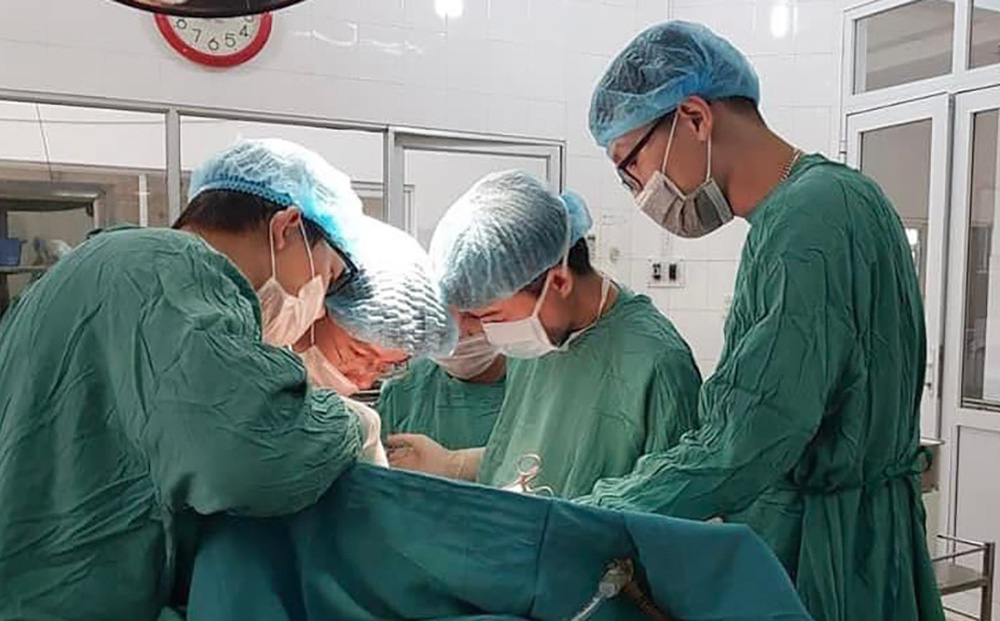 After nearly 4 days of staying at the investigating agency to take testimony about the cutting of her husband's penis, on the morning of March 22, Ha Thi N. (36 years old, residing in Yen Chau district, Son La) had be returned to the family.
On the same night, sharing with PV about what had just happened, Ms. N. said that she is now very regretful about her somewhat "fluffy" job when cutting her husband's penis. Since reporting the incident to the police until now, she has not had a good night's sleep.
Ms. N. said that recently, the family has continuously lost money, and her daughter has shown signs of psychological instability such as quiet, unhappy mood, sleepless nights or startling. She thought her husband was involved in unusual problems in the house, so on March 18, she decided to buy a "hidden" camera to put at the bedside.
At about 2pm on the same day, through a "hidden" camera, she discovered that her husband had sexually abused her stepdaughter, T. (15 years old, currently studying in 9th grade). When looking at these pictures, Ms. N. felt extremely resentful and thought she would bring the collected images to the police.
"When I first saw it, I was extremely angry and resentful, but thinking that the matter on the weekend could not be resolved immediately, I decided to wait until the beginning of the week to report it to the police…", Ms. N. said.
At the end of the afternoon of the same day, Ms. N and her husband were invited by a friend in the village to drink alcohol at home. Around 11pm on March 18, Ms. N. and her husband both got home drunk.
"When I got home, my husband and I slept on one bed each. Lying on the bed until about 11:40 pm I got up to go to the bathroom, looked over at my husband's room, and saw him sleeping naked. At this point, everything was compressed in my head. suddenly emerged in the afternoon, plus seeing that my husband's "thing" had abused my daughter, I went downstairs to take a knife and cut it.
After I cut it off, I was so scared that I grabbed "that" and ran to the commune police station to surrender. I ran to the police station, I don't remember where I threw "that" because I was so scared …", Ms. N. told the time of cutting her husband's penis.
After learning the news, the commune police went to Ms. N.'s house and took Mr. Nguyen VH (29 years old, residing in Huoi Set village, Chieng Hac commune, Yen Chau district, Son La – Ms. N.'s husband) to the emergency room. Ms. N. continued to go to Yen Chau district police station to report her behavior.
It is known that the police took Ms. N.'s daughter to be examined to investigate and clarify the behavior of VH. In addition, the investigating agency also collected a "hidden" camera to record images believed to be "evidence". accused' stepfather.
According to Ms. N. before coming to VH, she had 1 husband.
By 2016, Ms. N and H. became husband and wife and now have 2 children together. In the past 6 years, she has been beaten by her husband many times.
"I've been hospitalized 4-5 times by my husband, I still have the hospital's papers. Not only beating his wife, H. is also a greedy, drunkard…", said Mrs. N. suffering.
Through the above incident, Ms. N. wants the authorities to investigate H.'s abuse of her daughter, because according to her, this has been going on for about 2 years now.
https://soha.vn/nguoi-vo-cat-cua-quy-cua-chong-len-tieng-toi-hoang-qua-nen-cam-cai-do-bo-chay-luon-20220322225304966.htm
You are reading the article
"I was so scared that I grabbed that and ran away."

at
Blogtuan.info
– Source:
Kenh14.Vn
– Read the original article
here