On March 23, a video emerged on social media showing a woman swearing, using slippers and a plastic chair to repeatedly hit a girl's head, causing public outrage.
In the clip, this person repeatedly kicks the girl's body with his feet, not only that, this person also uses a chair to hit the baby's head. Even though someone intervened, this woman continued to beat the baby.
After being uploaded, the clip made many people angry with the woman's behavior. Also many people feel sorry for the girl.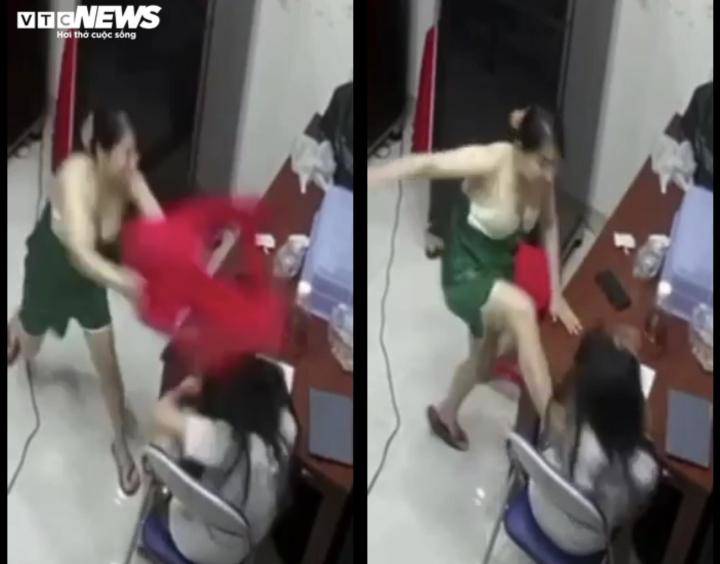 The girl was allegedly brutally abused by her birth mother. Photo cropped from clip/VTC News
VTC News Information, Ms. HT – who posted the clip (the girl's biological aunt was abused) said that the clip was recorded at around 10pm on March 22 at her home in Phu Nhuan district, Ho Chi Minh City. The girl who was hit was named VTK (SN 2010).
According to Mrs. T., the woman in the clip above is her sister and the birth mother of baby K.
"Since childhood T. lived with his grandmother, when he was 8 years old, he only lived with his mother. My nephew was abused by his own mother, beaten in the face and always bruised. When beaten hard, his face and nose were also injured. At this time the child is suspended from school, maybe the mother is afraid that her face will turn purple when people ask questions," said Mrs. T.
About the reason why baby K. was beaten by his mother so many times, Ms. T said that when he was with his grandmother, he was very obedient and studied well. However, since returning to live with his mother, because he was often beaten and scolded, he was also not interested in his homework, so he changed a lot and was reflected by the teacher many times. Every time, my mother beat me.
HT's mother said that even though she was far away, she couldn't help but feel sad when she heard the baby's confession, that she just wanted "mom to beat me to death, beating me to death is okay".
What just happened was the last drop of water that made Mrs. T decide to save her grandson from violence in his own home, wanting to give him a new life.
According to the Ho Chi Minh City Police newspaper, the leader of the Ward 5 People's Committee confirmed that the incident occurred in the area, and the police are currently investigating and clarifying the incident.
You are reading the article
Police involved in the case of a girl who was allegedly molested by her biological mother in Ho Chi Minh City
at Blogtuan.info – Source: Eva.vn – Read the original article here