Thai HOT POT
Resource:
– 6 tiger prawns, favorite seafood (squid, octopus, clams, crab, crab…)
– 10 cherry tomatoes (cut in half)
– 6-8 straw mushrooms
– Broth: 15-20 medium size prawns; 5-6 lemon leaves; 2 squeezed lemons; 20 grams of coriander; 1 branch of galangal sliced; 3 lemongrass trees; 2 cloves of garlic; 2 red bell peppers; 500ml water
Make:
Straw mushrooms, washed tomatoes, halved. Lemongrass is crushed and chopped.
Prepare and clean the seafood then put it on a plate.
Prepare the prawn broth: Wash the prawns in a frying pan with a little oil then add 500ml of water. Bring to a boil and then cook for another 20 minutes.
Heat a frying pan, add a little oil then add the garlic, Thai Tom Yum sauce, Thai chili sauce, lime leaves, red chilies, and stir-fry.
Then pour the shrimp stock with lemon juice, fish sauce, galangal, lemongrass and coriander.
Bring the pot to a boil, add the tomatoes and mushrooms and cook for another 10-15 minutes.
Finally, add the tiger prawns, if you add 7-10 minutes so that the tiger prawns are cooked. Pour the pot of spicy and sour Thai hot pot into the special hot pot and enjoy! If you like eating beef, you can dip it more. Note, you can adjust the level of acidity and spiciness according to your family's taste.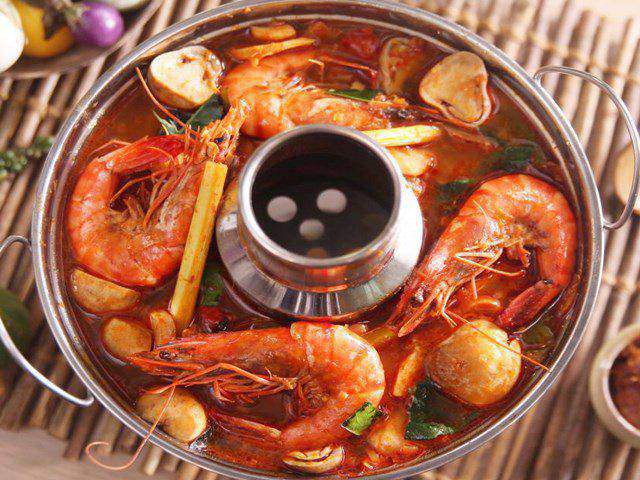 Medicinal Chicken Hot Pot
Resource:
– 1 delicious chicken
– 1 pack of herbs, delicious
– Mold
– Comes with sauces (depending on your preference): mushroom, beef, tofu, wormwood, prawn noodles…
Make:
– Strain and separate the chicken, take the meat and cut into small pieces for dipping into the hot pot.
– The skeleton, neck and wings of the chicken are put in a pot of cold water with a packet of herbs. Simmer for about 45 minutes, then season with salt and fish sauce to taste and get a nice hot pot pan. Add some gently soaked shiitake mushrooms.
– All kinds of fresh vegetables and mushrooms, washed and put on a plate.
– Dipping ingredients such as beef are not marinated, just add a little oil to marinate the meat.
– With Northern medicinal chicken hot pot ingredients, seasoning with salt, pepper and lemon is the best.
Chicken & Wine Hot Pot
Resource:
– 1 chicken
– Glutinous rice wine
– Purple onions, ship smell
– Spices: seasoning seeds, powdered stock, fish sauce, pepper…
– Bone
– fresh vermicelli
– Companion vegetables: kale, mustard greens, spinach, wormwood…
Make:
– Clean the chicken, cut into small pieces.
– Washed rice wine, divided into 2 parts: 1 part soaked with chicken, 1 part put in the broth.
– Put the chicken in a bowl to marinate with the spices, chopped shallots and glutinous wine for about 15 minutes.
– Wash pork bones, bring to a boil to make broth. Add the remaining glutinous rice wine.
– Fragrant fried chicken with purple onions to be hunted for meat and then served on a plate.
– Place the pot of stock on the hot pot. Add the chicken and then gradually dip in the vegetables to serve.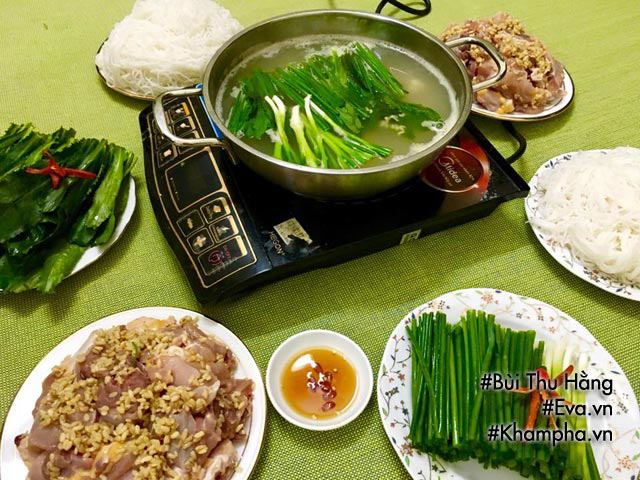 Vinegar Dipped Beef Hotpot
Resource :
– 1 kg beef
– Sauce Ingredients: 2 stalks of lemongrass, crushed, 1 onion, red onion, pineapple, 1 liter of coconut water, vinegar, 500 ml of water, fish sauce, seasoning powder, sugar.
– Fish sauce seasoning: cup of fish sauce seasoning, cup of chopped pineapple, fresh coconut or cold boiled water; 2 tablespoons sugar; 1/2 lemon; 1 tablespoon chopped garlic chili.
– Fresh vermicelli, cucumber, salad, herbs served
Make:
– Thinly slice beef, arrange with onions, thinly sliced ​​lemongrass.
– Put all the ingredients into the broth in a saucepan, bring to a boil, then simmer over low heat until it boils for a natural sweetness. Season with sweet and sour taste, then turn off the heat.
– Fish sauce seasoning is made by frying oil with 2 tablespoons of fragrant garlic, adding fish sauce to the same cold water, boiling sugar over low heat and skimming regularly. When the fish sauce boils, turn off the heat. Now add chopped pineapple with chili and squeeze out the lemon juice, taste again and eat.
– Serve the broth into a saucepan, add a little onion, thinly sliced ​​lemongrass. Vegetable ingredients, fresh vermicelli served with, beef on a plate.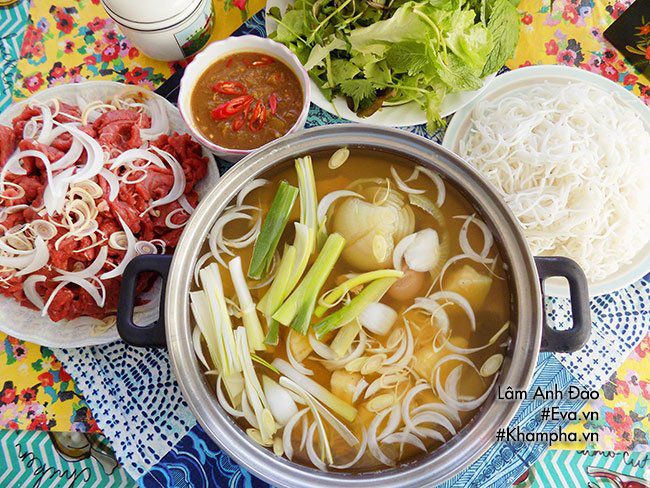 SUPER Crab Hotpot with ribs
Resource:
– Copper crab: 500g
– 1kg (depending on the number of people eating)
– Rib cartilage: 500g
– Beef: 500g
– Tofu: 5 covers – 10 covers
– Batch, vinegar or tamarind, vertical fruit: depending on taste.
– Shrimp sauce: 1 small spoon (Can be omitted if you don't like), but the shrimp paste makes a very specific taste for the crab hotpot, making the hot pot richer. If you season the shrimp paste, it must be seasoned before it is cooked, otherwise the shrimp paste will give off a fragrant aroma.
– Tomatoes: 3-5 pieces of betel nut cut into pieces.
– Raw vegetables: split kale, banana flowers, young banana stems, lettuce, coriander, scallions, perilla, marjoram, bean sprouts, lemon, chili… Add a little kale if you want to eat lots of vegetables.
– Small noodles.
– Season with lemon, chili or soy sauce, fish sauce for dipping.
Make:
– Boil pork ribs in boiling water, soak the chopped dried onions, ground spices and a little fish sauce, saute for a while, put the water in a pressure cooker for about 10 minutes until tender.
– Clean the crab, give a little salt and then puree or puree with a blender and strain the water, separate the crab bricks into a small bowl. Add a small spoonful of the shrimp paste and seasonings to the northern crab sauce pot on the stove, stirring gently until the soup boils and the crab bricks rise, then lower the heat. Use a spoon to scrape all the crabs on the sides of the pan until they are thin and then turn off the stove. You can take the crabs out of the bowl and eat them until they put them in the hot pot so they don't burst.
– Put the cooking oil in a frying pan, saute the chopped onions until golden, add the crab bricks and cook with a little fish sauce then pour into a bowl. Continue to add chopped tomatoes and saute until cooked, do not fry and crush too much.
– Tofu cut into small pieces, fried until golden brown, and put on a plate.
– Thinly slice beef on a plate.
Before slicing, put the beef in the freezer for about 15 minutes, to make it easier and the presentation will be more beautiful.
– Raw vegetables are washed, soaked in dilute salt water, then taken to the basket to be drained. When served, serve on a plate. Banana flower slices are used for dipping when eating.
– The batch has been filtered to collect the water in a small bowl, you can use vertical fruit or tamarind fruit instead. Batch, sudden vinegar, shrimp paste make the typical taste of crab hotpot.
– Prepare the crab stock and stock for boiling the ribs in the hot pot, remove the ribs and add them with the sautéed tomatoes. Put the dough in, add a little vinegar then bring to a boil, season again according to taste, continue to drop the crab pot, sprinkle the crab bricks on the crab pot to bring out the color.
When eating, add a little leek, spring onion or thin slices of fresh onion, a few pieces of fried tofu, a pinch of banana flower will become an animated hot pot.
Beef dip served with vermicelli, crispy tender ribs with raw vegetables, couldn't have been more beautiful.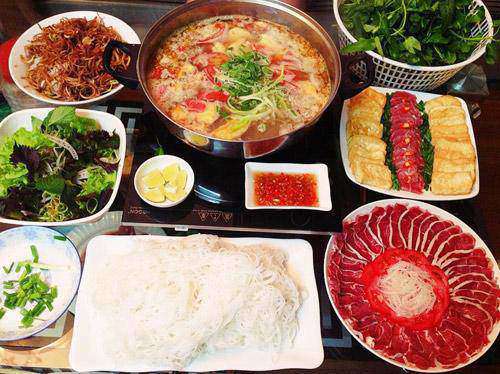 mom's hot pot
Ingredients for hotpot sauce:
– 300g fish sauce (fish paste and fish sauce)
– 200g roast pork or bacon
– 500g howling fish
– 200 grams of shrimp
– squid 400 grams
– fish cake 200g
– 2 eggplants
– 50 grams of chopped lemongrass
– Garlic, chili, lemon
– Bone broth or coconut water
– All kinds of raw vegetables (bitter vegetables, grated kale, chives sprouts, gunpowder sticks, rhubarb, dandelion flowers… or other vegetables depending on taste)
Process material:
– Howler fish is shaved from the slime, first washed with diluted salt water and second time washed with warm water mixed with vinegar to wash off the oil. Then cut into pieces to eat. Head and tail to cook first, middle to eat hot pot later.
– Pork belly / roast pork cut into small pieces.
– Boiled shrimp, peeled.
– Squid cleaned, pre-washed, cut into pieces.
– Freshly cut fish cake.
– Eggplant is washed, cut into quarters and cut into quarters.
– All kinds of raw vegetables, washed and dried.
Processing:
– Put the fish sauce in a small saucepan, pour water over the fish and simmer until the fish meat comes out, then turn off the stove. Strain through a sieve for fish sauce, removing the bones.
– Saute garlic and chili, set aside.
– Add chopped lemongrass and stir-fry with pork belly/grilled pork until meat is golden brown.
– Continue by adding the heads and tails of the fish and stir-fry until the fish is fragrant with a hint of chili.
– Add boneless fish sauce with 1.5 liters of coconut water or bone broth. When it boils, remove the foam and reduce the heat. Because the fish sauce is already salty, just add sugar and monosodium glutamate to taste. Finally, add the eggplant, garlic, chili and seasoning vegetables.
– When eating hot pot, add ingredients: shrimp, squid, howl fish, fish cake, grilled meat.
– Fish sauce hot pot dishes are almost mandatory to eat with raw vegetables to be delicious.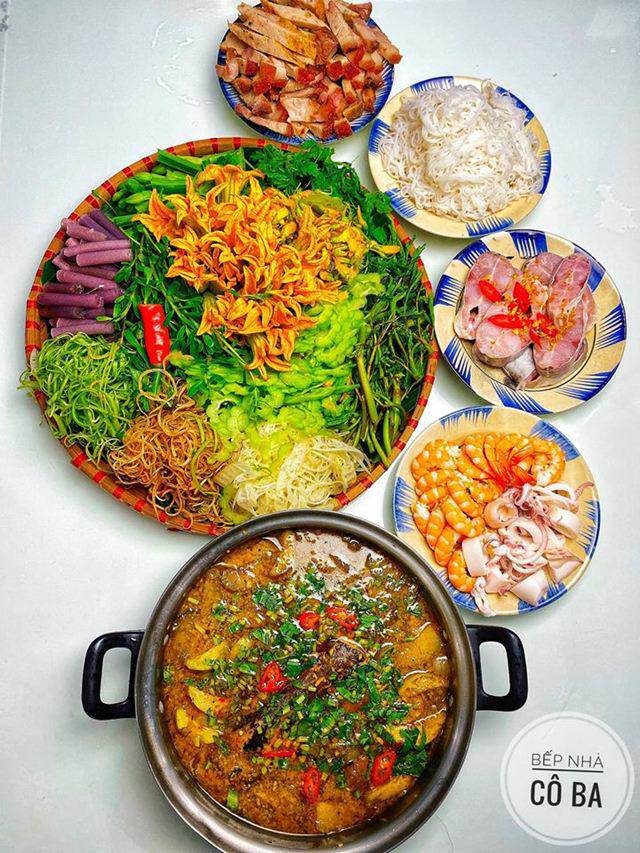 You are reading the article
Rain and cold, hurry up and make 6 delicious hot pots to help support the weather
at Blogtuan.info – Source: Eva.vn – Read the original article here