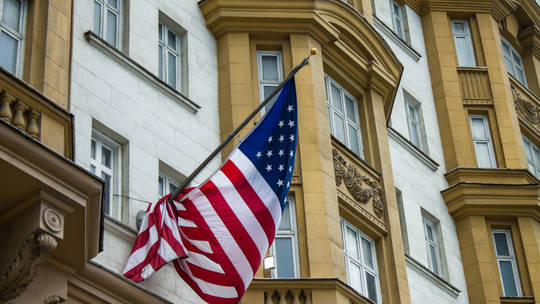 According to RT, in a statement on March 23, the Russian Foreign Ministry said that it had summoned a senior diplomat of the US diplomatic mission in Moscow and handed him a note, which contained a list of American diplomats were expelled. These people are considered unwelcome characters.
The Russian Foreign Ministry said the move was in retaliation for the expulsion of Russian diplomats from the United Nations mission in New York and a Russian staff member from the UN Secretariat.
"We have informed the US side that any hostile act against Russia will receive a decisive and appropriate response," the statement said.
The US informed Russia of its decision to expel 12 Russian diplomats at the end of February. The US claimed that the expelled Russians had engaged in espionage activities harmful to US national security.
Russia condemned the decision at the time, blaming the US for a serious breach of its commitments and calling on it to act rationally and avoid further escalation. The Russian Foreign Ministry later said that it did not want to expel American diplomats again but was forced to do so because the United States was unwilling and unable to negotiate.
A week earlier, the US also ordered the expulsion of the second senior diplomat at the Russian Embassy in Washington, Mr. Sergey Trepelkov. At the end of 2021, the US asked 27 Russian diplomats to leave the country. Before that, about 200 Russian diplomats worked in the US.
On March 21, the Russian Foreign Ministry said that relations between Russia and the United States were on the verge of breakdown. Russia also issued another scathing statement after US President Joe Biden used harsh words about Russian President Vladimir Putin.
Meanwhile, on March 23, Russian Ambassador to Poland Sergey Andreev protested that the host country announced the decision to expel 45 Russian diplomats for alleged espionage activities.
According to Reuters news agency, speaking to reporters outside the Polish Foreign Ministry, Ambassador Andreev said that the accusations made by Poland against 45 Russian officials expelled were unfounded.
Andreev's statement came after Polish Homeland Security Service spokesman Stanislaw Zaryn announced the expulsion of 45 Russian diplomats on charges of espionage. The Polish Foreign Ministry summoned Ambassador Andreev to announce the decision. Before this move, Russia's RIA news agency, citing a source of the Russian Foreign Ministry, said that Moscow would take countermeasures if Russian diplomats were expelled from Poland.
The United States and its Western allies are imposing a variety of sanctions against Russia after Moscow launched a special military operation in eastern Ukraine. Some sources also said that the US and Western countries are assessing Russia's membership in the G20. Kremlin spokesman Dmitry Peskov on March 24 accused the US of putting pressure on other countries to exclude Russia from the G20 forum. Some countries disagree with this issue and still maintain their own positions.
You are reading the article
Russia expels US diplomats

at
Blogtuan.info
– Source:
baotintuc.vn
– Read the original article
here