Đời sống
Sunlight inspires entrepreneurship and self-employment for Vietnamese women
After 2 successful years, the program "Vietnamese women confidently do business" by Sunlight has entered its third year with a larger goal, strongly inspiring women across the country to confidently embark on the road. starting a business.
Fueling the fire to "realize" dreams
Recalling the time when she decided to switch from being a teacher to opening her own preschool, Ms. Do Thi Thanh Tuyen (District 12, HCMC) said she encountered many difficulties.
"Different from teaching, opening your own preschool requires a lot of management: space, staff, monthly expenses. While I was struggling to get used to these strange things, fate brought me to know the program "Vietnamese women confidently do business" of Sunlight brand. After participating in the training session from the program, I know how to break down expenses by fixed or variable amounts instead of emotional revenue and expenditure as before. It is such useful and practical knowledge that helps me know what I need to do next to fulfill my dream", Ms. Tuyen confided.
Unlike Ms. Tuyen, Ms. Nguyen Thi Chien (Tan Phu) is the owner of a long-time ao dai shop. However, customers coming to the store are mainly familiar customers or introduced by friends, so it is still limited. In addition, the epidemic also caused a serious decrease in the number of customers coming to the shop. To overcome difficulties, she devised a plan to take measurements online and sell online to expand the customer base. However, accessing technology is not a small barrier for a person in her forties like her.
Being connected by friends to the program Vietnamese women confidently do business, she partly found the solution to her problem. Chien shared: "For older women like me, accessing technology is quite difficult, and selling online also encounters many difficulties. Thanks to the guidance of experts in the training session, we have gained a lot of useful knowledge to support our business. I hope that programs like these will spread to other women, create a community of women starting businesses and helping each other."
Ms. Tuyen or Ms. Chien are just two of many women who aspire to start a business but have limited access to essential information. Understanding the difficulties that women face on the path of starting a business, for the past two years, the program "Vietnamese women confidently do business" implemented by Sunlight brand in collaboration with the Vietnam Women's Union has fueled the fire. for thousands of women to start businesses, confidently pursue their passions and realize their dreams.
Extend the journey of inspiring women to start entrepreneurship
Despite the complicated developments of the Covid-19 epidemic, the achievements of "going against the tide" that the program achieved in 2 years of implementation have proved the enthusiasm of the women as well as the efforts of the brand: More than 100 excellent business ideas were awarded by Sunlight, funded and trained more than 45,600 subjects. Notably, the number of women participating in activities within the framework of the 2021 program has increased significantly compared to 2020.
With training classes on popular home-based business models, the program has equipped the necessary skills and business knowledge for women who are dreaming of starting a business. Along with the appearance of "grown up" characters from the program, Vietnamese women are confident in doing business and also inspire women to boldly step out into a safe area, able to contribute to the family economy. family and lead a happier life.
As Ms. Ngoc Phung (District 4, Ho Chi Minh City) shared: "Different from the old concept of "men build houses, women build nests" in the past, modern women should be economically independent in order to generate income. for themselves, and have an additional source of income to take care of their families. So don't force women to stay at home. We sisters go out to do business, whether large or small, it will be better. The training session from the program was very useful to me, because before that, I did not know what difficulties I would face when doing business. Through sharing from experts, I know what needs to be done to develop the next business path."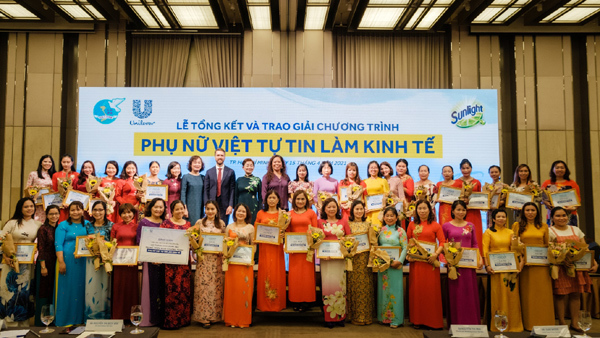 The Organizing Committee presents awards to excellent women participating in the program "Vietnamese women confidently do business" in 2020 – 2021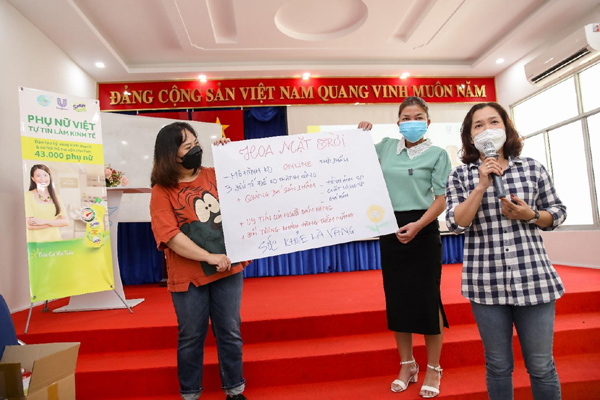 According to many women participating in the program, "Now that I have more knowledge and skills from the class and the guidance of the sisters, I will definitely turn the idea into reality."
Following the success, in 2022, the Sunlight brand will continue to cooperate with the Vietnam Women's Union to organize not only training sessions, face-to-face training but also online platforms. This combined model is expected to help spread knowledge and skills for business development to 100,000 women across the country by the end of 2022.
Bringing the commitment of Unilever's Sunlight brand to the goal of supporting 1 million Vietnamese women in economic activities by 2025, the program is a colorful and meaningful picture for the image of modern Vietnamese women. intelligence, confidence and bravery. They are capable of being both owners of the family kitchen, economic autonomy, conquering great things and taking on many different roles in life.
Kim Phuong
You are reading the article
Sunlight inspires entrepreneurship and self-employment for Vietnamese women

at
Blogtuan.info
– Source:
vietnamnet.vn
– Read the original article
here