Business
There used to be 80 girls "passing away", loving Ngoc Trinh for 2 months but proud of "7 days and 3 nights, in and out without counting", now excluded from the top 400 billionaires in the US
"As for me, when I was 60 years old, I just hit puberty. At 70 years old, I learned to walk in life. At 80 years old, I only played. At 90 years old, I looked back and saw life (laughs) I still love life, think about true love, faithful wife to spend the rest of her life and help her bear two more children – a boy and a girl at this age."
Attracting special media attention at the end of 2016, billionaire Hoang Kieu publicly announced his love affair with "underwear queen" Ngoc Trinh. Both of them, despite public opinion, even had many statements that surprised many people. However, the relationship ended quickly after less than 2 months.
This Vietnamese-born giant once candidly shared with Traffic Newspaper about his love affair 27-72:
"I don't believe that Mr. Larry King has 8 wives and each love is as new and emotional as the first. Because he is a genuine American, their love is difficult to have depth and of course each emotion. Times must be different, Larry had a love affair for a few months before falling in love, but Trinh and I fell in love for 3 days.
How do I feel when I fall in love? You see, over 80 girls have passed through my life, more than that, but how many times have I fallen in love? I also once confided to Trinh that I only love 3 people, and she is the 3rd person that I love dearly."
When he parted with Ngoc Trinh, he surprised the media when he made a statement "You guys can post freely. I also say, me and Ngoc Trinh at night 7 days 3, in and out no matter what!". He then explained on his personal Facebook: "That was a response to a reporter when asked about my health… I sleep 7 hours at night, eat 3 times a day, excluding snacks…".
Billionaire Hoang Kieu was born in 1944 in Quang Tri and moved to Saigon in 1949. He and his family immigrated to the US in 1975. When he first came to the US, it was known that Hoang Kieu had a wife and 5 children. However, the identities of other members of this giant's family were not disclosed.
Thanks to her English skills and connections, Hoang Kieu applied to work at Abbott's laboratory in the field of hepatitis treatment. Five years later, he became the director of the testing and production of plasma products. In 1980, he bought a part of Abbott's laboratory facility and founded RAAS (Rare Antibody Antigen Supply) company, growing to 11 plasma centers in the US in 1985. In 1992, he opened Shanghai RAAS in association with him. Blood Products after cooperating with Shanghai Hematology and Blood Transfusion Center. Until March 2008, he held the position of Vice President and owned 37% of capital in this company.
In 2014, he bought a winery and vineyard in Napa valley, establishing Hoang Kieu winery here. Also in this year, at the age of 72, he was honored by Forbes as one of the top rich people in 2014 with a fortune of 1.65 billion USD along with Vingroup Chairman, Mr. Pham Nhat Vuong. In 2015, he bought the Hummingbird Nest Ranch villa in Simi Valley, a suburb of Los Angeles, with the amount of 33 million USD to build a health care center.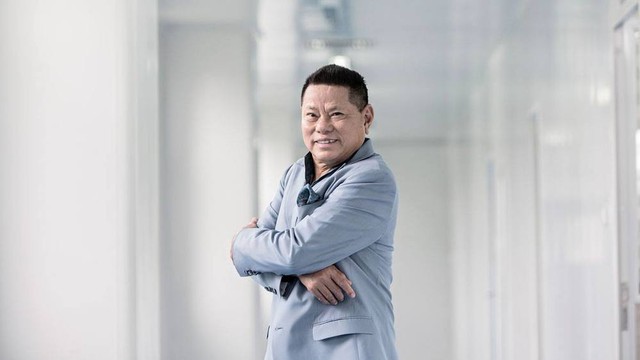 However, now, Hoang Kieu says he is no longer a billionaire. Even the giant also revealed the number related to his debt up to 3 billion USD (equivalent to more than 68,280 billion VND). "Now, I'm as indebted as Lord Chom, dropped from the list of 400 billionaires in the US. I've dropped out! From a billionaire ranked 148th with $3.8 billion in assets, now with $3 billion in debt and no longer a billionaire," Hoang Kieu admitted.
During the recent epidemic, even though he was in the US, he continuously supported, supported and donated to difficult circumstances in Ho Chi Minh City. In particular, when Phi Nhung died, businessman Hoang Kieu still announced that he would replace the late singer to raise 23 orphans, making many people admire.
Photo: Traffic newspaper, Vietnamnet.
https://cafebiz.vn/dai-gia-hoang-kieu-tung-co-80-co-gai-di-qua-doi-yeu-ngoc-trinh-2-thang-nhung-tu-hao-dem- 7-day-3-vao-ra-not-ke-hien-tai-know-top-400-ty-phu-o-my-202203231111147933.chn
By Business and Marketing
You are reading the article
There used to be 80 girls "passing away", loving Ngoc Trinh for 2 months but proud of "7 days and 3 nights, in and out without counting", now excluded from the top 400 billionaires in the US

at
Blogtuan.info
– Source:
cafebiz.vn
– Read the original article
here