A house with a beautiful small garden may be the dream of many people. For Thuy Trang (Lap Vo, Dong Thap), this dream used to be a luxury when he was born and raised with a nasty bone disease. But with a strong will, Thuy Trang gradually realizes the dream home in a unique, extraordinary and beautiful way, just like his own journey to overcome years of illness.
A corner of Trang's house, self-decorated.
Fast house built in 1 month
Thuy Trang was born with vitreous bone disease – a disease that snatched away the normal life and modest hopes of a young girl from Dong Thap. The page tells: "This disease has taken almost my entire life, from my dream to run and play with my friends when I was a child, to my dream of going to school, studying like everyone else, and then getting a job I didn't have. I don't know. I love it.. All those seemingly normal dreams turn into luxuries I can't fulfill. Since I was only a few months old, I've started to get used to the pain. 5 times then 10 times and I can't remember the number of broken bones anymore.
Almost any place where there is a broken bone. I can't exercise vigorously, even if I cough or sneeze I'll break! Then, as the day went on, I felt weaker after each rest and then recovered. I can't stand on my own, it's also harder to move than before and in everyday life I always have to ask my relatives for help."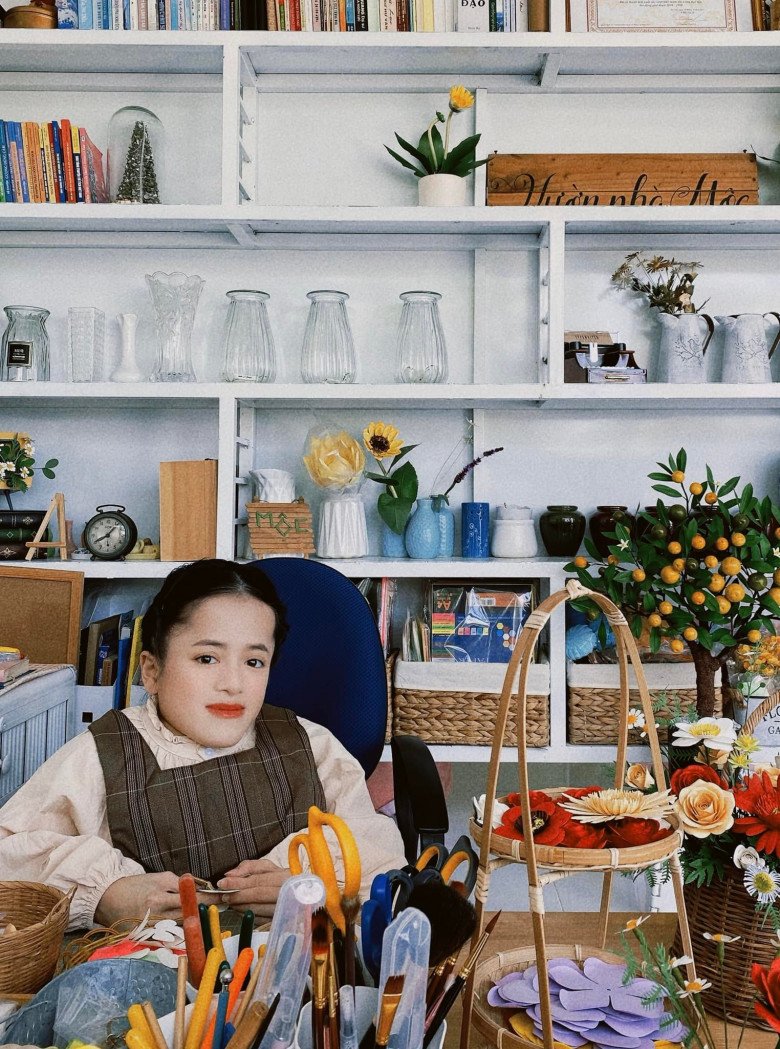 Thuy Trang, a young girl full of energy.
Perhaps Trang never imagined that she would own her own house, come up with decorating ideas and build her own flower garden, until one day she happened to see a video tutorial on how to make handmade things online. Trang decides to practice making paper flowers to fulfill her dream "I planted a garden with my own hands full of flowers and fruits to satisfy my desire for harmony with nature but not enough for health".
After 5 years of hard work, Trang has achieved a certain feat. In 2019, Trang started selling confetti products on social networks but did not get much attention. Undeterred, he continued to perfect the product and secured the first order in 2020. In 2021, Trang cherishes the intention to have his own fairy garden and is fully supported by his family. Trang's mother spent the large yard building her daughter's little house, both to display paper flowers and to help her realize her dream of decorating her house into a fairy garden.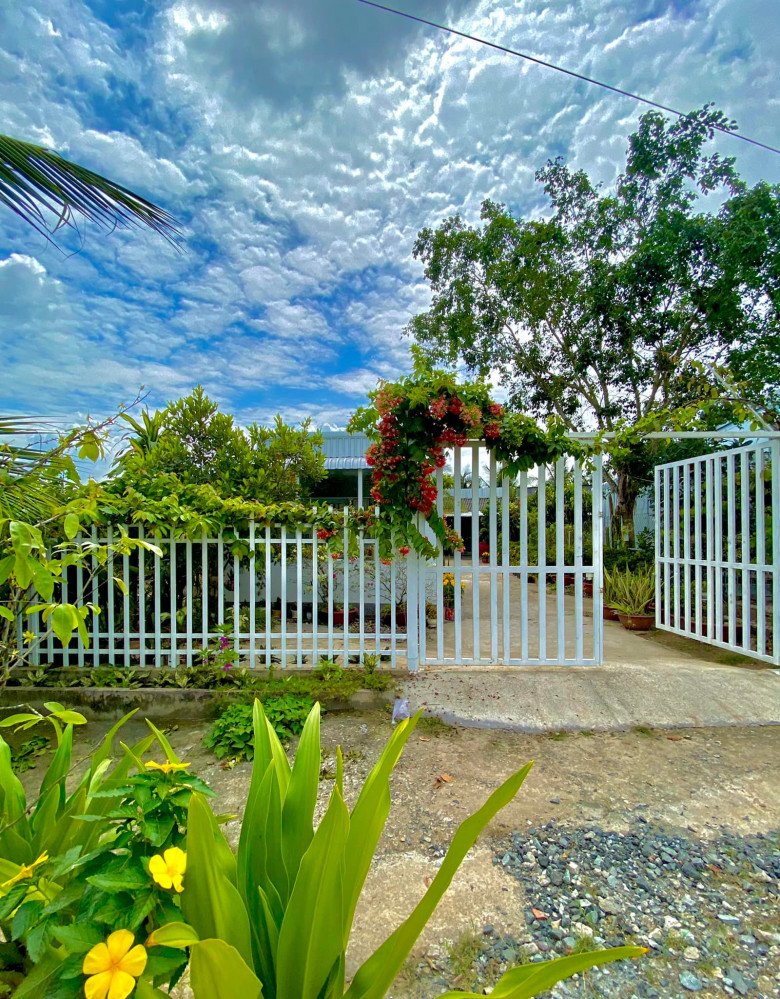 Trang's house, seen from the outside, has white hedges, bougainvillea and a pretty little house.
This house in the Lap Vo district, Dong Thap province has an area of ​​3.5m x 7m with a dominant white color. At first the Trang family only intended to build a house for a shophouse, so they didn't build a big one, just a space for Trang to be creative, an area for Trang to rest and a toilet designed according to Trang's needs. The whole process happened so fast that Trang was also shocked.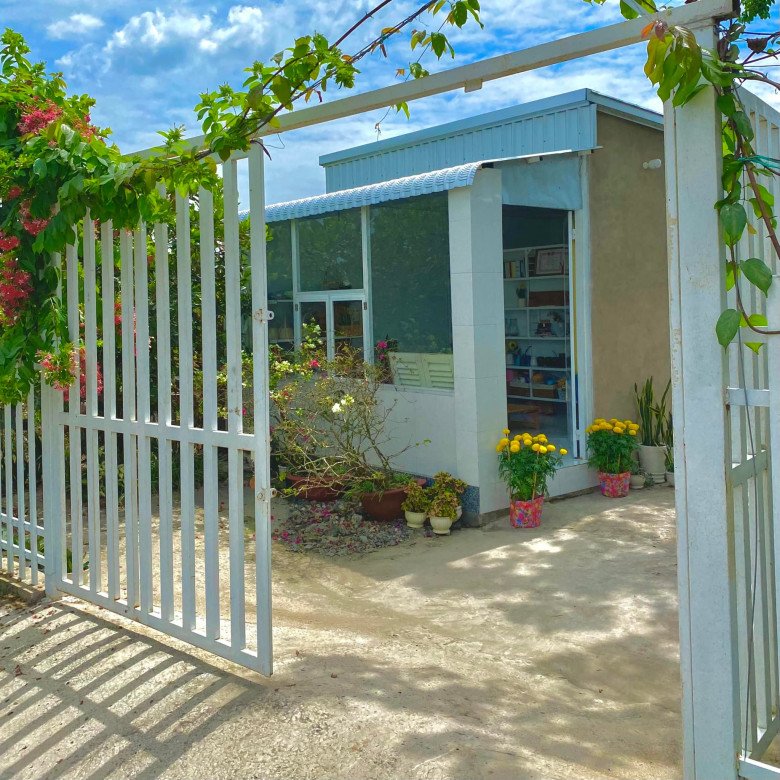 The house area is 3.5 m x 7 m with the dominant white color.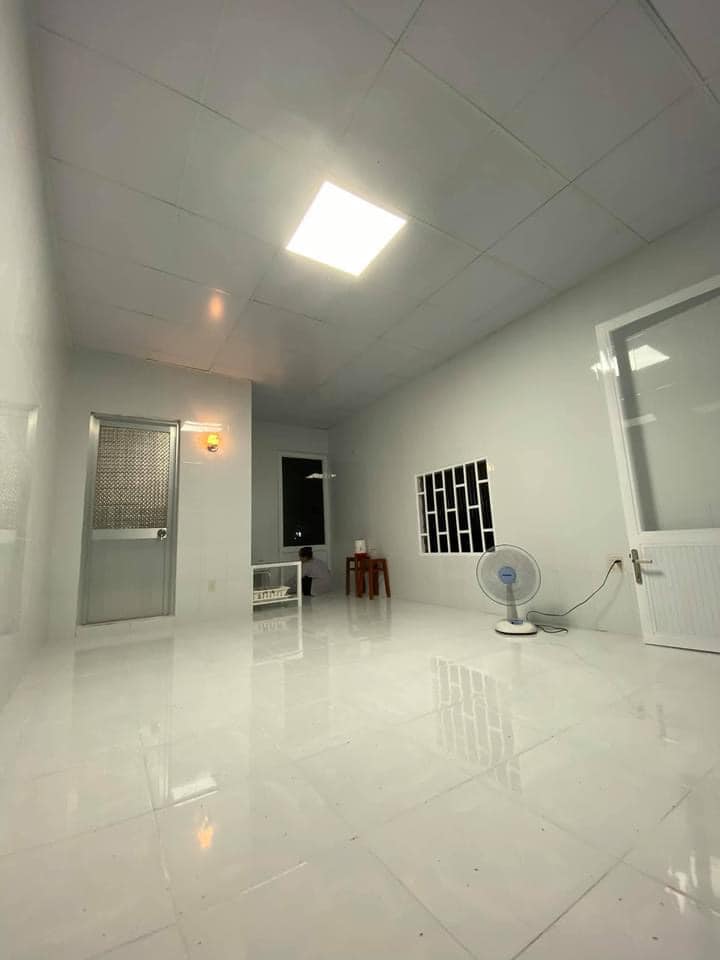 The house was finished after a month, covered with white tiles all over the walls and floor to make it look airy and easy to clean.
"From the time my mother decided to build until the time of construction, it was quite fast … in just a few days, I couldn't believe it. The construction took about a month to complete, during the construction period, what day? will my mother come too? video call me to ask my opinion and show the progress", Telling page. The house has the main color of white, simple, with the criteria of enough space for Trang to create and display products comfortably. The young girl said that the total cost of construction and interior decoration was more than 80 million VND.
The bougainvillea "garden" is as beautiful as the picture
Making paper flowers requires a certain ingenuity, not everyone can be beautiful. For a girl with glass bone disease like Thuy Trang, it was a long process, suffering aches and pains after meticulous collage time. Apart from creating a stable job, Trang is also happy to share his experiences with people with disabilities.
A young girl from Dong Thap decorates her little house with all kinds of confetti. Trang said that when the house was completed, it was during the social distancing period, so it could not be decorated for almost 4 months. At that time, Trang went online to see room decorating ideas that could be implemented. She chose self-made confetti as the highlight, covering the room to create a lovely little fairy garden. Because he likes the nostalgic style, Trang buys more vintage-oriented small items like typewriters, candles, beautiful vases, etc., then attaches light strings to make them sparkle.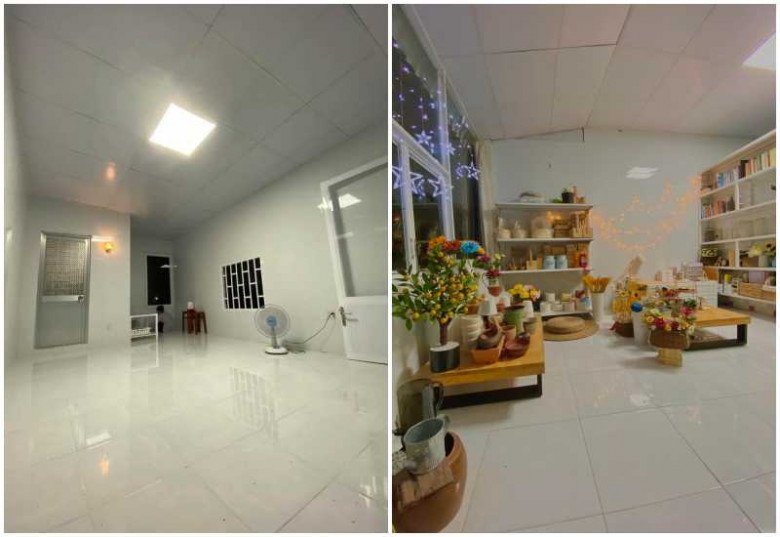 The house before and after decorated.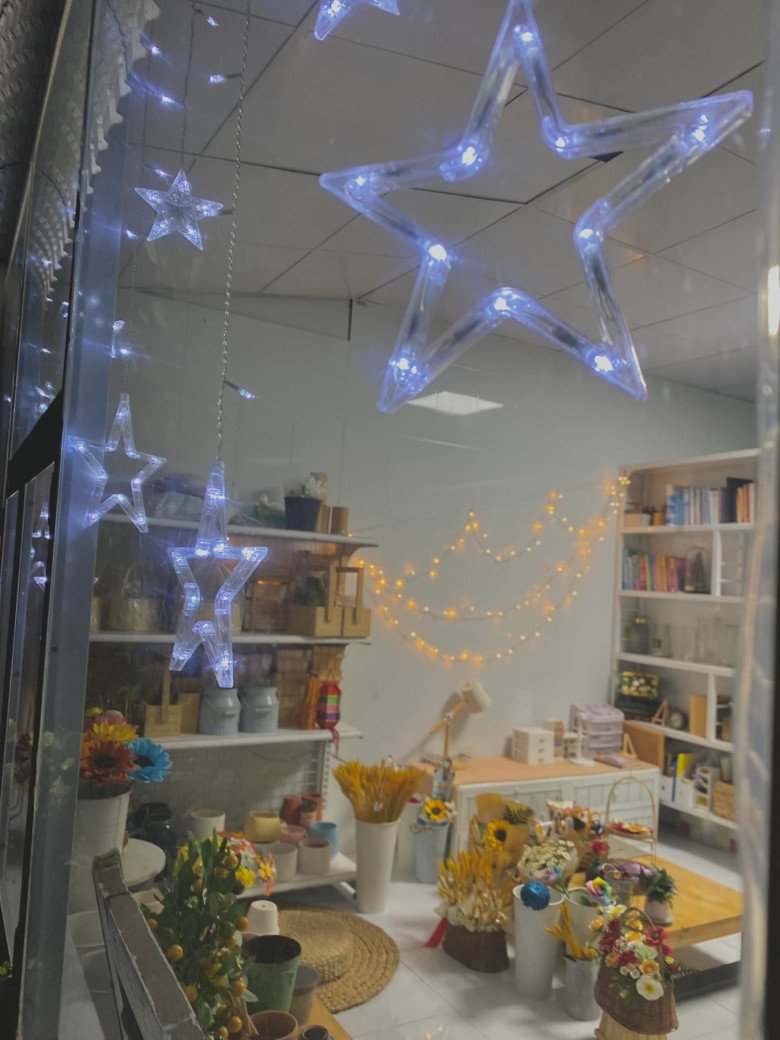 Every corner of the house is carefully cared for with string lights, confetti, tables, wooden shelves, … and many other small and beautiful items.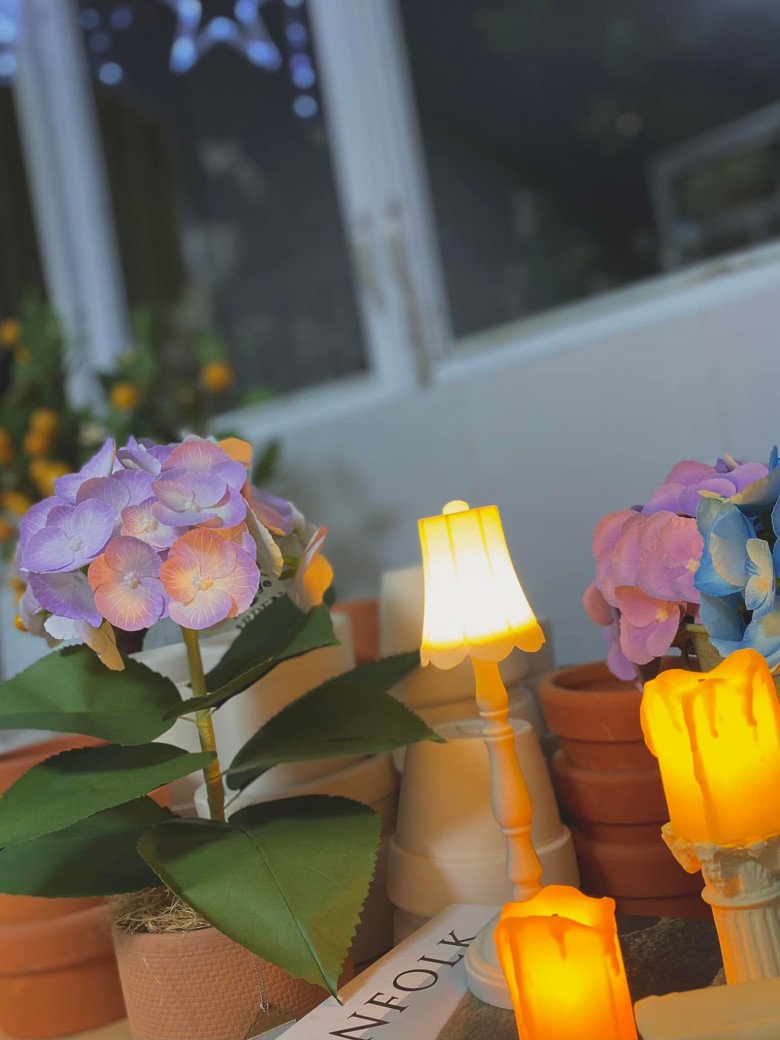 Page loves vintage style, so buy lots of nostalgic items.
According to Trang, paper flowers are still relatively new to the Vietnamese market and especially in rural areas. But paper flowers have their own charm, are very artistic and suitable for the needs of everyone from home decoration to gift giving. Handmade flowers have the advantage of being quite durable, can be stored as souvenirs, light home decorations in maintenance and most importantly made of environmentally friendly materials, safe for health.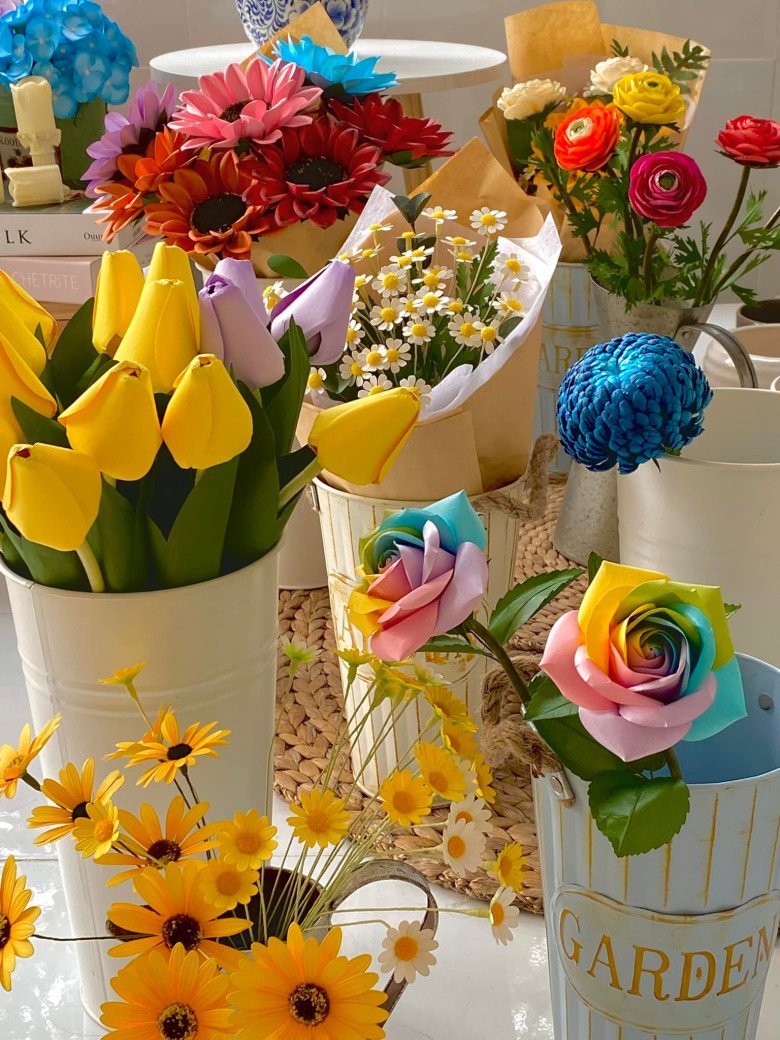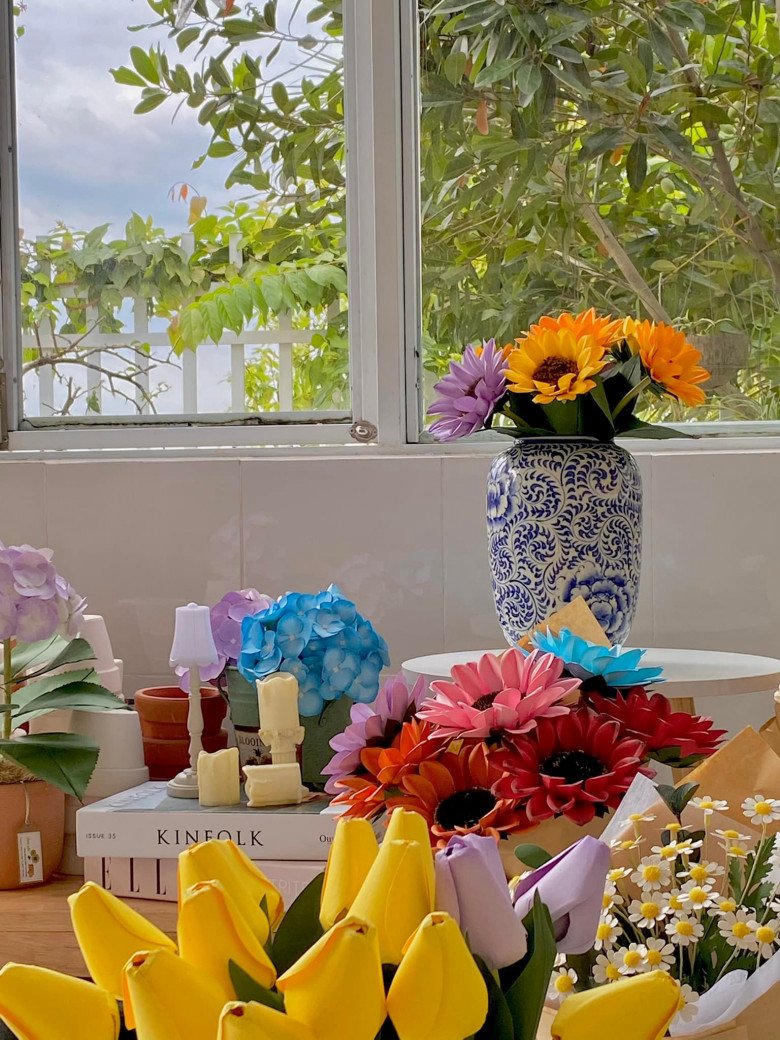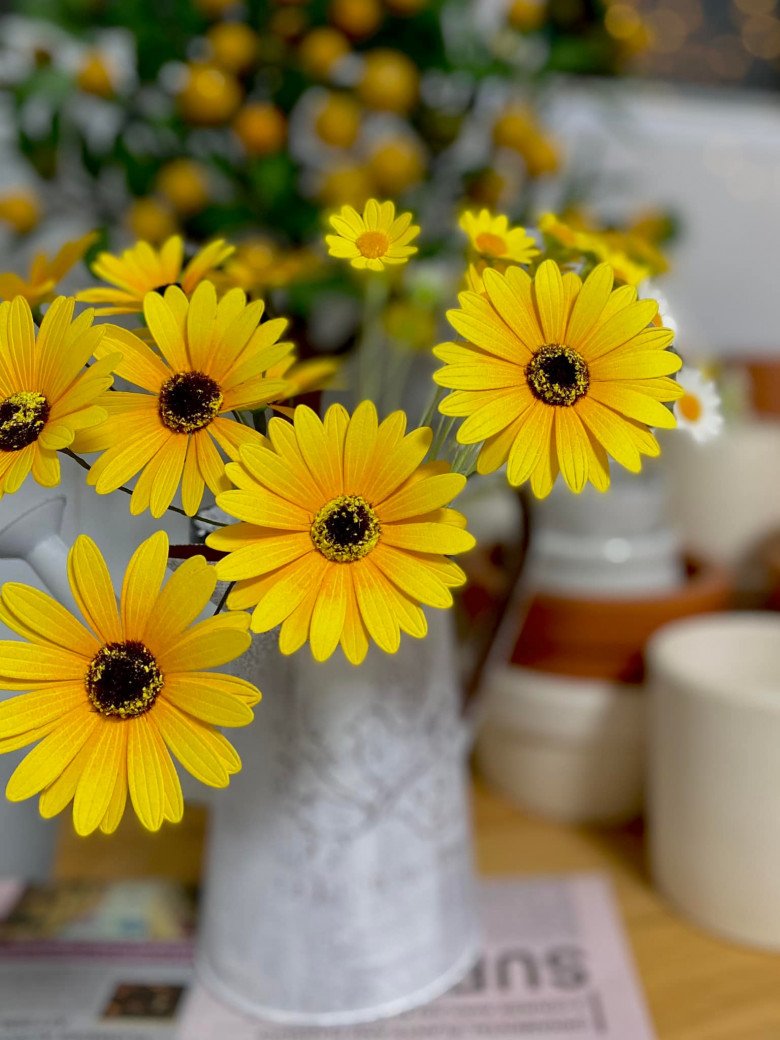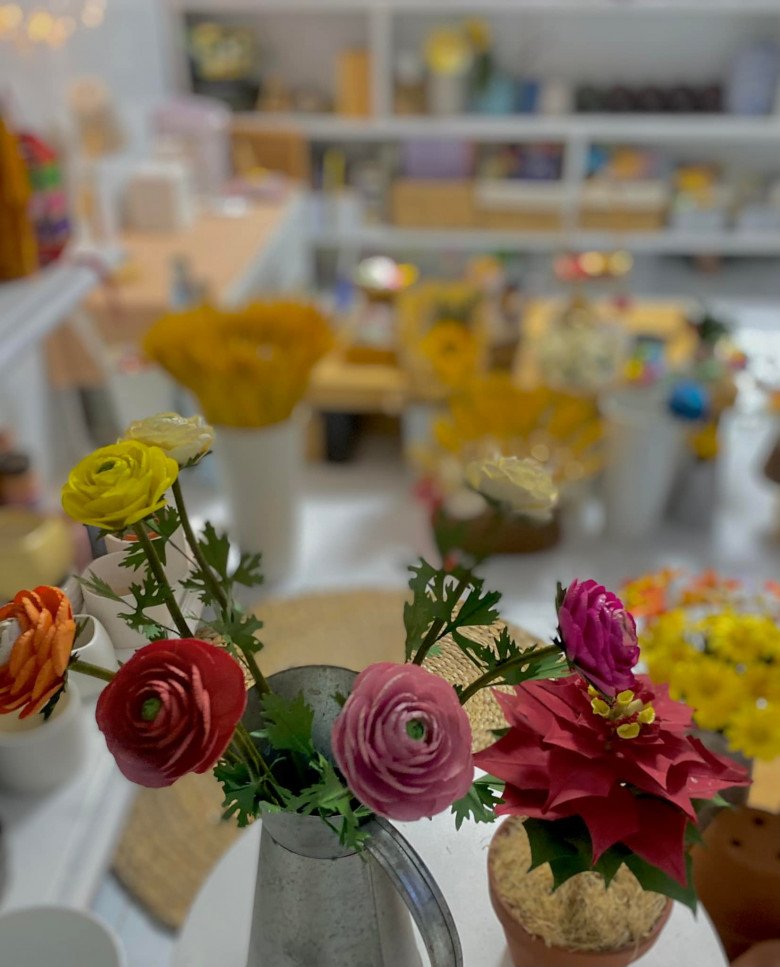 The bougainvillea bloomed in Trang's room, brilliant and soulful.
Living in a home that is decorated and cared for by himself, Trang feels very satisfied. white woman: "I don't know how to describe this feeling anymore, so happy. Like after months of hard work, it's finally time to harvest, hold the fruit in my hands, see with your own eyes. Seeing every product born with so much enthusiasm and staying up countless nights… is enough to feel how happy I am!".
You are reading the article
This girl who suffers from glass bone disease loves to plant trees and create fake flower gardens that look even better than the real thing
at Blogtuan.info – Source: Eva.vn – Read the original article here