Thế Giới
Westerners' lives in Russia amid the Ukraine crisis
(Dan Tri) – Many foreigners living in Moscow think that Russians are not inclined to worry about the war in Ukraine because they are a big country and have experienced crises in history.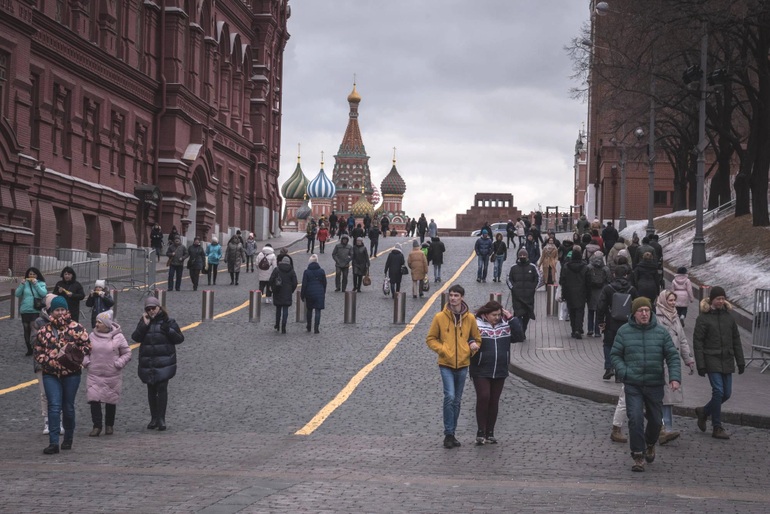 Euronews reported, a month ago, Mark, a British teacher in Moscow, was planning a vacation with friends abroad. But then a few days later, Russian President Vladimir Putin suddenly launched an operation military especially in Ukraine and everything has changed.
Mark said that most of his foreign friends, including those with whom he planned travel, have now left.
"I've talked to people who have been here for many years, have families and have been through a lot, but the crisis in Ukraine is just too big," said Mark, who moved to Russia at the end of 2019. .
"Even if there's a sense of security there, they're still concerned about the risks associated with hostilities," added Mark.
According to Euronews, Daily life in the Russian capital is mostly normal. Moscow schools are still open, the subway system is still working and people are still going to work.
"No Russian could imagine anyone attacking Russia. In terms of security, I don't think they would," said Sebastien, a longtime German citizen in Moscow who now works at an accounting firm. have any real fear".
However, Mark said people are worried about the possibility of the government taking drastic measures, possibly related to the closure of the Russian border.
Hailing from Armagh in Northern Ireland, Hugh McEnaney has lived with his Russian wife in Moscow since 2007, where he runs an English language training and teaching facility.
"My home, my business and my life is here, I don't want my kids living in suitcases and eating hotel food in Turkey," Hugh said. "But if there is martial law, I will leave very quickly," he insisted.
And there is also the fear of an outbreak of protests against the war, with the risk of causing riots.
After Russia's military campaign, the EU imposed harsh sanctions on Moscow and banned some Russian banks from using SWIFT, the system of international banking transactions.
The Russian ruble has lost a third of its value since the outbreak of hostilities. Meanwhile, foreign bank cards and payment platforms such as Apple Pay and Google Pay can no longer be used in Russia.
"First, the central bank said people couldn't withdraw USD, then they said it was impossible to buy USD without accepting huge discounts and then there were restrictions on withdrawals in rubles. ", said Sebastien.
When Mark noticed that his UK bank card was no longer working in Moscow, he withdrew most of the rubles from his bank account in Russia.
Many of his friends failed to do so and were unable to withdraw cash due to restrictions imposed by Russia's central bank. "Everybody faces some kind of situation due to the effects of war."
Some supermarkets have limits on the number of items a buyer can buy. "You can't buy 100 packs of sugar or 25 packets of pasta," says Sebastien. "They're trying to stop the price spike."
"Price in stores is going up almost daily. Even staples like potatoes, carrots, cabbage, meat… are going up. I want to buy a gas stove and it's already 40% higher in within a few days," he added.
According to Sebastien, the Russian government will quickly increase people's salaries, pensions, social security payments and other payments because people depend on them. "The average pensioner getting 10,000 rubles can't really survive if prices keep going up like that," he said.
Sebastien said, there are many enterprise will close simply because they can't afford new goods, imports will drop dramatically, and some stores will have to close.
Following the punitive policy that Western countries imposed on Russia, international businesses across all industries have decided to cut ties with Russia including Apple, BP, Ikea, General Motors and McDonald's .
The closure has hurt young, educated Russians like Ksenia, who used to work at a British professional services firm with a Moscow branch. "A photographer just took a picture of my new work, and a week later I was told the office was closed," she said sadly.
However, Sebastien notes that obviously, war can change a lot of things, but the closure of McDonald's doesn't really change much about the life of the average citizen.
And Hugh said that Russians are very supportive of President Putin and what he does. "I imagine that has lessened a bit now, but the elderly here have a lot of respect for him," he said.
Meanwhile, according to Sebastien, Russians don't tend to worry because they are a big country.
"They will often say: We've been through the war, we've been through the crisis, we've been through a lot of big problems and this is just another thing to overcome. The leader will decide, we'll see where it goes, and we'll make it through," Sebastien said.
You are reading the article
Westerners' lives in Russia amid the Ukraine crisis

at
Blogtuan.info
– Source:
dantri.com.vn
– Read the original article
here