Khỏe - Đẹp
Her aunt donates a liver transplant to her 5-year-old granddaughter
Military Central Hospital 108 has just performed laparoscopic surgery to remove the left lobe of the liver from a living donor to conduct a liver transplant for a 5-year-old pediatric patient with D.NM, in Ho Chi Minh City.
This is the youngest liver transplant with complicated pathology at 108 Central Military Hospital.
According to the patient's mother, in July 2021, baby M underwent liver resection due to malignant hepatoblastoma at Children's Hospital 2 – Ho Chi Minh City.
This is a rare disease in children. After surgery, the tumor continued to grow in the remaining liver. Baby M received 10 cycles of chemotherapy at home and abroad (Thailand). However, the tumor did not respond to treatment, the tumor marker (AFP) not only did not decrease but continued to increase very high.
A pediatric patient who underwent PEP/CT scan in Thailand showed: the tumor was localized in the liver but rapidly spreading, many tumors were present in both right and left liver, not yet metastasized, but the risk of progression was very poor and the prognosis for early death was not high. What other methods of treatment? Doctors said that a liver transplant was the only option to cure the baby. The family took the baby to the 108 Central Military Hospital to find the opportunity for a liver transplant.
Ms. H. the baby's biological aunt was the one who donated the baby's liver. According to Ms. H., no one in the family is qualified and suitable to donate liver to baby M, only her is the most suitable. Ms. H. is willing to donate her liver to save her grandchild's life, just like giving birth to another child.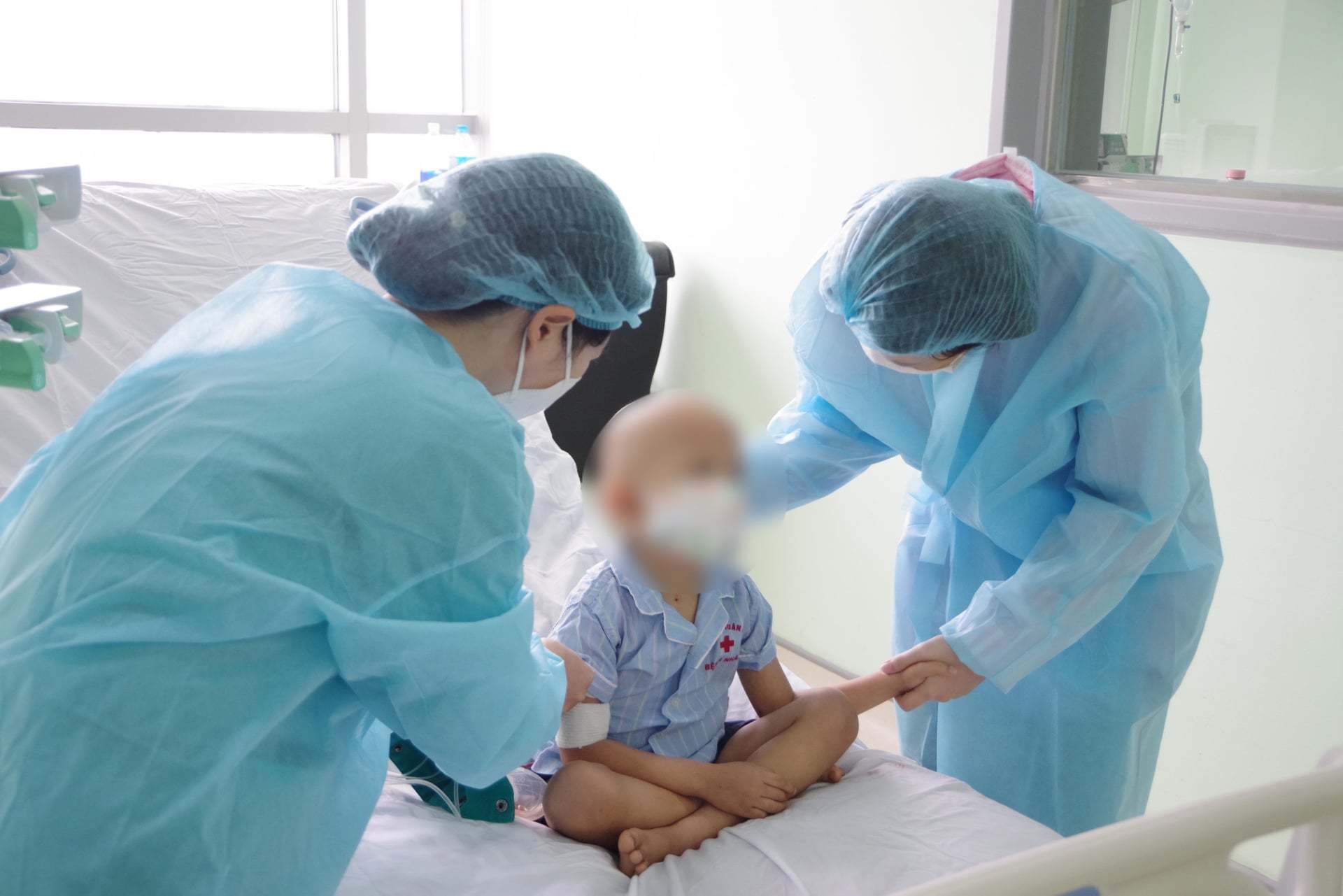 Patient 1 week after surgery.
According to Colonel Dr. Le Van Thanh – Deputy Director of the Institute of Digestive Surgery, CNK Hepatobiliary and Pancreatic Surgery, 108 Central Military Hospital said: "This is the youngest liver transplant with complicated and difficult pathology at 108 Central Military Hospital. The baby's condition is weak, weighing less than 15kg due to 10 continuous chemotherapy treatments. After chemotherapy, bone marrow suppression, anemia, and decreased white blood cells appeared.
After consultation with the hospital's expert committee, the liver transplant team will perform laparoscopic surgery to remove 2 lower segments: II & III of the left liver from a living donor (the patient's aunt) to perform a liver transplant for the patient. pediatric. After 7 hours, the pediatric transplant was successfully performed. Laparoscopic graft removal surgery is one of the difficult techniques, requiring the surgeon's experience level, modern and synchronous equipment and machinery.
This method brings many benefits to liver donors such as: less invasive intervention helps to reduce postoperative pain better than open surgery, faster recovery time, high aesthetics while the results are equivalent to open surgery. The donor leaves the hospital healthy 5-6 days after surgery.
Dr. Thanh also added: This is the youngest case of liver transplant performed at the hospital until now. This liver transplant requires a high level of expertise, full synchronization of human resources, modern equipment, close coordination between the surgical, anesthesia, resuscitation teams, coordination committee, related departments, especially the implementation organization as well as the close support and direction of the Hospital's Board of Directors.
After 1 week of transplantation, baby M's health is stable, he is fully awake, speaks well, moves quickly, eats well, has good liver function; respiratory parameters, hemodynamics,… within normal limits. The patient was transferred to the Department of Hepatobiliary and Pancreatic Surgery for continued treatment.
This is the third time that 108 Central Military Hospital has performed laparoscopic surgery to remove a living donor liver graft to conduct a liver transplant. Currently, in the world, there are only a handful of Hepatobiliary and Liver Transplantation Centers in countries with developed medicine such as the US, Europe, Japan, and Korea that can perform laparoscopic surgery. liver transplantation from a living donor. Therefore, with the successful application of laparoscopic surgery to remove liver transplants from living donors at 108 Military Central Hospital, it has recorded a new step in the field of liver transplantation, contributing to improving the professional level of the patient. Vietnam's organ transplant industry and opening up the prospect of saving the lives of critically ill patients continue to bring healthy lives to many patients.
K.Chi
You are reading the article
Her aunt donates a liver transplant to her 5-year-old granddaughter

at
Blogtuan.info
– Source:
infonet.vietnamnet.vn
– Read the original article
here