Khỏe - Đẹp
How many times a person can get Covid-19
More and more people have Covid-19 for a second time in less than 6 months. This makes them wonder, can they get it a third time? How many times can a person get Covid-19?
NV T (Phuc La, Ha Dong) said he knew he had Covid-19 for the first time after showing signs of fever, cough, and sore throat in mid-November 2021. After having confirmed test results by PCR method, he was treated in isolation at home.
I thought that after that time he would be "immortal" because he had had all 3 vaccines and absolutely did not eat or drink outside. At work, he is always aware of compliance with 5K measures.
However, just over two months later, he contracted Covid-19 for the second time after his eldest son tested positive. His symptoms this time are different from before (loss of smell), the rest still have symptoms of fever, dry cough, sore throat …
"I am very stressed, even though I am isolated at home, I feel down quickly," said Mr. T.
Similar to this man, Ms. H. H (Dong Da) also fell into fatigue after contracting Covid-19 for the second time. This woman said "if I get it again, I will kill myself".
Going to the hospital for post-Covid-19 examination, she said she had been infected with Covid-19 for the first time in October 2021. The whole family at that time was divided into four quarters of concentrated isolation. The days of living in stress, taking care of relatives in other concentrated isolation points, how to live and treat diseases… made Ms. H. almost lose sleep and eat.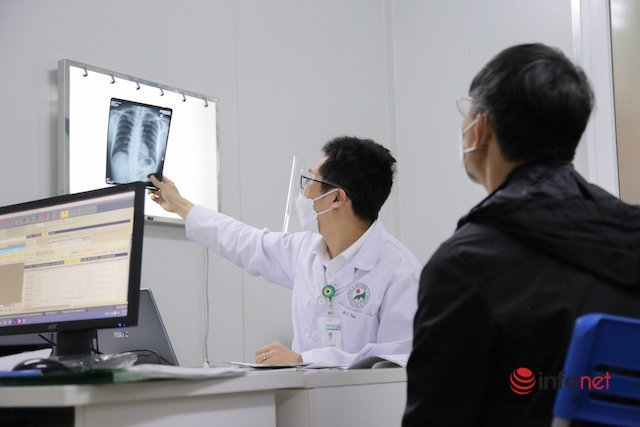 How many times can a person get Covid-19?
"Then the whole family also recovered from the disease. But by the end of February 2022, I was the first person in the family to be infected again. This time, I didn't have to go to focus, nor did I lose my smell, but I felt like I was boneless, struggling, and tired. Body aches, sore throat, cough like a lung explosion, especially chronic insomnia. I had to take sleeping pills, "she said.
Therefore, as soon as she did a quick test of 1 line, she went to the hospital to check after Covid-19. The question she asked was "will I continue to have Covid-19" or not?
Answer this question, Assoc. Prof. Dr. Nguyen Huy Nga, former Director of Preventive Medicine Department, Ministry of Health Basically, people who have been vaccinated, as well as people who have had Covid-19, the body makes antibodies for 3-6 months.
"Therefore, people who have been infected, within 3 months, can still be infected but very mildly, or have no symptoms. Accordingly, infections can occur in people who have low resistance and do not create immunity. Therefore, if people have been infected with Covid-19, people still have to absolutely do 5K, monitor their health, not be subjective", Associate Professor, Dr. Nguyen Huy Nga said.
In fact, through examining and treating patients with Covid-19, Dr. Pham Van Phuc, Deputy Head of the Intensive Care Unit, Central Hospital for Tropical Diseases said, among the patients he has treated, there is a case of re-infection with Covid-19 as early as 3 weeks.
There are many people infected for the second time, there are even a few people infected for the third time, each time with a different variant such as Alpha, Delta and Omicron.
Explaining why the following re-infections were more severe/mild than the previous one, Dr. Phuc said that it may be because each infection with a different strain should have different severe symptoms. For example, the mildest is Alpha, then Omicron, and finally, the most severe symptom is the Delta strain. "There is still no scientific evidence or specific statistics on whether people who are re-infected have more severe or milder symptoms than the first time," Dr. Van Phuc emphasized.
Experts note that immunity to SARS-CoV-2 is not sustainable, even if it is acquired or immune from vaccination. A person can be reinfected multiple times due to infection with different variants of the virus.
Antibodies are proteins made by the body's immune system to help you fight disease. They are created after you have had an illness or been vaccinated. The antibodies can protect you from getting sick for a while afterwards.
Similar to Covid-19, after contracting and recovering from the disease, the body will produce antibodies to the virus. According to doctors, immunity from SARS-CoV-2 itself is not sustainable, including infection or immunity from vaccination. Therefore, the possibility of long-term protection is not available.
Additional, Assoc. Prof. Dr. Tran Dac Phu, former Director of Preventive Medicine Department, Ministry of Health also said the possibility of reinfection is completely possible, however, how long depends on the individual, the virus strain, if infected with another variant, it will be faster. Therefore, even though people have been infected with Covid-19, people still should not be subjective, still need to absolutely comply with 5K, especially masks.
Vietnam currently has no research on reinfection, however, in fact, it has recorded cases of Covid-19 for the second and even third time.
Deputy Minister of Health Do Xuan Tuyen said that the Ministry of Health is assigning the Department of Preventive Medicine together with Pasteur institutes and the Central Institute of Hygiene and Epidemiology to conduct an evaluation study on Covid-19 infection after vaccination. As with re-infection, people who have been infected the first time are still infected for the second time. This will take a while to see results.
According to a report by the UK Health Security Agency (UKHSA), since the outbreak of the Covid-19 pandemic, England alone has recorded 62 people with 4 times testing positive for SARS-CoV virus. -2, each spaced at least 90 days apart. Meanwhile, data collected until March 6 shows that 7,640 other people have had Covid-19 three times.
UKHSA's latest weekly flu and Covid-19 case tracking reports also recorded 715,154 reinfections. People who have been reinfected many times may have been infected with different variants of the SARS-CoV-2 virus.
However, even if the virus stops mutating now, immunity to nose and throat infections won't last long. As a result, many people are likely to be reinfected every 2 years or so.
N. Huyen
You are reading the article
How many times a person can get Covid-19

at
Blogtuan.info
– Source:
infonet.vietnamnet.vn
– Read the original article
here