The scam is quite familiar: Impersonating acquaintances to borrow money
Recently, singer Duc Phuc exposed the fake "Bo Bo" scam to warn people to be more careful and vigilant. The male singer revealed that unfortunately he had fallen into the trap and was scammed with the amount of 32 million dong. The reason why male singers are easy to believe is that this object makes use of his two very close acquaintances, singer Erik and young master Minh Hai – Hoa Minzy's ex-girlfriend.
In particular, the fraudster pretending to be young master Minh Hai said that he would return to Vietnam and would bring goods from Australia for Erik and Duc Phuc, and had "asked" Duc Phuc to pay for the plane ticket after the fraudster. said he ran out of money.
More Than Love's voice of trust diverts loans without thinking, after calling the real Erik, he realized that he had been cheated and the male singer decided to share the story on his personal page to warn everyone.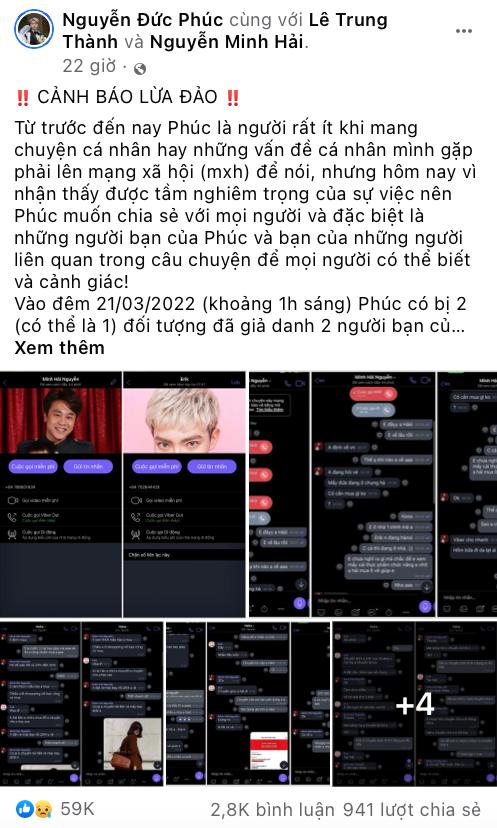 On the morning of March 21, the male singer also went directly to the Police Investigation Agency – Thu Duc City Police (HCMC) – where he lives to report the incident. After providing sufficient evidence and information regarding the fraud to the Public Security Agency, Duc Phuc made the complaint under the guidance of the authorities. The More Than Love vocal also hopes to find the object of the fraud soon and have the right deterrent lessons so that similar acts will no longer continue.
What to remember not to become a "victim" of similar scams?
Although the form of fraud that singer Duc Phuc "trapped" is not a new form because in the past, there have been many cases of impersonation / hacking of social network accounts for profit and appropriate resources. However, bad objects become even more sophisticated when they disguise themselves as up to 2 known people to create trust for "prey".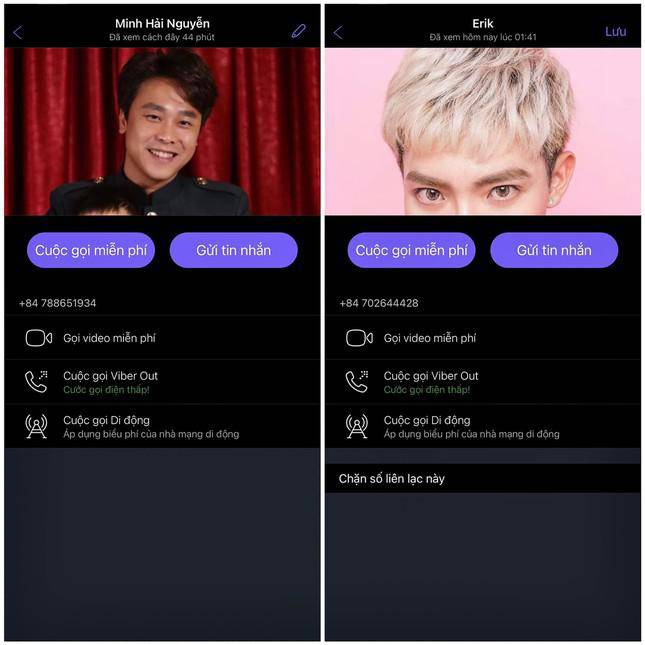 So in order not to become a victim of similar scams, you need to pay special attention to the following:
– Absolutely do not provide username, login password, OTP code for E-banking services to anyone, even someone claiming to be a bank employee.
– Absolutely do not click on strange links sent via text messages, emails, social networks.
– When you need to verify information, you can contact the bank directly (via the hotline or go to the bank) for support, do not follow the instructions of strangers, the phone number has a strange number.
– Limiting disclosure of information and account numbers to strangers in cyberspace…
– If a relative/friend suddenly calls you for an online money transfer, you need to verify the "authority", for example, you can make a video call to confirm whether the person contacted you or not…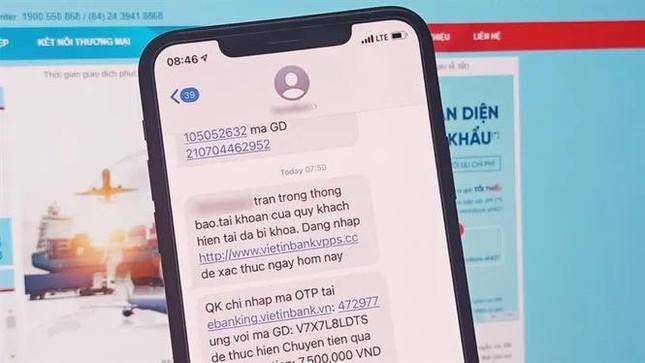 (Picture taken from internet)
Cheated by criminals, how can I get my money back?
If you have unfortunately fallen victim to a money transfer scam, you should calmly take the following steps:
Step 1: Contact your bank for verification
As this is a fraud related to banking transactions, so when you see any signs of fraud, you need to contact the bank for support.
Step 2: Collect evidence and documents related to fraud
Evidence and documents herein may include: Images, messages, audio and video files, documents provided by banks… related to fraudulent behavior. The clearer the evidence and documents, the more profitable the investigation process.
Step 3: Report to the police
In particular, the police commune, kelurahan, township, police station, police station… where you live will have the authority to receive complaints and crime reports (in accordance with Article 145 of the 2015 KUHAP and Joint Circular No. 01/2017).
Documents that must be brought include:
– Case report form;
– Identity document: National Identity Card/Resident Identity Card…
– Related documents and evidence.
The police will base on the documents and evidence provided by the victim to verify and investigate the case.
In addition, victims can also report fraud via the police hotline:
– Hanoi City Police recommends that Internet users can directly send links, online fraud or suspected fraud to the address:
+ Hotline 113 and Hanoi City Police Facebook page.
+ Hotline for Cybersecurity and high-tech crime prevention and control: 069 219 4053.
+ Vietnam information security alert page.
– If in Ho Chi Minh City: Please call the hotline 08 3864 0508.
You are reading the article
The case of singer Duc Phuc being scammed by a 32 million VND scammer: How to avoid online traps?
at Blogtuan.info – Source: Eva.vn – Read the original article here