The sad life of an unhappy woman
Afternoon fell on the porch, Mrs. Nguyen Thi Van (63 years old, An Phong commune, Thanh Binh district, Dong Thap province) slowly walked down to the kitchen area of ​​the house, where there are two graves next to each other to light incense. . "It's my husband and children," explained Ms. Van.
For many years now, bone and joint disease still torments her, making her extremely tired, her legs are severely affected. But all the pain combined is still not equal to the time 3 years ago, her husband and children died in turn, leaving her alone in the spacious house.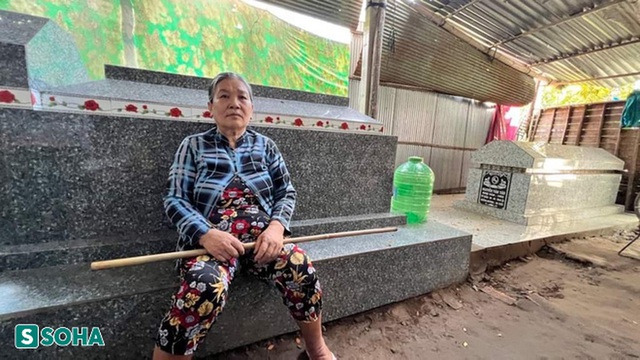 Ms. Nguyen Thi Van
Mrs. Van says: "I have a husband and three children. However, the first two are married and live separately, only my husband and I and our son live together. Three years ago, he became very ill and had to be transferred to the Hospital. Cho Ray (HCMC) for treatment. In the last days of his life, he confided to me: "Mom, if I die, you bury me at home. Listen to me. In the fields, in the fields… afraid of ghosts".
Hearing that, I choked and burst into tears. We live in a house with a width of 3 meters and a length of 12 meters. If there is a funeral, we absolutely cannot afford to buy more land for burial. Maybe he knows that, so he advised my wife and me like that."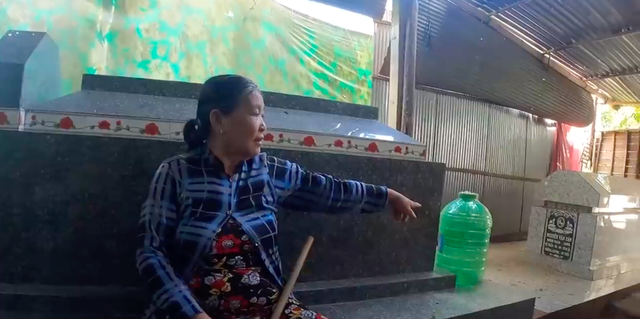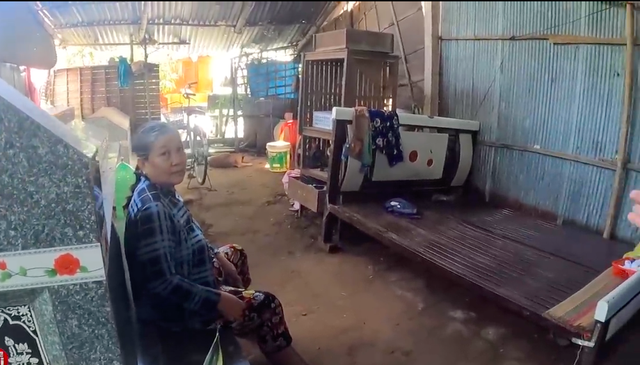 Every day, Mrs. Van still lights incense for her husband's and children's graves
After her son's death, Mrs. Van was deeply saddened but still had no intention of burying him in the house. However, her husband was the one who brought the child's body home. To prepare for the aftermath, he dug a grave for his son. When she returned from Ho Chi Minh City, Mrs. Van saw that everything was ready, so she complied with her husband's wishes.
The pain of losing a child has not yet healed. Three months later, her husband passed away. Before that, he had 17 years of living with complications of stroke. "For 17 years, I went to break each chili to feed him. The family was difficult but always happy. But in the end, he left me and left. According to his will, I buried the family. and set up a husband's grave next to the child"Mrs. Van recalled.
The house has two graves
A stranger passed by Mrs. Van's house in Hamlet 3, An Phong Commune, Thanh Binh District, Dong Thap Province, everyone panicked when they saw two graves next to each other. Every day, Mrs. Van hangs around the house, cleaning and incense for her husband and children.
Ms. Van said: "People ask me if I'm not afraid, how dare I live with two graves. When my husband and children died, I cried for months without stopping, the neighbors saw it and gave me a lot of advice. I thought that I'm already dead, how can I get up after so much pain, less than 100 days of children, my husband died.
At night, I lay my head on the bed near the grave. In my dreams, I still see my husband and children, still talking normally. When I woke up, I knew that they were dead, and I was the only one left in this world. It's sad and painful!".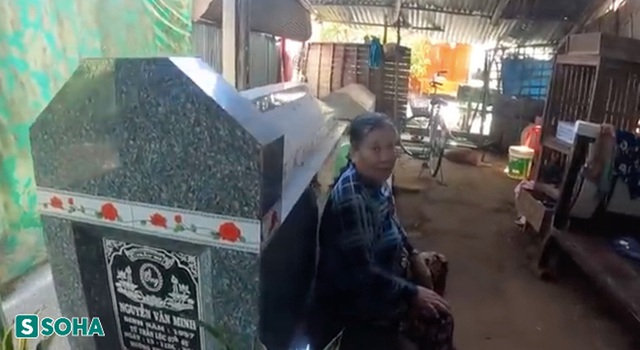 Mrs. Van sits by her husband's grave
Currently, due to old age and weak health, Ms. Van can only break chili for people in the area. However, bone disease prevented her from standing for too long. Every day, she breaks 7-8 kg of chili, the salary is 50,000 VND. This money, she used to buy medicine and food.
In the house, the most "precious" thing for her are two graves, but it is also the pain that has been lying and smoldering in her heart for the past 3 years. Because of poverty, her husband and children had to be buried in the house.
"The biggest fear is losing a loved one, I have also experienced it. Now that yin and yang are separate, I still remember the face of my son who passed away at the age of 36, too young. The man next to me for several decades. years are also gone. I just know how to live the rest of my life well, hoping that father and son will smile in the nine streams." she said.
https://soha.vn/nguoi-phu-nu-xay-mo-chong-va-con-trong-ngoi-nha-o-dong-thap-khong-con-cach-nao-khac-20220323185144756.htm
You are reading the article
There's no other way

at
Blogtuan.info
– Source:
cafebiz.vn
– Read the original article
here