Recently, the Vespa Dior car – a combination product of two popular brands has created a "craze" in the market. Besides the standard version with a selling price of about 400 million VND, Vespa 946 is also brought to Vietnam with many different versions. Each version has its own highlights as well as the story behind.
Vespa 946 Christian Dior – "hot item" that makes the rich in Vietnam chase
First of all, it must be affirmed that Vespa 946 is not a car for the masses, this is a product for Vespa to assert its name and Italian design style. This scooter model uses a typical Vespa monolithic frame, the body is made of monolithic steel.
Vespa Dior is really "storming" in the Vietnamese market. The proof is that in a very short time, the amount of inventory becomes exhausted while the demand for buying increases. Vespas are offered for more than 1 billion VND, and most dealers are around 1.5 – 1.6 billion VND. Meanwhile, many places also offer higher prices than that. This price can be equivalent to the cost of going to the sea for a luxury car model.
The design is beautiful, but the price is not cheap and even being "priced" up to 2 or 3 times the original value, but many people are still willing to pay for a super motorbike. only for the upper class.
According to unofficial information, worldwide there are only 946 units in total. Currently, Vespa 946 Christian Dior cars to Vietnam only have 33 units and soon "sold out". And because of that, this super motorbike becomes the reason why many people are "craving", even luxury people do not rule it out.
Perhaps, never like now, people have witnessed the scene of "players" racing to buy motorbikes like this – even though the price is not cheap and is still being "priced" to double, fold 3 from the original value.
At this point, a problem is presented: No money can't buy it, of course, but have money but still can't own this "super motorbike", what to do?
"Upgrade" Vespa Sprint into a Christian Dior 946 super motorbike for only 9 million
The image of the Vespa Sprint being "enchanted" into a special version of a scooter model called Vespa 946 Christian Dior has just appeared on social networks, making many people extremely excited.
Talking to us, Nam Anh (born in 1996, an employee at MixUp Studio – Italian tuning workshop) said that any Vespa model can do it, but at a relative level, and for Vespa Sprint / Primavera models. will bring beautiful results and are most similar to the original version because these 2 models have tapered tails.
"The Vespa Sprint/ Primavera model is white, so when done, it will only need to be painted with copper accessories. Therefore, it will be easier and faster to handle."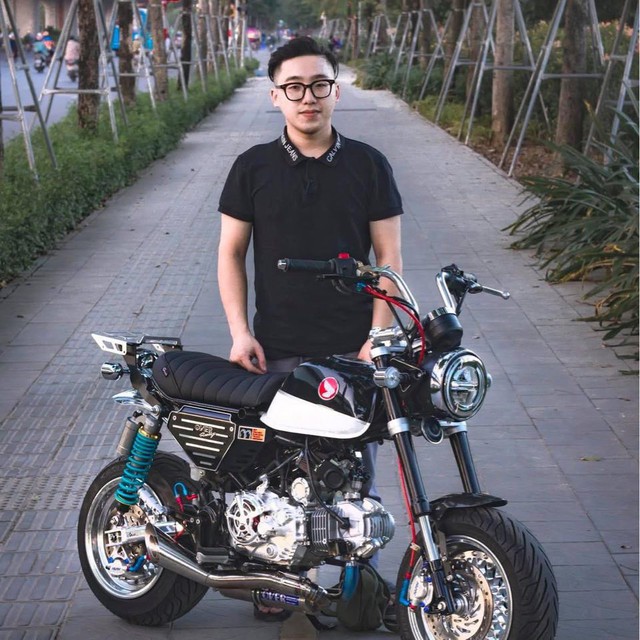 Talking more about the costs to "upgrade" an ordinary Vespa into a version with the shape "similar to" Vespa 946 Christian Dior, Nam Anh revealed, on average, it will need to spend about 9 million.
Here are the details:
1. VEHICLE PAINT: 4 million VND
– Porcelain white paint for accessories: handle, rim, muffler, clock crest, 3 lines and flaps, 3-letter stamp set
– Painted in yellow copper
– White painted rims
– Painted rim, copper-colored rotating fan cover
2. TEMPERATURE: 250,000 VND
– Paste the Dior stamp set – 250k
3. ADDITIONAL TOYS: 4.9 million VND
– Curved handle: 750k
– Phase edge with protruding crest: 650k
– Lightning led turn signal kit: 3.5 million VND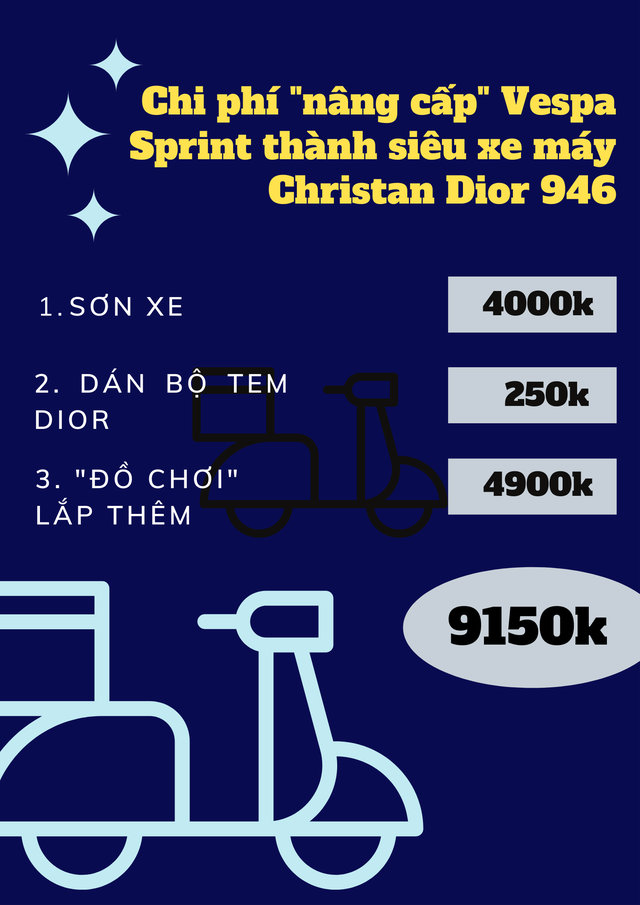 Close-up image of the car after being "upgraded" into a version with a "similar" shape to Vespa 946 Christian Dior:
You are reading the article
With only 9 million VND, you can also own the hottest Vespa 946 Christian Dior super motorbike right now

at
Blogtuan.info
– Source:
autopro.com.vn
– Read the original article
here