Thế Giới
Covid-19 situation on March 25: Singapore lifts entry restrictions
Singapore will reintroduce border policies similar to those of before the Covid-19 epidemic, thereby lifting most restrictions on travelers who have had a full dose of vaccines.
Specifically, from April 1, all visitors who have received a full dose of Covid-19 vaccine and children aged 12 and under entering Singapore are not required to be quarantined and do not need to travel on flights according to Vietnam's national authorities. "vaccination lanes".
These travelers are also not required to have a quick Covid-19 test upon entry, but only need to have a negative test result within 48 hours before departure. They also do not need to apply for a vaccine passport as before.
Besides, a joint press release after a phone call between Singapore Prime Minister Lee Hsien Loong and his Malaysian counterpart Sri Ismail Sabri Yaakob on March 24 said that the two countries had agreed to open the border on the whole road. by air, by land and by water for those who have received the full dose of Covid-19 vaccine without needing to be tested.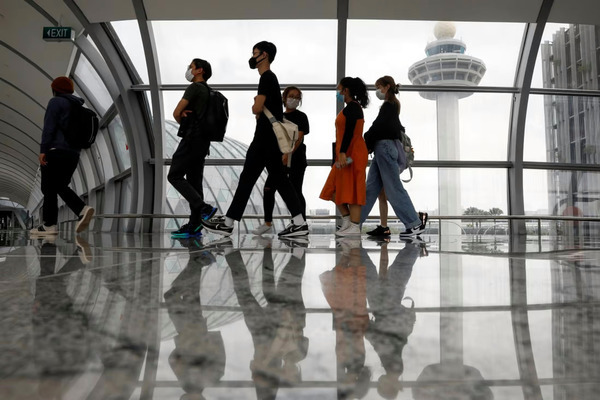 Singapore will lift most restrictions on entry for travelers who have had a full dose of the Covid-19 vaccine. Photo: Reuters
Singapore has reached a milestone for living with Covid-19
Singapore has begun to enter a new phase of living with Covid-19 as Prime Minister Lee Hsien Loong commented in a televised speech on March 24. In it, the head of the Singapore government outlined changes in the prevention and control measures of the "lion island nation".
Mr. Lee Hsien Loong announced that from March 29, Singaporeans may not have to wear masks when going out, although it is still encouraged. However, wearing a mask is still a must in enclosed spaces. In addition, the group gathering size is increased from 5 to 10 people and each household can welcome 10 people to visit at any time. 75% of workers can return to work compared to 50% as before, while events with more than 1,000 attendees have also been increased in capacity from 50% to 75%.
The Singaporean Prime Minister emphasized that the island nation has reached an important milestone in the journey of living with Covid-19. The country is well positioned to ease restrictions with high vaccination rates (95% of the eligible Singapore population has completed 2 doses of the vaccine and 71% of the population has received a booster). The wave of epidemics caused by the Omicron variant has peaked and is on the way down, with about 10,000 new infections/day in recent days compared to more than 26,000 cases/day at its peak.
Mr. Lee Hsien Loong also noted that Singapore's population now has a stronger immunity because many people have been infected with Covid-19 and recovered.
At the press conference that followed, Singapore's Covid-19 Inter-Ministerial Task Force (MTF) announced some more easing measures from March 29, such as restaurants being allowed to serve alcoholic beverages. After 10:30 p.m. daily, outdoor performance events are held again…
EU recommends using AstraZeneca's Covid-19 vaccine
The European Medicines Agency (EMA) on March 24 recommended the use of AstraZeneca's Covid-19 antibody drug, in the context of the region facing an increase in the number of new infections and a stagnation in the health sector. vaccinations for adults.
The EMA said the drug, called Evosheld, should be used by adults and adolescents over 12 years of age who have not been exposed to the coronavirus. In addition, they can be used to prevent the risk of Covid-19 infection in people whose immune systems are too weak to receive vaccines, helping to reduce the burden on health care systems.
While the Covid-19 vaccine relies on the intact immune system to develop antibodies and virus-fighting cells, the Evusheld contains antibodies that are designed to stay in the human body for up to months, helping prevent viruses in case of infection with them.
AstraZeneca claims that Evusheld was able to neutralize the Omicron variant and its minor variants, including BA.2, in an independent laboratory study. In trials, Evusheld reduced the risk of a symptomatic Covid-19 outbreak by up to 77%, with protection lasting at least 6 months. The drug has also been shown to prevent disease progression if taken immediately after a viral infection.
Shanghai is still at approximately 1,000 cases/day
According to data released by China's National Health Commission on March 24, Shanghai recorded four symptomatic Covid-19 infections and 979 asymptomatic infections in the community on March 23.
Although this number is still very small compared to the global average, this administrative center continues to maintain a "no Covid" strategy to try to control the spread of the Omicron variant. Shanghai officials said that more districts in the city will be locked down to conduct mass testing from March 24 to 25. Residents are asked not to leave their homes unless absolutely necessary.
Zhang Wenhong, head of a group of experts on the treatment of Covid-19 in Shanghai, said on March 24 that although the number of asymptomatic cases initially increased "exponentially", the results of the tests. The series showed that the outbreak in the city was still effectively contained.
A total of 2,054 new Covid-19 infections were recorded across mainland China on March 23, down from 2,667 a day earlier. Of these, there were 2,010 infections outside the community, down from 2,591 cases a day earlier. Most of the new infections are in Jilin province.
From the time of the new outbreak to March 23, mainland China recorded a total of 139,285 infections and 4,638 deaths from Covid-19.
>>> Update Covid-19 epidemic situation Latest
Vietnamese-English
You are reading the article
Covid-19 situation on March 25: Singapore lifts entry restrictions

at
Blogtuan.info
– Source:
vietnamnet.vn
– Read the original article
here