Sức Khỏe
F0 weighing 140 kg had to run ECMO for 84 days continuously, hospitalized for 4 months
(Dan Tri) – After being infected with Covid-19 "the first death", the young man faced another very difficult situation, that is, he could not sit up, walk… to return to a normal life. .
Information from Gia Dinh People's Hospital (HCMC) said that VQDung (28 years old), a patient infected with SARS-CoV-2 with a "record" ECMO run time at field hospital No. return home after 3 months of treatment Covid-19 and a full month of rehabilitation training.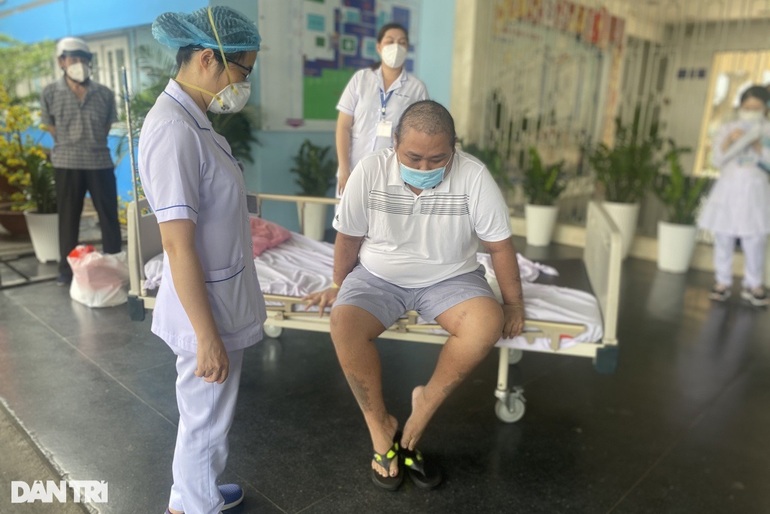 F0 weighs 140 kg, each care needs 8 doctors
Previously, Mr. Dung was hospitalized for Covid-19 pneumonia. He has a background of type 2 diabetes, grade 3 obesity with a weight of 140 kg and a body mass index (BMI) of 48 kg/m2. During the course of treatment, the patient was in critical condition when the lung was 80% solidified, multi-organ failure due to cytokine storm.
Doctor Giang Minh Nhat, Department of Cardiology, Gia Dinh People's Hospital, cum Head of Intensive Care Unit 1, Field Hospital No. 16 said, Dung is a very special case. At the time of being infected with Covid-19 because patients with severe respiratory failure were very overweight, respiratory interventions and ECMO interventions were not simple.
The second difficulty is the issue of care, each time it is necessary to mobilize up to 8 medical staff to be able to do tasks such as changing diapers and turning patients.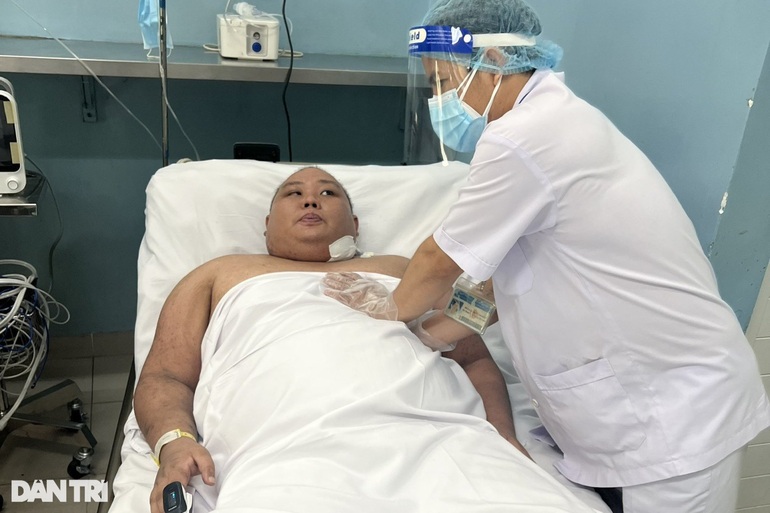 During the treatment process, the doctors went through a lot of emotions. From the beginning in a critical condition, it was not until the end of the 3rd month that the patient showed signs of recovery. In addition to the efforts of the medical staff, it was the determination and strong vitality that helped the patient step by step overcome the danger. The patient was run ECMO for up to 84 consecutive days, up to now this is the longest-running case of F0 ECMO intervention in Vietnam.
After weaning off the machine and overcoming the danger, the process of recovering respiratory function for the patient also encountered a lot of ups and downs. A series of doctors and nurses from many specialties such as Clinical Medicine, Clinical Pharmacology, Physiotherapy, etc. work together and consult to come up with the best treatment plan for recovery, in order to help patients return to their normal health. normal life.
Looking forward to the day when the patient can walk
Doctor Giang Minh Nhat said that after completing Covid-19 treatment, he was eligible to be discharged from the hospital, the patient could not sit up and walk on his own. To handle this problem, the patient was transferred from the field hospital No. 6 to Gia Dinh People's Hospital, under the support of the departments of Internal Medicine, Cardiology, Respiratory, Rehabilitation, etc., to continue treatment. .
With the relentless efforts of the doctors, from lying on a stretcher leaving the field hospital, after 2 weeks of physiotherapy, the patient was given oxygen, and the lung fibrosis condition decreased sharply. 4 weeks later, the patient sat up on his own, walked step by step, his respiratory function also recovered spectacularly.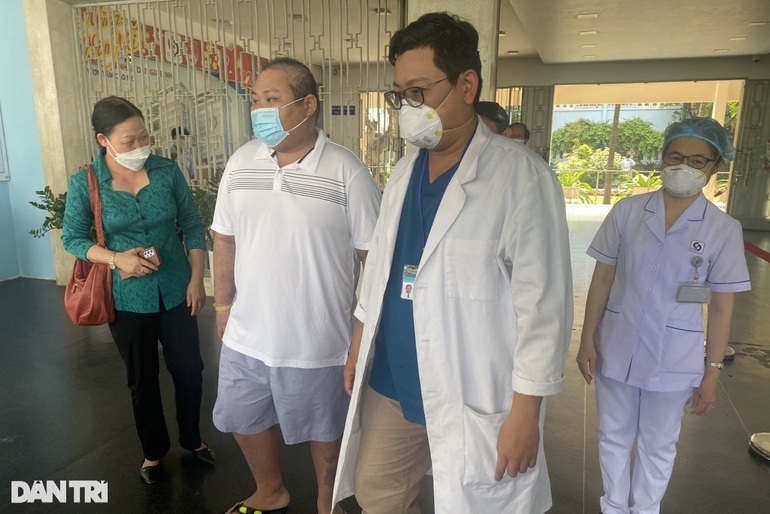 "Looking at the image of Dung standing up and taking the first steps, we are overjoyed without words. All of your efforts, efforts, and daily expectations have been paid off. The time has come. It's the right time for Dung to return home to his family," said Japanese doctor.
Sending the patient off to a taxi back to Dong Nai with his relatives, the Japanese doctor carefully advised Dung to persevere in breathing exercises and guided movement. At the same time, you must return to the scheduled follow-up visit for the doctor to check your health status.
According to the Japanese doctor, for patients with severe Covid-19 infection, the process of lying down in one place is prolonged, most of them need physical therapy to restore respiratory and motor function when recovering from the disease. After being discharged from the hospital, these patients need a long process of exercise and monitoring, how to restore muscle strength. In addition, the diet is also controlled to suit the patient's underlying disease.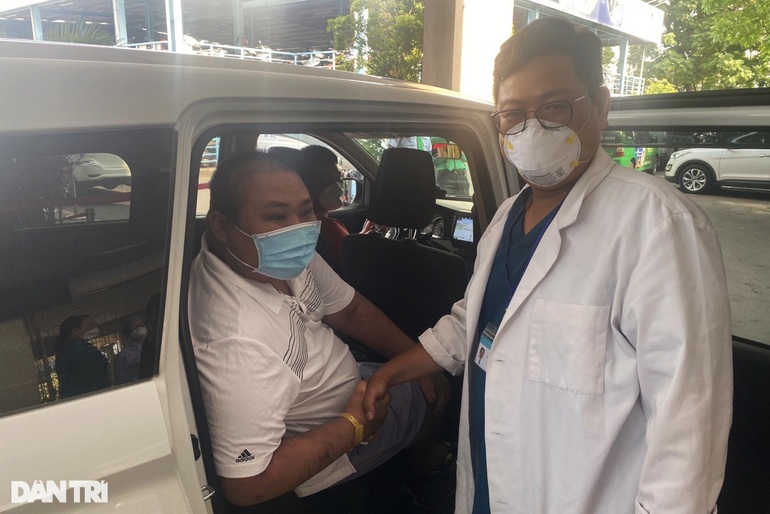 In addition to the above problem, through the actual treatment at the 16 field hospital, some mild post-Covid-19 symptoms commonly seen in patients are poor eating, fast heartbeat, nervousness, anxiety, and insomnia. There are also cases of "former F0" with serious problems, including cardiovascular disease (such as stroke), blood vessel blockage, pulmonary fibrosis sequelae. At this time, it is necessary to go to specialized medical facilities to perform imaging tests, necessary paraclinical tests to make an accurate diagnosis and have an appropriate treatment strategy.
The doctor recommended that, although at the present time, the Covid-19 vaccine vaccination has achieved quite good results, but there are still patients who become seriously ill after infection, especially those with underlying diseases. Therefore, measures such as wearing masks, regularly washing hands and disinfecting are still necessary to prevent the epidemic.
You are reading the article
F0 weighing 140 kg had to run ECMO for 84 days continuously, hospitalized for 4 months

at
Blogtuan.info
– Source:
dantri.com.vn
– Read the original article
here