Đời sống
Husband threw the whole tray of rice in the face of his wife and children
The clip recorded the husband's violent action, throwing a tray of rice in the face of his wife and 3 young children, causing public anger.
Recently, a clip recorded a violent scene in family stir up public opinion. The wife and 3 small children about 1-3 years old were sitting at the table of rice when suddenly the husband got up and showed an aggressive attitude.
Clip of the husband throwing a tray of rice in the face of the mother and daughter
After the act of throwing the dishes out, this man even brought a tray of rice and threw it at the mother and daughter's faces and shouted: "Who are you with?". The children were scared, bewildered, not understanding what was happening. The older child leaned on the mother to avoid the blow.
The clip after being posted caused public outrage. A man's abusive actions can have serious consequences for children not only physically but also mentally.
Discussing the issue of violence in the clip above, expert on educational psychology, life skills Vu Viet Anh, Director of Thanh Cong Academy warned of the dangers.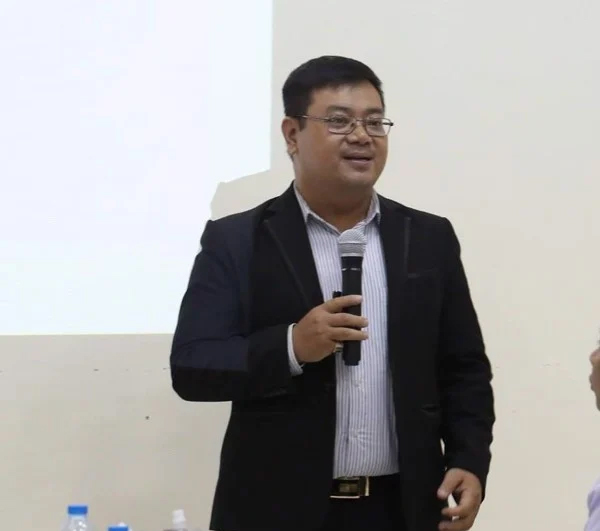 Expert in educational psychology, life skills Vu Viet Anh
When parents use force in front of their children, they unwittingly make their children think that, in order to get what they want from others, use force and violence; to release your anger, take it all out on others, even by force; If you want to control others, you must have strength, and the strong are always the winners. They also understand that violence can be used even against their loved ones, just as fathers did with mothers and children.
This will seriously affect the thinking and life of children in the future. It is imprinted on the child's mind as if it were natural if the act of violence were to happen frequently.
In class, when friends do things that are not right, not according to their children's wishes, they will tend to use violence. That behavior, if repeated over many years, will form an aggressive, violent personality. Such a child will not be able to become a good person.
Moreover, the father's abuse of the mother will make the child think that in order to control others, one must have strength. Dr. Viet Anh said that this mindset will make school-age children more likely to fall into the problem of school violence, and risk forming clans to bully children who are weaker than themselves. They can also become juvenile delinquents because of these problems.
"Men born in violent families hit their wives 600 times more often than men from opposite backgrounds. One in four people from a violent family is aggressive, causing serious injury to his wife and children. Almost 100% of children who are physically punished attack their siblings, 20% brutally beat their brothers and sisters, "said Dr. Viet Anh.
Article 2 of the 2007 Law on Domestic Violence Prevention and Control provides:
"first. Domestic violence acts include:
a) Torture, mistreat, beat or other intentional acts infringing upon health and life;
b) Insults or other intentional acts that offend the honor and dignity;
c) Isolate, drive away or apply constant psychological pressure, causing serious consequences;
d) Preventing the exercise of rights and obligations in family relations between grandparents and grandchildren; between father, mother and child; between husband and wife; between brothers, sisters and brothers;
d) Forced sexual intercourse;
e) Forced child marriage; forced marriage, divorce, or obstruction marriage voluntary, progressive;
g) Appropriating, destroying, destroying or other acts intentionally damaging the private property of other family members or the common property of family members;
h) Forcing family members to work too hard or make financial contributions beyond their means; controlling a family member's income to create financial dependence;
i) There is an illegal act to force a family member out of the residence.
2. The acts of violence specified in Clause 1 of this Article also apply to family members of divorced spouses or men and women who have not registered their marriage but live together as husband and wife."
Handling sanctions:
Pursuant to Article 42 of the 2007 Law on Domestic Violence Prevention and Control, which stipulates:
"first. Persons who commit acts of violating the law on domestic violence prevention and control, depending on the nature and seriousness of their violations, shall be administratively handled, disciplined or examined for penal liability; if causing damage, they must compensate according to the provisions of law.
2. Cadres, civil servants, public employees and members of the people's armed forces who commit acts of domestic violence, if they are administratively handled according to the provisions of Clause 1 of this Article, shall be notified to the head. competent agency, organization or unit to manage such person for education.
3. The Government shall specify administrative violations against domestic violence prevention and control, sanctioning forms, and remedial measures for persons who commit acts of violating the law on prevention and combat of domestic violence. family power".
Depending on the severity and nature of domestic violence acts, administrative sanctions or criminal sanctions will be applied.
– Accordingly, acts that have not yet caused serious consequences and do not have enough elements to constitute a crime for criminal handling will be administratively sanctioned in the form of fines and measures to prevent and overcome them. consequence. A fine ranging from VND 100,000 to VND 2,000,000, corresponding to each act specified in Section 4 of Decree 167/2013/ND-CP on sanctioning of administrative violations in the field of security and order , Social security; Prevention of social evils; fire prevention and fighting; domestic violence prevention and control.
– For acts of serious nature, they can be criminally handled for intentionally causing injury or causing harm to other people's health (Article 134 of the Penal Code); crime of torturing others (Article 140 of the Penal Code); the crime of forced death (Article 130 of the 2015 Penal Code). Accordingly, for these crimes, they can be subject to warning, non-custodial reform or imprisonment, the maximum penalty is life imprisonment.
Tu Linh
You are reading the article
Husband threw the whole tray of rice in the face of his wife and children

at
Blogtuan.info
– Source:
vietnamnet.vn
– Read the original article
here