Life Style
Xã Hội
Many people were seriously injured, their lungs were white, and had to stay in the hospital for 7 months to treat post-Covid-19 sequelae
Obsession named after Covid-19
Before being infected with Covid-19, Uncle Sanh, like some people, had a subjective mentality, thinking that he had been fully vaccinated, and when he was infected, he would gently pass. However, after being infected, from the treatment of Covid-19 to the sequelae it left, Uncle Sanh fell into a state of "panic", unable to breathe on his own, with the help of oxygen. .
"I don't think I'm that heavy, this Covid-19 is so terrible, it makes me breathless, tired, my lungs are all fibrous…", Uncle Sanh said while panting.
According to BS.CK2 Doan Le Minh Hanh – Head of the Respiratory Department, Ho Chi Minh City Hospital for Rehabilitation and Treatment of Occupational Diseases, said that currently, the Respiratory Department is receiving and inpatient treatment for about 20 serious patients. , most have had Covid-19. Particularly, the number of patients coming for outpatient examination and treatment for post-Covid-19 sequelae is also very large.
According to studies, about 80% of patients who have had severe Covid-19 infection have post-Covid-19 symptoms such as fatigue, shortness of breath, reduced exercise capacity, decreased blood oxygen during exercise, hair loss, depression… The post-Covid-19 rate is less in people who have had asymptomatic or mild Covid-19 before. Going to the doctor after Covid-19 will help the patient check for hypoxia, increased airway reactivity later. Covid-19, pneumonia, pulmonary fibrosis or airway obstruction…, thereby helping to detect the disease and treat it promptly.", BS. Hanh shared.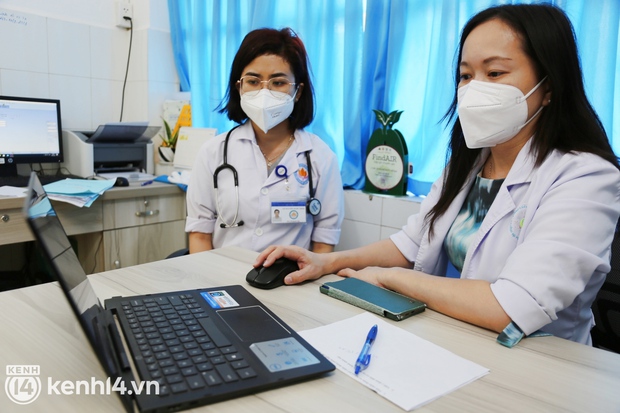 BS. CK2 Doan Le Minh Hanh and analyzed the chest X-ray of a post-Covid-19 patient with Doctor Ngoc Thao
According to BS. Hanh, often those who go to the Respiratory Department for inpatient treatment, have undergone severe Covid-19 treatment, transferred from other hospitals after testing negative for Covid-19. Many cases come to the hospital in an emergency situation requiring high-flow oxygen support, X-rays show severe lung damage, some people have white lungs, almost no life.
"There was a case in the hospital for 6-7 months, running ECMO, tracheostomy, prolonged oxygen breathing, pneumonia, severe infection. There was a case where the department received from another hospital, he was in another hospital. It's been 6 months but I can't breathe on my own, when I was treated in the ward, the doctors took care of me, followed up closely, combined with physical therapy, breathing exercises, gradually weaned off oxygen, pulled out gas. after 1 month to be discharged home.
Many post-Covid-19 patients are severely ill, require oxygen, and stay in hospital for a long time for respiratory treatment and ulcers.
In addition to health problems, the patient's psychology is very important, especially those who have experienced severe Covid-19 infection, the obsession between life and death makes their psyche very heavy, falling into depression even. psychotic. There are patients when they come to the hospital, they refuse to enter the hospital room even though they are breathing very tiredly, they resolutely sit in the corridor and do not cooperate with the doctor because they are afraid that they will be alone in the room, not be able to see their loved ones, no If you have a loved one next to you, you won't be able to go home if you're afraid of death…
In order to treat serious patients, in addition to providing good medical care, it is necessary to understand the patient, help them gradually be optimistic, improve their health so that they can return to their daily lives. This requires the cooperation of many specialties, doctors, and medical staff. Although tired and under pressure, just seeing their patients healthy, being discharged home with their families, re-integrated into a normal life is the greatest joy of medical professionals." BS. Doan Le Minh Hanh said.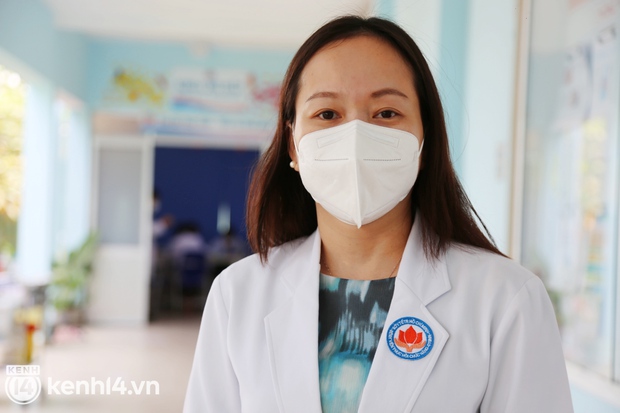 Doctor.CK2 Doan Le Minh Hanh – Head of Respiratory Department, Hospital for Rehabilitation and Treatment of Occupational Diseases in Ho Chi Minh City
Miracle!
That's how Dr. CK2 Doan Le Minh Hanh told the story of regaining the life of Uncle Ngo Phuoc Tai (SN 1963) after being hospitalized for treatment in a very serious condition, with a critical prognosis.
According to BS. Hanh, after being infected with Covid-19, Uncle Tai's lungs were white, leaving only a tiny bit of black to breathe when both lungs were infected and contained fluid.
"When looking at the patient's X-ray results, the doctors and nurses could only shake their heads when the prognosis was very conservative, almost thinking that the patient would not survive.
In addition to the white lungs unable to exchange oxygen, requiring high-flow oxygen breathing interventions, Uncle Tai also suffered from severe infections, fungal infections, difficult-to-control diabetes, etc., so the treatment was also very difficult. But a miracle happened.", BS. Happy said.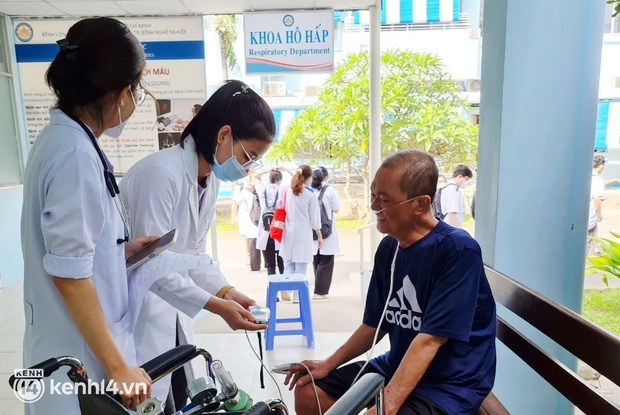 After a month of treatment at the Respiratory Department, Uncle Tai made a spectacular recovery to be discharged from the hospital and returned to his family.
After conducting the intervention using a ventilator, closely monitoring SpO2 indicators, blood tests to adjust as well as treat antifungal, infection, anti-inflammatory, anticoagulant…, 1 month later, a miracle appeared. presently. The patient was able to wean off the ventilator, breathe air on his own, the ulcers and infections were also successfully treated, and the X-ray examination clearly improved.
"This is a very spectacular case of treatment when Uncle Tai just lay in one place, couldn't sit up, his lungs were white…, at first the doctors and nurses thought it was impossible to save his life, looking at the X-ray, there was nothing left to breathe. But then all the efforts of the medical staff in the department as well as the patient's efforts paid off, the patient recovered and was discharged from the hospital.", BS. Doan Le Minh Hanh shared.
Health exercises and assessment of Uncle Tai's condition were performed by medical staff of the Respiratory Department
Besides Uncle Tai, according to Dr. Hanh has many post-Covid-19 patients with severe and critical lung damage who have been saved. In addition to optimal medical care and treatment, the hospital environment needs to be airy, open space, full of physical therapists, psychology, psychotherapy, and dedicated patient monitoring. , family members have partly helped the patient overcome the death penalty.
Lying on the hospital bed, Mrs. Tinh (75 years old, living in Nha Be) had tears in her eyes when after nearly 2 months of treatment at the Hospital for Rehabilitation and Treatment of Occupational Diseases in Ho Chi Minh City, her health was better, coming soon. discharged home.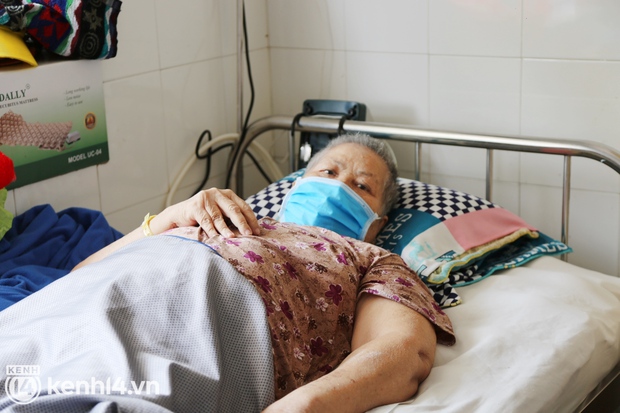 Ms. Tinh had difficulty breathing, because her long stay in the hospital made her body ulcerative
"She contracted Covid-19 on January 6, tested negative, then moved back here to continue treatment. Before she thought she wouldn't survive, couldn't breathe, now it's better, no longer tired, the ulcer is fine. ", Mrs. Tinh said.
According to BS. Hanh, initially when receiving Ms. Tinh, the patient with low blood pressure was using vasopressors, was lethargic, had respiratory failure, and required high-flow oxygen support. Thanks to the intensive care, effective treatment, and encouragement of her family and doctors, she slipped through the narrow door to continue her life.
Mr. Pham Van Do (76 years old) though he lost an arm, but for 2 months, he was always on duty, taking care of Mrs. Tinh thoughtfully. The beautiful love of the old couple makes many doctors and patients at the Respiratory Department respect. At present, Ms. Tinh's health has improved well and can be discharged soon…
https://kenh14.vn/nhieu-nguoi-ton-thuong-nang-phoi-trang-xoa-phai-o-benh-vien-7-thang-rong-de-dieu-tri-di-chung-hau- covid-19-20220324165648686.chn
You are reading the article
Many people were seriously injured, their lungs were white, and had to stay in the hospital for 7 months to treat post-Covid-19 sequelae

at
Blogtuan.info
– Source:
Kenh14.Vn
– Read the original article
here