In recent years, marriages with a large age difference have become increasingly popular in Indonesia, but such marriages have always received great attention from the public. If in 2017, the marriage of a 17-year-old youth with a 71-year-old woman caused a stir in the domestic and international media, then just 2 years later, another marriage has also attracted attention.
It was a marriage between a 14 year old groom and a 20 year old bride. The age difference between the two is only 6 years, the difference is not too big, but the age of the groom who is too young and the appearance of the bride causes a lot of controversial controversy.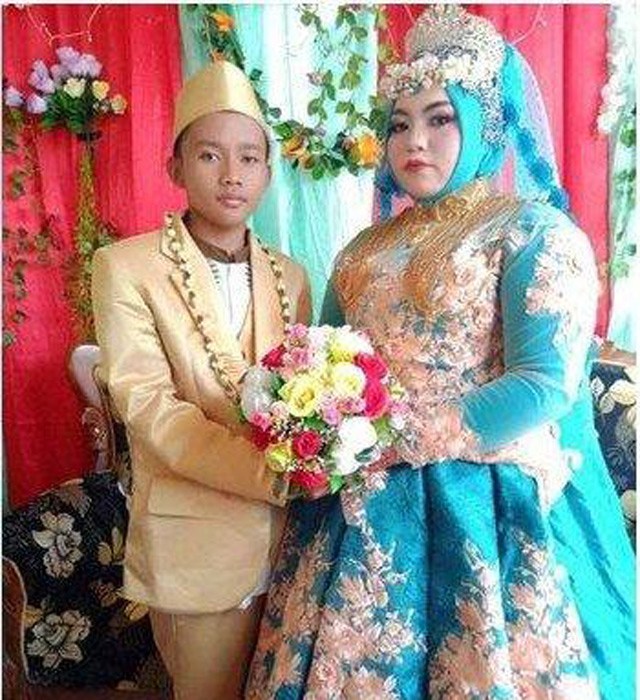 These "wrong stick" wedding photos were posted by a relative named Gian Aditya on his social network Facebook on November 2, 2019. Mr. Gian Aditya posted several photos with the caption: "Congratulations sister. The groom is 14 years old, and the bride is aged 20 years.
It is known, this wedding took place in the Pelengaan area, in the Pemekasan Regency, East Java Province, Indonesia. Bride and groom together wearing traditional Indonesian wedding costumes. The groom wears a yellow suit and the bride wears a blue wedding dress with intricate beads. However, the appearance of the bride and groom invites a lot of discussion.
While the groom's face is as young as a teenager, without the aura of a married man, the bride looks more mature but her body is quite chubby and disproportionate when standing. wife.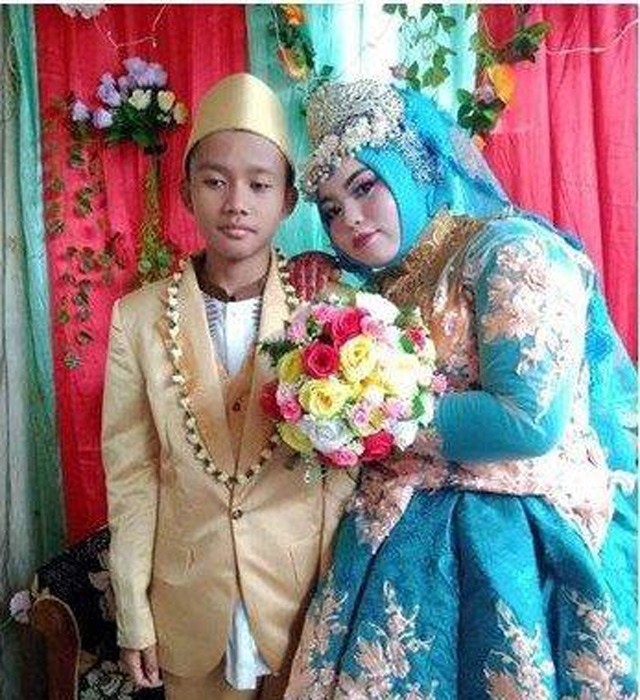 The issue of the age of the bride and groom in this marriage is also controversial. The bride is 20 years old and eligible for marriage, but the groom is only 14 years old, still under the legal majority age, still of school age, there is no reason to get married, the kiss is so fast. Therefore, many netizens expressed their anger over the couple's marriage:
"I am 14 years old married, while I am 30 years old and single, where is the justice?".
"The bride is older than the groom, but in my eyes, the two are still children. Why did they get married so soon?".
"Are they married for money or forced by their families? Suddenly, the world is turned upside down"…
According to Tribun News, the legal age for marriage in Indonesia is 19 years and over for men and 16 years and over for women. However, according to the Indonesian Population and Family Planning Agency, the recommended age for marriage is between 20-25 years for women and 25-30 years for men.
Despite the provisions of the law, many marriages in Indonesia are still held when the bride-to-be, or both of them are under the legal marriage age, go unpunished. This is because the Indonesian people still accept the marriage if it is carried out according to religious beliefs, which is known as a "siri marriage".
You are reading the article
The marriage of a 14 year old groom with a 20 year old bride is shocking, the difference in beauty is shocking
at Blogtuan.info – Source: Eva.vn – Read the original article here