Becoming a mother is the most sacred and miraculous thing. Although the journey is not easy, the feeling of holding your baby in your arms, cuddling and kissing your baby's cheek is the best thing in this world.

I'm not always good, but I definitely need you. Every child is born with love and care. I'm only a baby once in my life, so please love me completely for once.

And that is also the content of the poem by Giang Oi – famous young vlogger who wants to share with all mothers. "Never in my life have I sat down to copy and translate poetry, but today I came across a poem that is so good that I don't know who the author is, I just know it's worth spending time translating. Please give it to mothers and fathers", the vlogger confided.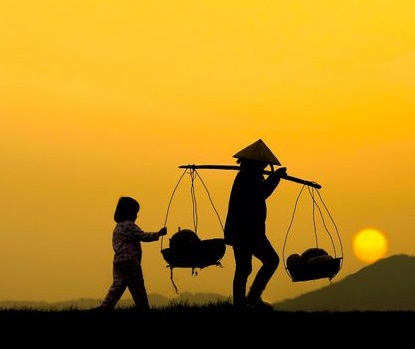 ONE LAST (author unknown, translated by Giang)
From the first time you hold your baby in your arms, the person you are has changed forever.
Sometimes you'll miss your former self,
While still free and free,
There's nothing you have to worry about,
Now you have no idea how hard it is to be a parent.
The days that pass seem to be the same,
Feed and pat your back, then feed again,
Diapers, diapers, crying sounds,
Again nagging, then protesting again,
Sleeps, and then lack of sleep,
A loop that doesn't know when to end.
But hey, don't forget…
Everything will have a last time,
There was once when I nursed you for the last time,
Then for the last time I fell asleep in my arms.
One day you'll put your baby down,
And never again, I need you to hold me,
One day you bathe your baby for the last time,
And from then on, I showered by myself.
There will be one last time, I need you to hold my hand,
And from then on, the hand didn't need to reach,
For the last time, I ask you to cuddle,
From then on, the adult sleeps separately.
One afternoon, you sang your favorite song,
It was also the last time it rang,
Today I greet you at the school gate,
From tomorrow, I go to class by myself.
There will be a last time for all,
The last time I read the story, the last time I wiped my dirty hands,
I swooped into your lap one last time.
But you won't know it's the last time,
Until you run out of time,
And even when that came,
It's not easy for you to notice.
So friends, don't let it be too late,
Appreciate it all while you are,
Because when the memory is gone,
You will look forward to passing by again.

Even just one last time.
In the comments section, many mothers thanked the mother of one child for her emotional and sweet poems, which made them cry and love their children more.
– I have never had feelings for any children. There was a part of my childhood when I looked at the family's hardships and thought to myself that I would not have children just to have children like many people. Until I had a baby in my arms, I never thought that after my husband, I could love someone unconditionally like that. Every day that passes is tiring, but I secretly wish I was small forever to hold in my heart. I'm afraid that I won't need my mother when I grow up, I won't be the child's favorite anymore.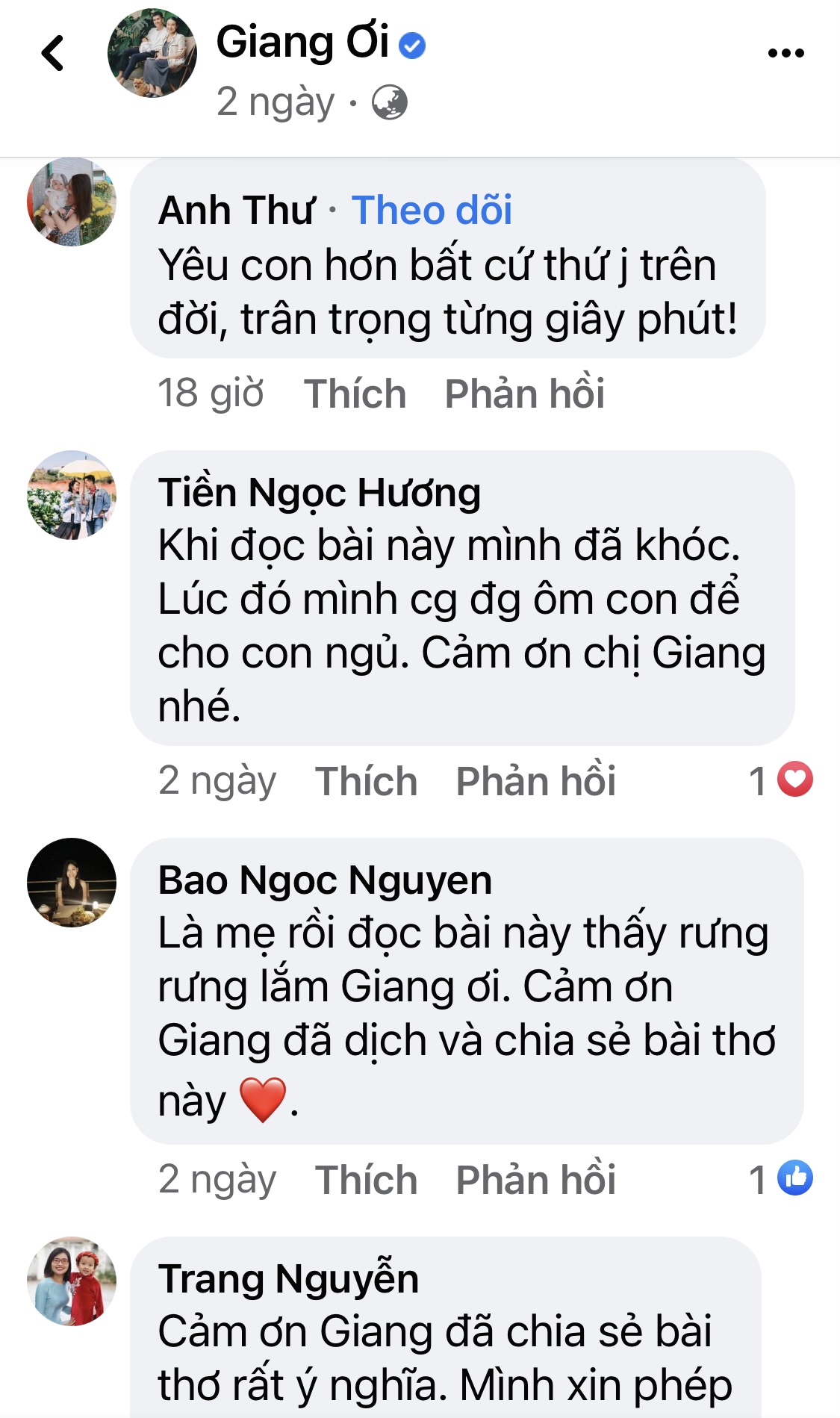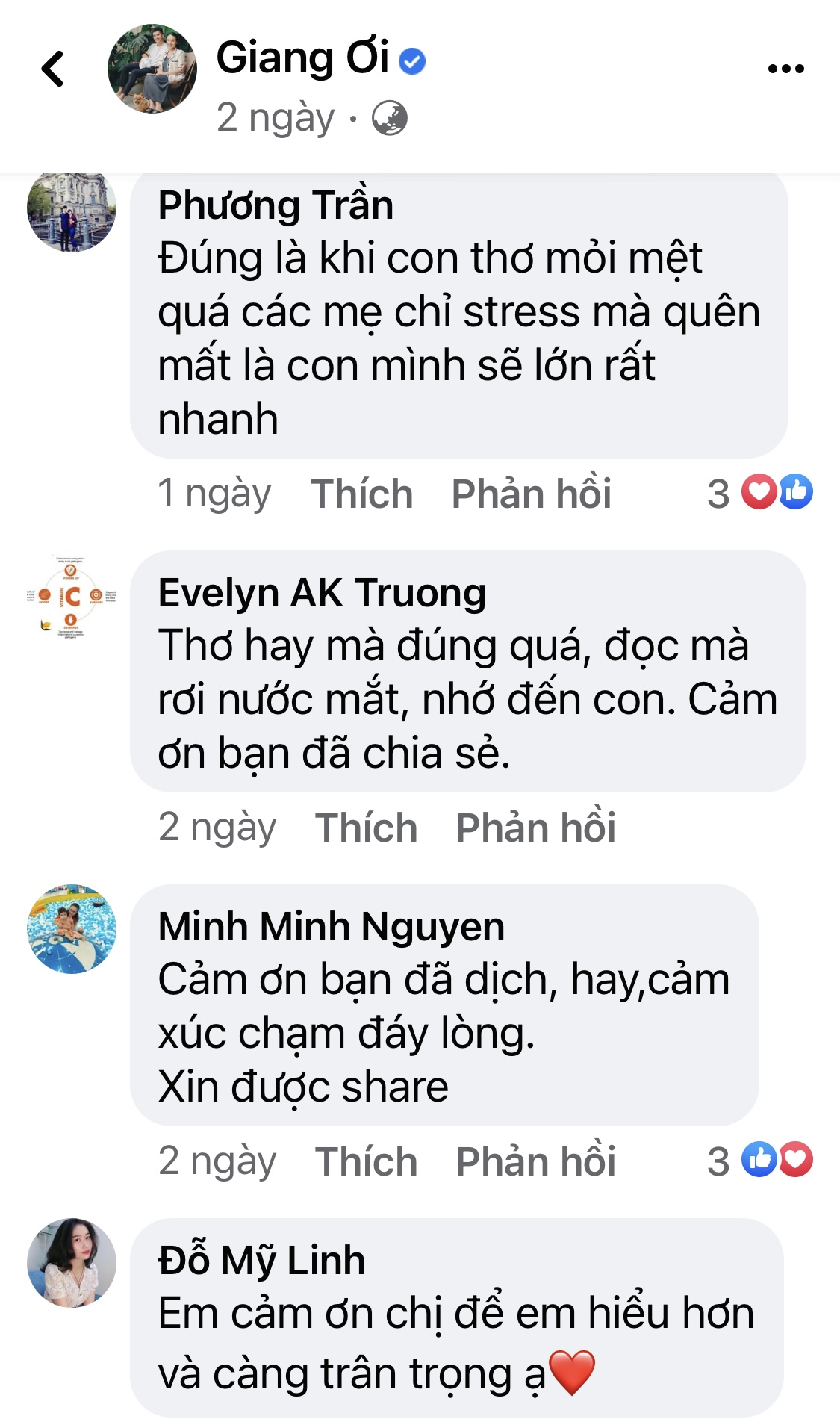 – Being a mother for the first time, so many surprises, the nights of waking up and lulling the baby to sleep are really hard, sometimes very tiring. Reading the article you translated, I just don't want the baby to grow up, I just want the baby to stay small forever, it's okay to work hard.
Perhaps only those who have become mothers can feel each verse, each line. Then you will grow up and mature, away from the loving arms of your mother. No matter how old you are, in your mother's heart, you will always be a baby, a loving child.
https://afamily.vn/tat-ca-nhung-nguoi-da-dang-sap-lam-me-deu-bat-khoc-khi-doc-dong-tho-nay-roi-den-mot-ngay- con-se-chang-can-menua-20220325224030875.chn
You are reading the article
All those who are RED – ARE RED

at
Blogtuan.info
– Source:
Afamily.vn
– Read the original article
here