Kinh doanh
AMACCAO's mark at Vietbuild 2022 as the main sponsor
(Dan Tri) – With 10 booths located in the center of the main building block, AMACCAO has attracted a large number of customers to visit and learn about the group's products within the framework of Vietbuild 2022 exhibition.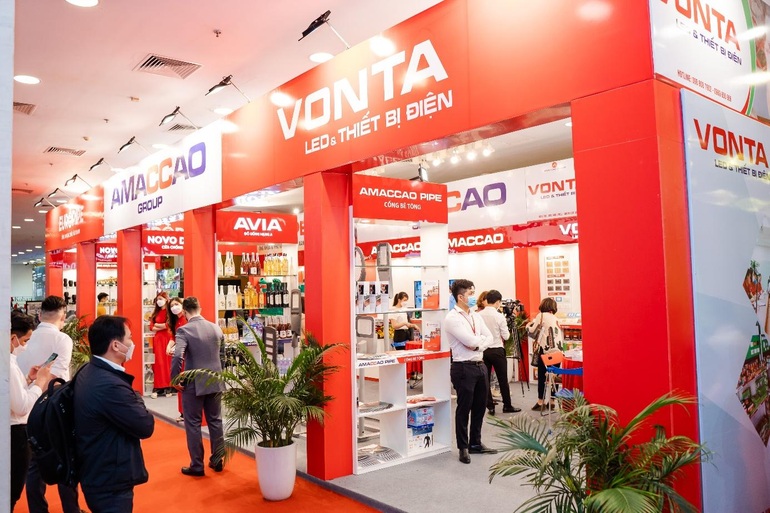 On the morning of March 23, the opening ceremony of the Vietbuild 2022 International Construction Exhibition took place with the theme "Construction – Building Materials – Real Estate & Interior and Exterior Decoration". The event will take place from March 23 to March 27 at the National Exhibition Hall of Architecture and Construction Planning (No. 1 Do Duc Duc, Nam Tu Liem, Hanoi).
With a scale of nearly 1,000 booths, this exhibition introduces many products of building materials and interior and exterior decoration with new models, features and enhanced quality, which have been studied and researched by businesses. and invest carefully.
Among many brands of Vietnam's construction industry, AMACCAO's product display area has become a stopover for many visitors to the exhibition thanks to its modern space, scale, aesthetics and outstanding design. With 10 booths located in the center of the main block and a variety of products in terms of design and quality, AMACCAO's booth made an impression.
Ms. Nguyen Thi Mui – Vice President of AMACCAO Group shared about the development orientation of the business.
Why did AMACCAO decide to become the main sponsor of Vietbuild?
– First of all, about Vietbuild exhibition, as one of the largest exhibition fairs in Vietnam today, Vietbuild is organized as a traditional festival in the fields of construction, real estate, building materials and equipment. interior decoration. This is a prestigious exhibition with the cooperation of many functional agencies, in addition to the support from professional broadcasters and press. Exhibitors are really interested partners and customers.
About AMACCAO Group, through a journey of more than 26 years of construction and development, AMACCAO is known as an industrial group – a construction group, an investment group with fast and sustainable development. In which, the field of building materials production is always a strategic and sustainable segment of the corporation.
Therefore, the fact that AMACCAO Group becomes the main sponsor of Vietbuild is a win-win cooperation, both helping more partners and customers know about AMACCAO, as well as an opportunity for AMACCAO to be accompanied with the cooperation. sustainable development of Vietbuild exhibition in particular and Vietnam's construction industry in general.
What does AMACCAO bring to Vietbuild this time and what do you expect to gain after the exhibition?
– AMACCAO Group is a large ecosystem in the field of construction, including 16 factories and 23 member units. Within the framework of this Vietbuild exhibition, we only bring a part of the group's products and brands, such as LED and VONTA Electrical Equipment, VONTA Lighting Poles; Plastic pipes and accessories for plastic industry EUROPIPE; AMACCAO PIPE sewer; AMACCAO PILE pile; AMACCAO PC concrete structure; AMACCAO BRICKS Brick; Valves, faucets copper thread NOVO – VIETNAMESE; NOVO DOOR fire doors; AVIA Drinks.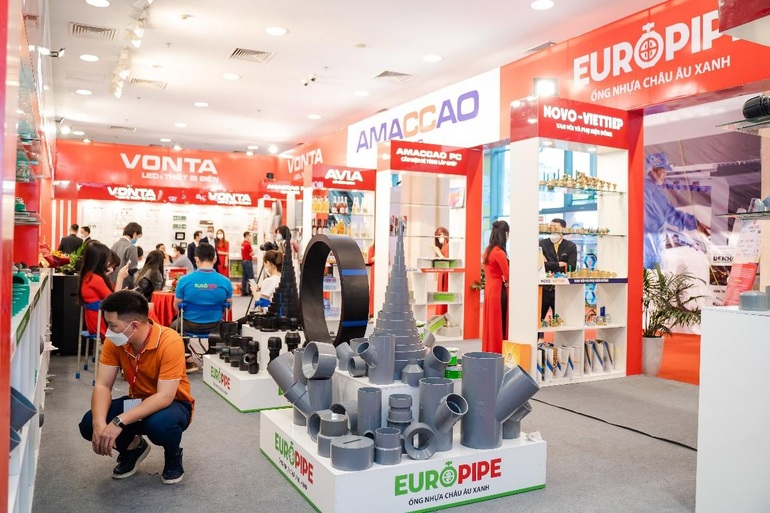 Regarding the goal, we bring our partners and customers interesting and really useful experiences when visiting, learning and experiencing top quality products with diverse designs and aesthetics. high; carefully consulted by staff and experts, directly at the booth.
For investors, construction contractors, distributors or individual customers who want to find many products at the same time, synchronously for their works, distribution systems or for their own homes, you can find them here. found in the same booth of AMACCAO. At the same time, the exhibition contributes to bringing AMACCAO brand closer to partners and customers.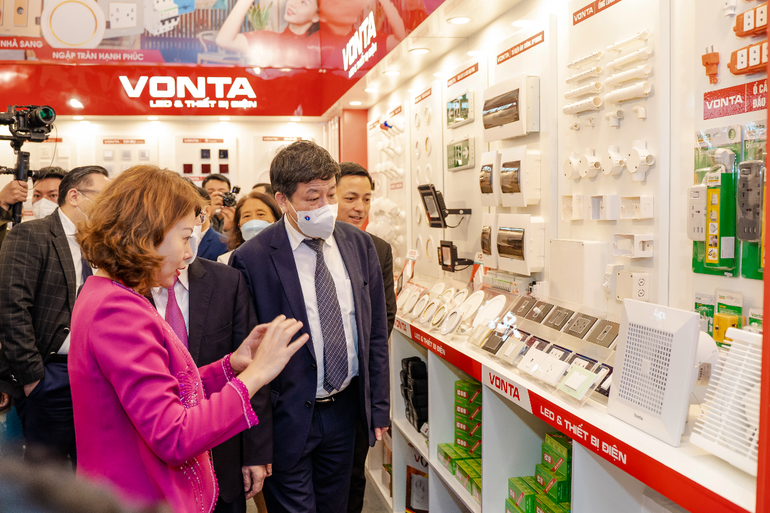 Being honored in the group of companies with the most beautiful booths at this exhibition, how do you feel?
– First of all, we would like to thank the event organizers for creating the playground and voted AMACCAO as one of the most beautiful booths, visited by senior leaders. This is a huge honor for AMACCAO. This also shows a part of the group's personality, personality and enthusiasm, that our products, besides always focusing on top quality, reasonable prices from the manufacturer, also always Invest in diversified, modern and highly aesthetic product designs.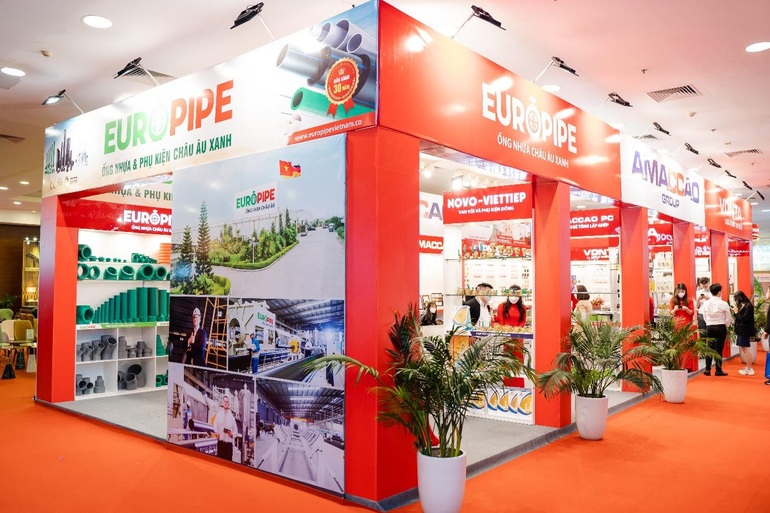 This exhibition is an opportunity for technology transfer, investment cooperation of domestic and foreign enterprises, development of new materials industry, smart materials. How does AMACCAO identify this opportunity and evaluate the development of the market for new and smart materials in Vietnam in the future?
– After a long period of epidemic, now the situation has stabilized and the market has reopened. This is the period when the construction industry in general and the building materials industry in particular develop. To keep up with the trend, manufacturing enterprises must grasp and apply as well as seek opportunities to cooperate with leading technology enterprises, bringing the latest technology, new materials, and smart materials into the market. construction industry in Vietnam.
This is what AMACCAO has oriented and always implemented throughout the years. We regularly cooperate with partners and apply and master leading technologies, new materials, smart materials such as:
Firstly, is the only unit selected to produce prefabricated Segment tunnel panels for the Metro Hanoi metro project. The manufactured tunnel shell panels must meet extremely strict technical and artistic requirements with very high accuracy, the allowable size tolerance is only ±0.5mm, ensuring a long life span of hundreds of projects. five.
Second, produce GRC sheet – the main material used for large-scale constructions in Dubai.
Third, produce concrete materials for airports: Van Don Airport, Noi Bai Airport.
Keeping the spirit of always innovating, improving to lead, AMACCAO hopes that through this Vietbuild exhibition, they can cooperate to share new technologies, smart materials that AMACCAO has, and at the same time learn, Searching for new technologies and materials.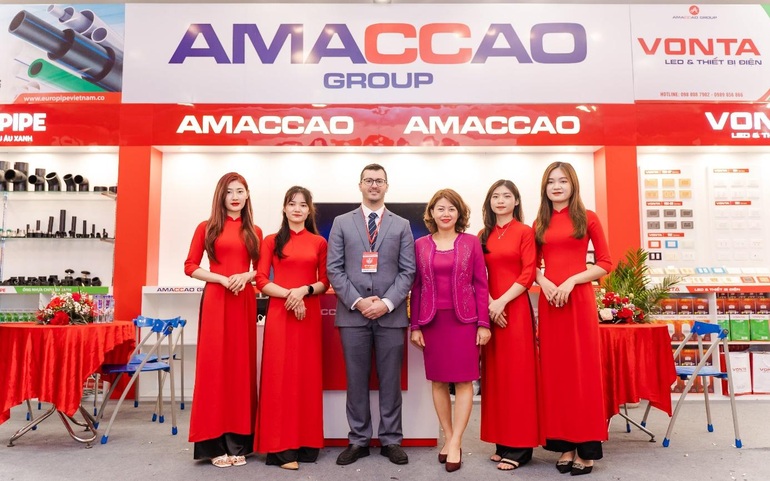 The booth of AMACCAO Group at VIETBUILD Expo 2022:
– Time: 8:00 am – 6:00 pm on March 23-27, 2022.
– Venue: National Construction Exhibition Palace, No. 1 Do Duc Duc, Nam Tu Liem, Hanoi.
– Booth location: Booth 51-60, Area A1, Exhibition Hall with air conditioning.
Contact details:
Website: https://amaccao.vn/
Hotline: 097 150 2288 or (024) 66 505 581
Address: 4th floor, Vuon Dao building, 689 Lac Long Quan, Phu Thuong ward, Tay Ho district, Hanoi city.
You are reading the article
AMACCAO's mark at Vietbuild 2022 as the main sponsor

at
Blogtuan.info
– Source:
dantri.com.vn
– Read the original article
here