Khỏe - Đẹp
Children with insomnia, nightmares after Covid-19 what to do?
After contracting Covid-19, some children had sleep disturbances, or were startled to cry in the middle of the night… making many parents worried.
NTH – 12 years old, Phu Tho was brought to the doctor by her parents because of a sleep disorder. According to a family member of baby N. about 10 days ago, since he contracted Covid-19, he often woke up in the middle of the night, had nightmares, and screamed while sleeping.
After asking about the disease and examining, do more paraclinical work. Doctors find that the most prominent in children is an anxiety disorder. Against the background of a shy personality, easily worried when infected with Covid-19 the child is like a drop of water that makes his problems explode. The doctor advised treatment for baby H. to avoid affecting the baby's life and study.
The case of baby V.D.L. 5 years old, living in Hoang Mai, Hanoi is similar. The child's parents sent him to be checked because after contracting Covid-19, baby L. often had sleep disturbances. While the baby did not have this symptom at all before, he will sleep through the night until morning.
During the Covid-19 period, baby L. had a high fever for 2 days and was accompanied by diarrhea. L.'s mother said that since she contracted Covid-19, she often found her child startled when she slept, she struggled and waved her hands, even startled she sat up and cried. The baby's mother is worried that her baby may affect her nerves.
Not only at night, at noon L. stays at home and sleeps with grandparents too. When observing the baby sleeping, the grandparents observed that there was not a deep sleep, often startled and suddenly woke up crying loudly, napping for only 30 minutes – 1 hour and easily waking up.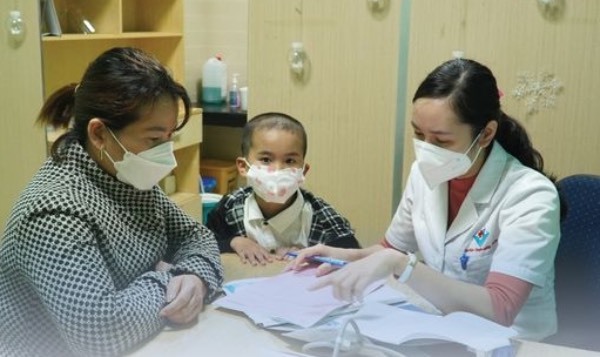 Pediatric patients examined after Covid-19.
According to Assoc. Prof. Nguyen Tien Dung – Former Head of Pediatrics, Bach Mai Hospital, children with insomnia and sleep disorders after Covid-19 do not happen much, but it also causes concern for children's parents.
Insomnia, sleep disturbance in children or loss of concentration, it is found that the SARS-CoV-2 virus may affect the central nervous system, the parasympathetic system, making children sleep disorders.
Assoc. caused by Covid-19 or other causes.
If children have mild insomnia, doctors guide parents to let children sleep deeply at night, limit sleep during the day, and do normal activities. If the child has more severe insomnia, the doctor will prescribe a light dose of medicine for the child to sleep deeply along with a reasonable diet so that the child can recover better after Covid-19 and avoid affecting their studies and health.
Doctor Pham Van Ha – Pediatrics Department of Hung Vuong General Hospital shared that besides physical recovery, mental recovery is also something worth paying attention to after being infected with Covid-19. Children are susceptible to psychological influence, especially in children with pre-existing mental disorders, Covid-19 is like a drop of water that overflows the glass. Children always feel insecure, stressed, have trouble sleeping, worse fall into anxiety disorders, depression.
There are many reasons for this to happen such as: experiencing or witnessing a loved one's severe development of Covid-19, or death of a loved one due to Covid-19, isolation from parents, relatives, friends, school class, heard a lot of negative information about Covid-19, nerve damage caused by the virus…
Dr. Ha said that psychological counseling, mental encouragement, as well as the right information for children are necessary actions to help children overcome this crisis. Connect children with family, friends, school. Listening to your child's worries, helping them talk about their own fears is also the most effective mental medicine for children.
K.Chi
You are reading the article
Children with insomnia, nightmares after Covid-19 what to do?

at
Blogtuan.info
– Source:
infonet.vietnamnet.vn
– Read the original article
here