Kinh doanh
EU headaches when targeting Russian oligarchs' assets: Freeze or confiscation?
(Dan Tri) – The assets of Russian oligarchs in Europe have remained largely intact after weeks of Brussels imposing measures to freeze the assets of dozens of billionaires and top Russian officials.
Just frozen a small portion of assets
Since the outbreak of hostilities in Ukraine, the EU has put nearly 700 top Russian politicians, businessmen and military officials on a "blacklist", including 42 super-rich tycoons like the boss of the United States. Chelsea football club Roman Abramovich and "bank tycoon" Mikhail Fridman.
Being listed on this list means that the bank accounts and assets of those individuals will be frozen. However, according to EU officials and data from governments in Europe, so far only a small fraction of the wealth of Russian oligarchs has been affected due to regulatory constraints and challenges. when executing.
Germany, the EU's largest economy, has declined to provide details of assets frozen so far. Last week, the country set up a task force to enforce sanctions. The German Economy Ministry said it expected to report on the progress of this activity in 1-2 weeks.
Austria and Ireland also declined to confirm any asset freezes. Likewise, so are Cyprus and Malta. In recent years, the two countries have provided "golden passports" to wealthy individuals, including people from Russia.
Some countries that have reported asset freezes say they have only implemented a small portion of the sanctioned assets.
For example, Ministry Finance The Netherlands said it had frozen around 390 million euros ($428 million) in transactions and deposits. But that amount is estimated to represent only about 1% of the assets of the sanctioned individuals in bank accounts, trusts and other financial vehicles in the Netherlands and foreign-linked hubs. this.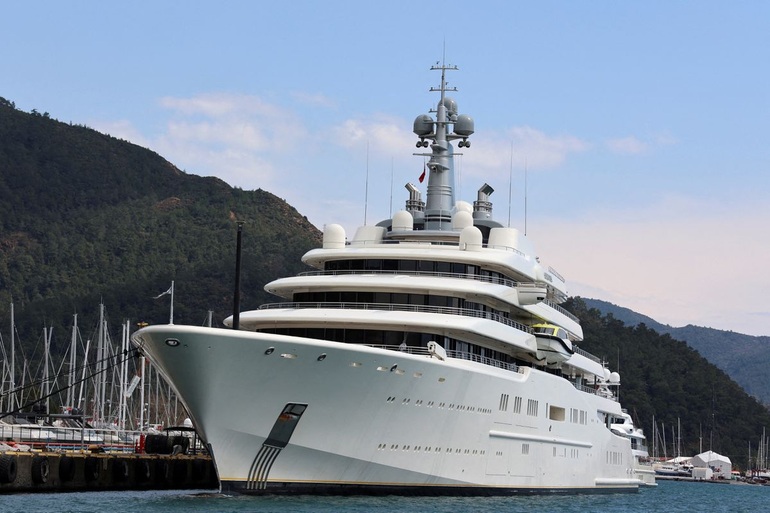 Italy is one of the most active countries in the EU in seizing the physical assets of oligarchs. So far, the number of yachts and villas that the authorities have confiscated has a total value of about 800 million euros.
However, according to the head of Italy's tax inspectorate, the country has not yet done so with liquid assets because most of it is believed to be kept in bank accounts of third parties. or trusts with unknown owners.
Spanish authorities also said they had not yet frozen any bank accounts, but had seized at least three luxury yachts linked to "blacklisted" individuals.
Neighboring Portugal has just blocked a bank account containing 242 euros owned by a sanctioned individual, a bank source involved in the matter told Reuters.
By far, Belgium appears to be the most successful EU country in freezing assets. The finance ministry said it had frozen about 2.7 billion euros in bank accounts and 7.3 billion euros in transactions. However, the country did not identify any assets owned directly or indirectly by the individuals on the "blacklist".
The US is also facing difficulties in freezing assets due to regulatory hurdles. The oligarchs are believed to hold the majority of assets outside the EU and US, including in offshore, UK, Swiss and Gulf jurisdictions.
Yesterday, Switzerland also said it had frozen $6.2 billion in Russian sanctioned assets. The country estimates that Swiss banks hold Russian assets amounting to 213 billion USD.
EU inconsistent in enforcement
A senior EU official said the bloc had spent years "headaches" to implement sanctions because enforcement was dependent on member states, which often lacked the legal tools, personnel and in some cases political will with wealthy investors.
"Enforcement across the EU has an inconsistent precedent. What is agreed to be done at the EU level is not necessarily required to be done at the national level," said David Savage, sanctions expert at the firm. Stewarts law – said.
To address the issue, this month the European Commission (EC) set up a "freeze and seize" task force dedicated to enforcing sanctions against oligarchs.
However, according to a senior EU official, so far, the force has not identified which assets need to be frozen immediately because it could be sold or moved out of the EU.
An EC spokesman said EU members were obligated to report sanctions enforcement measures, but declined to say whether such measures had been implemented and did not give a figure. assets have been frozen so far.
Last year, the EC proposed the establishment of a sanctions information exchange by the end of 2021 to facilitate this process. The repository is currently in development.
However, even with the political will to act, the fortunes of the tycoons are not easy to find.
After 4 rounds of sanctions, the EU is still working to "fill" loopholes to allow targeting individuals who hide money through 3rd parties, trusts or virtual currency transactions.
Freezing is possible but confiscation is not
Even when applied in their entirety, EU sanctions often cannot go beyond an asset freeze.
In most countries, this means that assets cannot be sold but can still be used. In theory, the tycoon could still live in the "frozen" mansion.
Despite the EC's "freeze and seizure" force, confiscation or the state taking control of an asset and even profiting from its sale is no easy feat.
"In most countries, this is not possible and requires a criminal conviction to have property confiscated," the EC said in a statement. Reuters.
Poland is one of the biggest supporters of sanctions, but according to government spokesman Piotr Muller, asset confiscation requires constitutional change.
The French Finance Ministry also said that the country had frozen about 850 million euros of "blacklisted" individuals, including properties and yachts. However, the physical assets are still used by the owners.
Italy – which has some of the strictest regulations among EU countries for the recovery of criminal assets – has also stopped seizing yachts and villas of sanctioned individuals.
You are reading the article
EU headaches when targeting Russian oligarchs' assets: Freeze or confiscation?

at
Blogtuan.info
– Source:
dantri.com.vn
– Read the original article
here