Business
Flamingo Dai Lai owner expects trillions of profits in 2022 by selling Cat Ba project, mobilizing 600 billion bonds to deploy projects in Thanh Hoa and Thai Nguyen
Flamingo Holding Group Joint Stock Company, the owner of the Flamingo Dai Lai project, has just announced to offer 6,000 bonds with a par value of 100 million VND/bond to raise 600 billion VND to implement new projects. This is a non-convertible corporate bond, without warrants, secured by land plots in Dai Lai Eco-tourism Area, Ngoc Thanh Commune, Phuc Yen City, Vinh Phuc Province.
The bond has a term of 3 years, the interest rate is 11%/year, the bond interest is paid later, every 3 months.
The purpose of raising capital is to invest in the Flamingo Thai Nguyen project, increasing the ownership rate at Flamingo Hai Tien Co., Ltd (Investor of Flamingo Hai Tien Thanh Hoa project).
Deployment projects
Flamingo Holding Group Joint Stock Company has a charter capital of VND 1,636 billion (updated data as of June 30, 2021), head office at 127 Lo Duc, Hai Ba Trung District, Hanoi. The legal representative is Ms. Nguyen Thi Hanh, General Director. Flamingo Holding has a major shareholder, GTB Investment Company Limited, established in 2018 owns 79% of the shares, Mr. Trinh Quoc Trung, a member of the Board of Directors holds 4.39% of the shares, Ms. Tran Thi Minh Tam holds 16.6. % share.
Established in 1996, formerly an international travel center Hanoi Red Tours, then established Hung Vuong Construction Company. In 2009, the company established Dai Lai Hong Hac Joint Stock Company as the investor of the 5-star Flamingo Dai Lai Resort, in 2017 the company converted to a group model named Flamingo Holding Group and started Flamingo Cat Ba Beach Resort. , officially put into operation from 2021.
Flamingo Dai Lai project belongs to the project of Dai Lai Flamingo Joint Stock Company (a subsidiary of Flamingo Group) with a total investment of 6,000 billion VND, covering an area of ​​123 hectares in Vinh Phuc Province, which is a luxury resort villa in the North. with many complexes of entertainment services.

Flamingo Dai Lai
Venus Resort project with 160 villas with an area of ​​180-230m2 is located in the valley near Flamingo Dai Lai Resort and next to Hanoi, also in Ngoc Thanh commune, Phuc Yen city, Vinh Phuc province. This project has a scale of 18ha, total investment capital of 602 billion, invested by Flamingo Holding Group Company.
Flamingo Cat Ba Beach Resort project has a scale of 7.78ha located at Cat Co 1 and Cat Co 2 beaches, Cat Ba town, Cat Hai district, Hai Phong. The project has a total investment of 3,820 billion VND, including 3 towers and high-rise villas with their backs leaning against the cliffs facing the sea to fully enjoy the beauty of Lan Ha Bay. This project is expected to create a boost for Cat Ba tourism, making the most of the huge tourism potential from the economic triangle of Hanoi – Hai Phong – Quang Ninh.

Flamingo Cat Ba Beach Resort
In the coming time, Flamingo Group will deploy Flamingo Hai Tien project in Thanh Hoa and Flamingo Thai Nguyen project – 5-star international resort resort Nui Coc Lake.
Expected profit of trillions in 2022
Regarding business activities, from the beginning of 2020 until now, businesses in the resort real estate industry have faced many difficulties due to the impact of Covid-19, Flamingo Holding's revenue still grows with an increase of 24.7% in 2020. , in the first 6 months of 2021 alone, the revenue exceeded 17.2% of the total revenue of 2020.
This result is thanks to a sharp increase in sales of real estate semi-finished products due to the completion of the Flamingo Cat Ba Beach Resort project in the third quarter of 2020 and the start of sales, contributing 92% of the company's total revenue while in 2019. accounted for 32.7% and by 2020 accounted for 76%.
Besides the main activities from semi-finished real estate products, Flamingo Group also recorded revenue from providing services. However, this revenue in the period of 2020 – 6 months of 2021 is decreasing compared to 2019 due to the influence of the Covid-19 pandemic, leading to the suspension of resort service activities at Flamingo Holding resorts. The company believes that the expanded vaccination strategy in Vietnam along with the relaxation of international tourists will be a positive prospect for the company's services.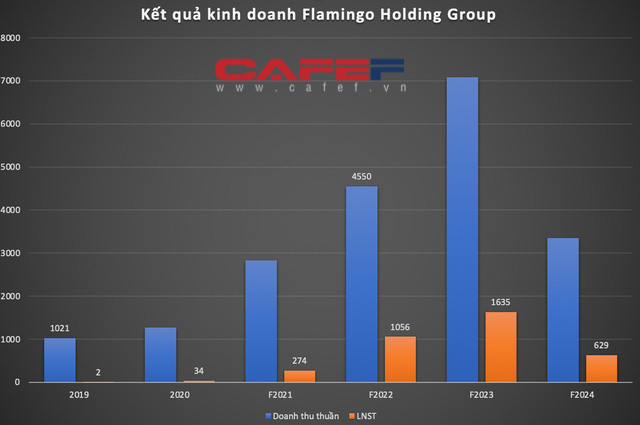 Although the revenue reached trillions of billion, the profit of Flamingo Holding was quite meager, in the first six months of 2021, it reached 147 billion VND and 105 billion VND after tax, nearly 3 times the total profit of 2020.
With the operation of Flamingo Cat Ba Beach Resort and the implementation of projects in Hai Tien – Thanh Hoa, Tan Thai – Thai Nguyen, Flamingo Holding expects revenue in 2022 to reach nearly VND 4,550 billion, and VND 7,085 billion in 2023, equivalent to VND 7,085 billion. profit is 1,056 billion dong after tax in 2022, and 1,635 billion dong after tax in 2023, a strong increase compared to the previous periods before the profit in 2019 was only 2 billion dong.
https://cafef.vn/chu-flamingo-dai-lai-ky-vong-lai-nghin-ty-nam-2022-nho-ban-du-an-cat-ba-huy-dong-600-ty- boy-phieu-trien-khai-du-an-tai-thanh-hoa-va-thai-nguyen-20220326010518066.chn
You are reading the article
Flamingo Dai Lai owner expects trillions of profits in 2022 by selling Cat Ba project, mobilizing 600 billion bonds to deploy projects in Thanh Hoa and Thai Nguyen

at
Blogtuan.info
– Source:
cafebiz.vn
– Read the original article
here