Business
Nguyen Thai Luyen and his accomplices scam 2,264 billion VND of 4,316 customers
On March 26, the People's Procuracy of Ho Chi Minh City said that after 3 times of returning additional investigation documents, the Procuracy has so far completed the indictment against 23 defendants in the case "Spoofing". appropriation; money laundering" occurred at Alibaba Real Estate Joint Stock Company (referred to as Alibaba Company). Accordingly, the Procuracy prosecuted defendant Nguyen Thai Luyen (Chairman of the Board of Directors cum CEO of Alibaba) and 21 defendants for the crime of "fraudulent appropriation of property" under Article 174 of the Code. criminal 2015; in which two defendants Vo Thi Thanh Mai (Luyen's wife, holding 49.5% of the company's shares) and Nguyen Thai Luc (Luyen's younger brother) were further prosecuted for the crime of "money laundering" under Article 324 of the 2015 Penal Code. The defendant Huynh Thi Kim Thang was prosecuted for the crime of "Money Laundering".
Scam tricks
According to the indictment, taking advantage of many people's ignorance of the law in the transfer of land use rights, Nguyen Thai Luyen established 22 companies under Alibaba, assigned his family members or confidants. Practice as legal representatives of companies, then organize to buy a large amount of agricultural land. In order to have money to buy land, Alibaba and other companies in the same system set up residential projects, illegally divided plots, and gave false information such as these are fully legal projects. self-named projects to call for, trick to sign contracts to sell land in the form of residential land to raise money from customers.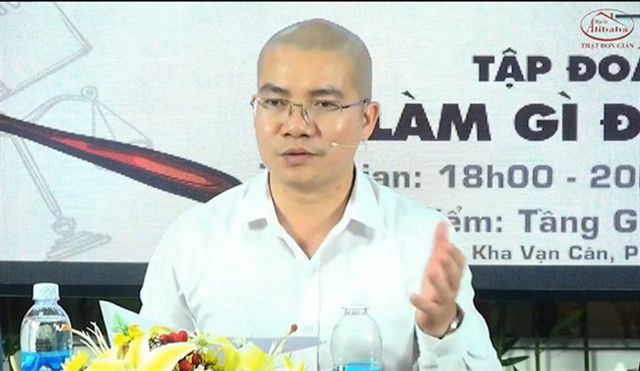 Nguyen Thai Luyen, Chairman of the Board of Directors of Alibaba in a livestream on social networks
The defendants followed a 5-step process, specifically: Step 1, Nguyen Thai Luyen used a small amount of personal money and most of the money appropriated from customers to direct individuals who are relatives and trusted employees of the Company. Alibaba company in the name of receiving the transfer of agricultural land in large quantities, in the provinces of Dong Nai, Ba Ria – Vung Tau and Binh Thuan; Step 2, the individuals who receive the land transfer as mentioned above make an authorization contract for legal entities established by Luyen so that these companies can draw bogus projects on agricultural land, subdivide, separate illegal plots under Luyen's direction; Step 3, after receiving authorization, the above-mentioned legal entities as investors of bogus projects on agricultural land, subdivide and separate plots from 100 m2 to less than 400 and then use the media to advertise. product sales report.
Step 4, Luyen continued to direct investors to sign a business cooperation contract to sell land plots in a "self-drawing" project with Alibaba Company so that Alibaba Company becomes a land distribution agent for customers. goods, for the purpose of concealing the illegal origin of the projects; at the same time create virtual transactions for customers to believe that the projects are legal enough, eligible for transfer under the Law on Real Estate Business, and agree to buy. Finally, step 5, after the customer agrees to buy, according to the advertisement of Alibaba Company, Nguyen Thai Luyen directs the above-named legal entities to sign an agreement, transfer the land use right to the customer, but the money is paid to Alibaba Company for management and use.
To create trust and attract customers, Nguyen Thai Luyen uses tricks such as: committing to buy back at a higher price from 30% after 12 months or 38% after 15 months from the date of payment; sublease at 2%/month from the date of signing and pay 95% of the contract value. With this method, most customers who receive land transfer in the form of residential plots offered by Alibaba Company will not receive the Certificate of land use right in the form of residential as committed when it is due, but will be approved by the Company. Alibaba company switched to paying interest or buying back under options contracts or attached contract addendums. In fact, all projects are illegally painted by Alibaba Company on a particularly large area of ​​agricultural land, not yet allowed to separate plots, not residential land as advertised and shown by Alibaba Company. in the land use right transfer contract. The offering of options or attached contract addendums is only for the purpose of attracting more investors to the projects.
During the investigation, Nguyen Thai Luyen did not admit to the crime.
"Money laundering" tens of billions of dong
Regarding the money laundering behavior of the three defendants Vo Thi Thanh Mai, Nguyen Thai Luc and Huynh Thi Kim Thang, the Procuracy determined: Nguyen Thai Luc has 4 personal accounts at 4 banks, of which 2 are not accounts. used, 2 accounts, one to receive monthly salary, one to receive money from Vo Thi Thanh Mai to transfer and withdraw cash and deliver it to Mai. On November 21, 2018, Vo Thi Thanh Mai directed Nguyen Thai Linh (Luyen's younger brother) to pay VND 50 billion to Luc's account number 179797988, then directed Luc to withdraw and open a savings book with the amount of VND 50 billion, 6-month term at ACB Bank. The source of 50 billion dong is all money paid by customers to buy land at Alibaba Company.
After that, under Mai's direction, Luc withdrew VND 31 billion and opened a savings book for Huynh Thi Kim Thang in ACB's name. Continuing to follow Mai's direction, Thang withdrew 18 billion VND from his savings book and bought two houses at addresses 96A, 96B, Quarter 6, Tan Tien ward, Bien Hoa city, Dong Nai province. The remaining 13 billion dong is still kept in the savings book.
After the Public Security Agency prosecuted the case, executed the arrest warrant and searched on September 18, 2019, on September 19, 2019, Mai directed Thang to transfer the entire principal and interest amount of more than 13.9 billion VND to Account number 90606168 is owned by Mai in ACB's name. On the same day of September 19, 2019, Mai transferred 13 billion VND to Luc's account number 179797988, then directed Luc to withdraw and hand it back to Mai.
The defendants Vo Thi Thanh Mai, Nguyen Thai Luc and Huynh Thi Kim Thang all admitted that they knew that the amount of 13.9 billion VND mentioned above was money collected from customers, because Luyen cheated to appropriate property but still had it. Follow Mai's direction to conceal the origin of the money. The amount of 13 billion VND mentioned above, Mai said that it had been used up for personal purposes and paid for external loans, so far, the Police Investigation Agency has not recovered.
Distraint of assets in trillions
The authorities concluded that, by the above tricks, Nguyen Thai Luyen and his accomplices fraudulently appropriated more than 2,264 billion VND from 4,316 customers.
During the investigation, the Investigation Police Agency has seized more than 9.2 billion VND in cash; 257 pieces of yellow metal with an assessment value of more than 645 million VND; 15 pieces of yellow metal with an assessment value of more than 359 million dong and 20 yellow metal bars but not gold. The investigative police agency has temporarily seized money in the accounts of 49 individuals who are employees and legal entities of Alibaba Company, with a total amount of more than 45 billion dong; 23 used cars and motorbikes, valued at more than 16 billion VND according to the assessment.
Notably, the authorities have distrained 652 capital land with a total area of ​​more than 4 million m2. The total value according to the results of the above house and land valuation is more than 1,536 billion VND.
In addition to the above assets, during the execution of arrest and search warrants with the accused, the Investigative Police Agency also seized 113 CPUs, 171 laptops, a tablet and 16 mobile phones from the suspects. accused, employees of Alibaba Company use. All exhibits have been imported to serve the trial and judgment execution.
Currently, the People's Procuracy of Ho Chi Minh City has transferred the indictment and the entire case file to the People's Court of Ho Chi Minh City for study and settlement.
You are reading the article
Nguyen Thai Luyen and his accomplices scam 2,264 billion VND of 4,316 customers

at
Blogtuan.info
– Source:
cafebiz.vn
– Read the original article
here