Giáo dục
The 7th grade girl in Quang Tri was slapped and torn by her schoolmate: An unexpected episode appeared
L. and 2 senior female students had a conflict because of a car collision at school. The other 2 female students forced L. to pay 500,000 VND because the license plate was broken. After receiving enough money for the second time, the two seniors brutally beat L.
At noon on March 26, Trieu Phong District Department of Education and Training and Trieu Van High School were present at Quang Tri General Hospital to encourage and visit female student Le Thi L (grade 7 student) after being bullied. you beat brutally.
>>> Clip of 7th grade female student being beaten by her schoolmates: Principal 'shaking all over'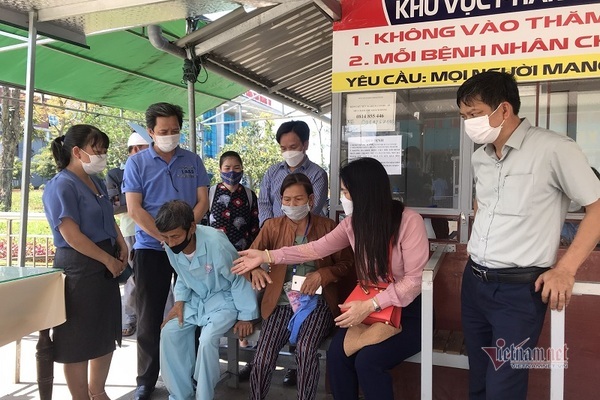 Trieu Phong district Department of Education and Training, along with the Board of Directors, teachers of Trieu Van Middle and High School were present to encourage the family.
According to L.'s family and the school, the cause of the incident was that L. broke the license plate of an electric bicycle of one of the two senior female students. Then, Thu Th. and Kha Th. (grade 8, same school) asked L. to go home to get 500,000 VND for compensation.
L. followed suit and stole money from his mother twice with the amount of 300,000 VND and 200,000 VND respectively to give to 2 female students. After giving money for the second time, he was brutally beaten.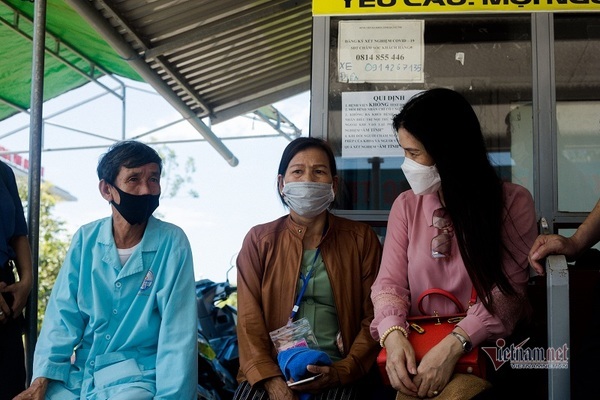 Ms. Chi, the principal, comforts L.'s family (photo: Bao Lam)
"I couldn't even imagine that those students would assault my daughter so badly. Agree that, the children's age is still small, they can't behave properly, but it's really too cruel, adults are not so cruel," sobbed the mother of the female student L., Mrs. NTL.
According to Mrs. L., on the same morning, the parents of Thu Th., (the student beat her friend) were present at the hospital to admit their mistake and apologize on behalf of their child. The rest of the girl's family has not yet appeared.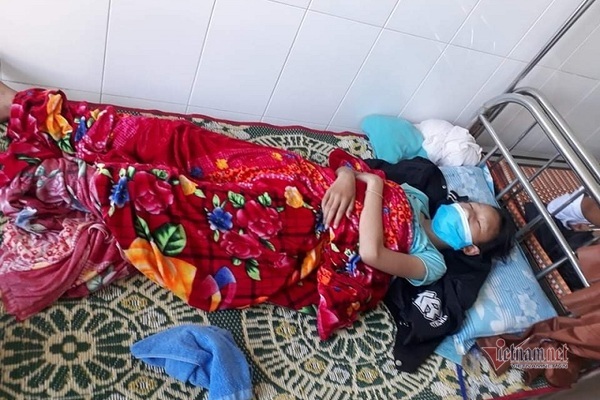 L. is currently hospitalized with many bruises (photo: provided by family)
Ms. Truong Thi Hong Chi, Principal of Trieu Van Middle and High School choked: "This incident was really unexpected. I will ask them to apologize to L. for persecuting you to this extent, even to kneel to apologize and be subject to appropriate discipline by the law and the school. But I hope everyone will be lenient with the children because they are young, now put too much pressure on them, if they think about it, please do it for their whole lives."
According to Ms. Chi, the family of the female student who beat L. has given 500,000 VND to return it to L.'s family.
Ms. Nguyen Thi Phuoc Hoa, Head of the Education and Training Department of Trieu Phong district, said that she was aware of the incident. Currently, Trieu Van Primary and Secondary School has been directed to coordinate with the local police and 2 families to clarify the incident.
"This fight is very heartbreaking for us. On the side of the department, there has been an official letter directing all schools on the re-education of ethics and lifestyle for students in the area.
This is also a wake-up call for parents in modern times. I respectfully request parents from all over the society to join hands with the education sector to train our students," said Ms. Hoa.
Bao Lam – Huong Lai
You are reading the article
The 7th grade girl in Quang Tri was slapped and torn by her schoolmate: An unexpected episode appeared

at
Blogtuan.info
– Source:
vietnamnet.vn
– Read the original article
here