Giải trí
The 9x architect lost his arm in an effort to live like a 'normal person' – Young people
Phuc had to accept a big event in his life when he was 17 years old, so now his biggest wish is simply to live like normal people.
Duong Huu Phuc (born in 1995, from Lang Son) is an alumnus of the Faculty of Architecture, Hanoi University of Business and Technology.
In addition to being an architect, the 9x male is also known by many people for his agile appearance, lively voice, and the invitation: "Buy a laurel wreath to support me, please!" at the pedestrian street of Hoan Kiem Lake, Hanoi.
Striving to live like "ordinary people"
When "all wishes are in hand", Phuong (Phuc's mother) once thought that the life of 3 mother and daughter would go on peacefully until the day Phuc had an accident and lost both hands…
In 2014, Phuc worked as a mechanic but unfortunately had an accident due to an explosion of an oxygen tank. Ironically, that explosion broke the quiet space and the whole life of a young man with a dream of becoming a mechanic when there were only 12 days left until the university entrance exam.
"The oxygen tank exploded for a few minutes, I still think I'm in a deep sleep. When my friend took me to the ambulance to go to the emergency room, I woke up… my hands didn't feel anything but I was cold, my nerves were numb. was suddenly paralyzed," Phuc recalled.
After 28 days in hospital for treatment, Phuc could not sleep at night, only focused on calling "Mom, I'm sick!". And Mrs. Phuong is also lost, running all alone to buy medicine, buy porridge… and then take care of the money for treatment for her children because her husband left the mother and child early.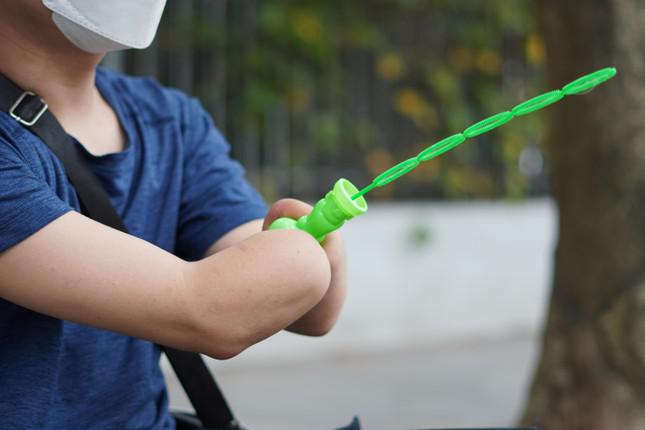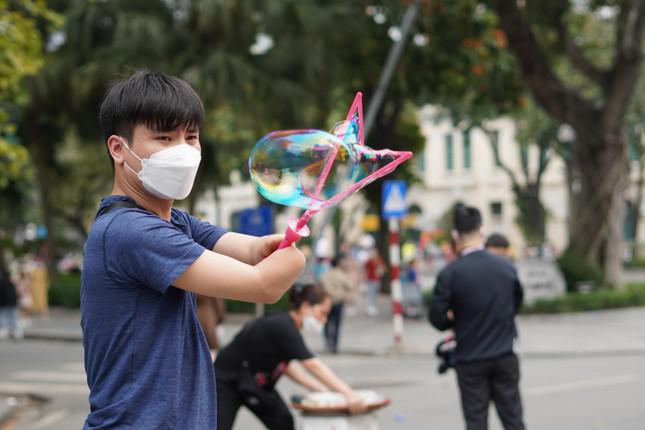 In the first 2 months of discharge from the hospital, Phuc had to rely on his mother for support and teaching in all activities. "Sometimes, I also feel overwhelmed when I can't do anything good, it's going to be broken," said the 9x guy.
Gradually, he knew how to wash dishes, cook, do housework and use computers proficiently. Phuc affirmed that if ordinary people can do anything, he can also do it.
After a year of interruption of his studies due to an accident, Phuc did not dare to embrace his dream of pursuing mechanical engineering anymore. He started practicing writing and drawing and wanted to go back to grade 12 to pass the university entrance exam to major in architecture. Realizing that her child has high determination, Phuong was very supportive and immediately supported and prepared documents for her son to go back to school.
"I want to go back to school, I will follow you!", the diligent mother told Phuc.
In 2016, Phuc entered the Faculty of Architecture of Hanoi University of Business and Technology. A new start for the young man, he and his mother packed a towel to Hanoi to rent a room, study and practice trading to earn extra income.
Although he has no hands, Phuc's academic achievements and completion of the project still impress everyone. "On the first day of class, my friends and teachers all turned their attention to me. Every time at recess, my friends come to visit me and be curious about how I write and draw. I feel quite happy because you guys care and help me enthusiastically", Phuc said excitedly.
Architects go to street vendors to help moms
"Most of the people who sell goods on this street know Phuc. He is a quick, vivacious boy with a good sense of eloquence, so anyone who meets him can't help but talk," said Ms. Luu (selling goods on Hoan Kiem Street. Earn) share.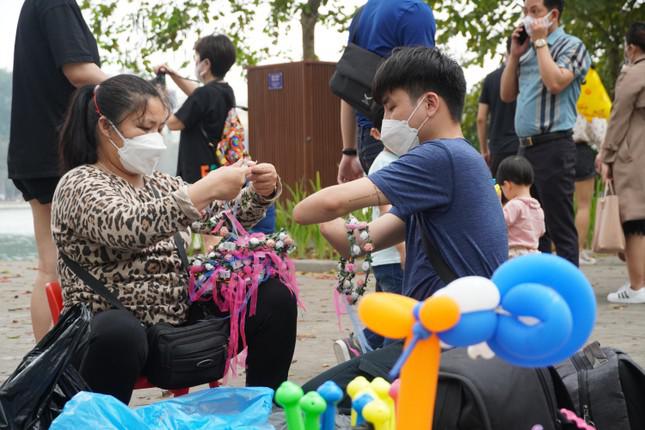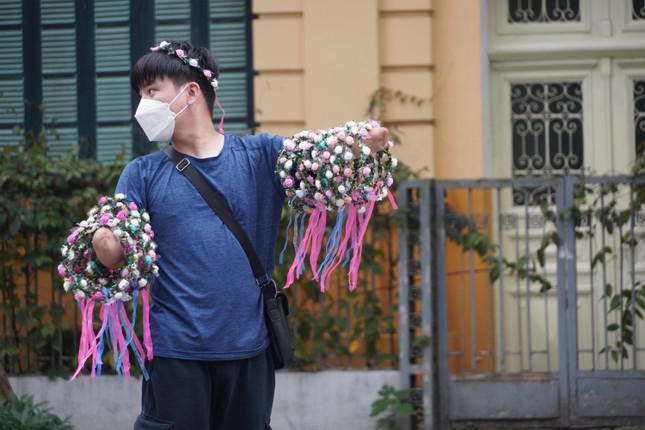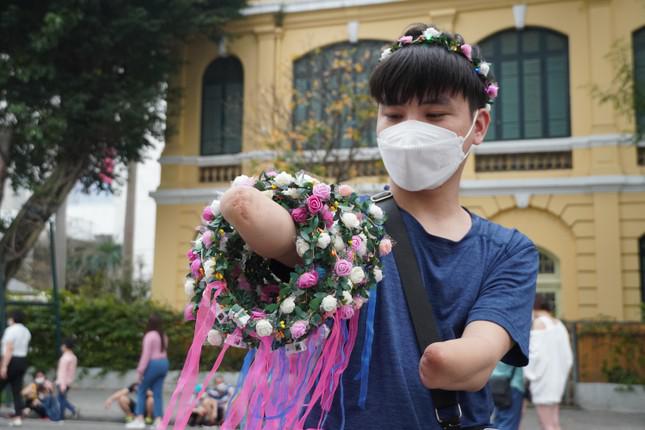 Phuc has been selling street food since 2018 through an acquaintance to earn extra income for his mother. Before that, Phuc applied to work in many places but was refused. "My mother suffers from many diseases. If she doesn't work, she alone cannot bear the monthly living and medical expenses. So, I am determined, by all means, to apply for a job," Phuc said.
Outside of school hours, Phuc works as a hawker for a boss on 3 weekend evenings. His job at first was just to invite customers in to buy goods, to pick up goods for customers when looking at things… Accustomed to work, he received an additional task of selling laurel wreaths, his hands were full of rings, his appearance was agile.
After working for a few months, Phuc came up with the idea of ​​importing goods to work and sell. He said: "I wondered myself, being born in Lang Son, near the Chinese border gate, why don't I run my own business but have to work as a hired laborer?". Thinking is doing, Phuc contacted his brothers and sisters from the same hometown for instructions on how to order and receive large quantities of goods. At that time, there was little capital, so Phuc only dared to import a small amount of children's toys and accessories for making laurel wreaths for trial sale.
Every night, he and his mother sit and knit and weave laurel wreaths of different colors to sell at the weekend. Standing in the middle of the bustling crowd, Phuc stretched out his unhealthy hands and smiled as bright as garlands, happily welcoming guests. One day, Phuc did not have goods to sell because the number of customers was too large, everyone knew his story on TV, so they all lined up to buy support.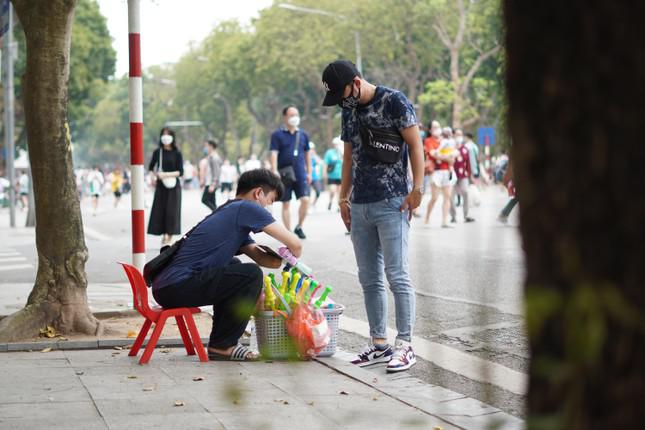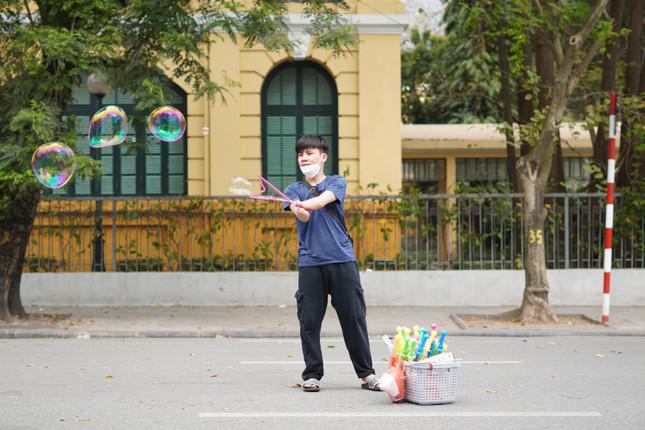 In 2020, Phuc graduated from the University of Architecture with a good degree and the first thing he did was rush to show off to his mother. Later, he was accepted into an interior design company to work with a basic salary of about 7 million VND/month.
"When interviewing for a job, I always give an affirmation to the company that I can do it. If the company does not fully believe in my ability, I apply for a job without pay for a while to learn, get If you feel like you can pay your salary, the company should pay it," Phuc said.
Coming to the company to work on the first day, Phuc was like an "A-class star" who was looked at by everyone. His colleagues couldn't believe his ability to work and were curious about how Phuc would work and use the computer. After 4 months of trial without pay, everyone admired him for his proficiency in using computers and hand-drawing simulation designs.
8 years ago, having lost his hands, Phuc couldn't imagine a life or a specific job he would pursue in the future. But over time, young Duong Huu Phuc still "by all means" works and lives like a normal person, still sells street vendors to earn money to buy medicine for his mother, is a strong inspirational story about will, resolve strength to overcome adversity.
You are reading the article
The 9x architect lost his arm in an effort to live like a 'normal person' – Young people

at
Blogtuan.info
– Source:
24h.com.vn
– Read the original article
here