Giải trí
The story of female general Karma from PC to Wild Rift-Information Technology
This is the story of the appearance of Karma – the enlightened one in the arena of League of Legends: Wild Rift.
It's always a special occasion every time a new champion joins Wild Rift. This comes with expanded gameplay, beautiful illustrations, and an end to posts like "it's 204th day: Add X to Wild Rift".
No need to remind Karma, she's here! And she will bring a unique gameplay that is currently lacking in the Wild Rift arena: A battle-type mage. But bringing Karma from League of Legends to PC is not simply "copy + paste".
Female General Karma.
Bring harmony
When choosing to add a new champion to Wild Rift, the development team will try to prioritize names that can bring a unique gameplay to the current lineup. Up to this point, Wild Rift has had a lot of support mages with the ability to heal, create shields and protect teammates from dangers. But there is currently a lack of a champion who can support his teammates and also be the main factor to control the enemy during combat… And this is why Karma appeared.
"We initially considered Karma for two main gameplay reasons," said David "Papa Smoothie" Xu, Gameplay Product Manager. "Part of it is that we still don't have any combat mage in the lineup right now, and the other reason is that besides Lux, Wild Rift doesn't have any other support mage with an offensive style of play."
Skill tweaks have been made many times before, but the dev team's highest priority is still to keep the iconic elements of that champion intact. They wanted to make sure Karma players from PC League of Legends could still feel the familiarity of their longtime favorite champion as soon as they used her in Wild Rift.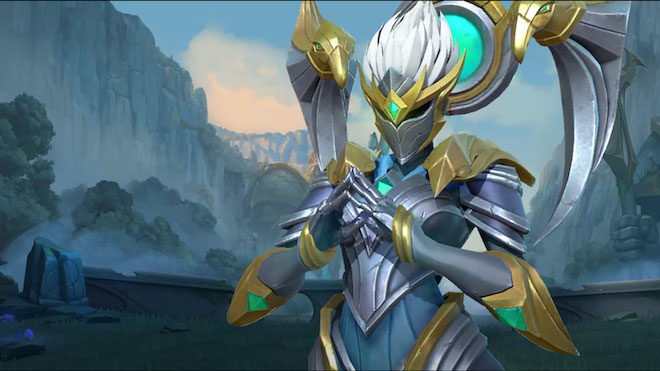 Karma was present on PC League of Legends 10 years ago, now appearing on mobile with LoL: Wild Rift.
"I enjoyed surfing and reading comments on Reddit from over 10 years ago, when Karma was first launched. I actively think about those comments as I make these changes and don't want them to feel like 'oh, this is a brand new champion'. I wanted them to still feel the soul inside Karma and see this as simply an update to the game," recalls game designer Wei "wei2troll" Xie.
However, to maintain the iconic elements for a champion, sometimes they will have to make a few gameplay tweaks to make them more suitable in Wild Rift. The development team has discussed changes like this in the past, and the gameplay tweaks for Karma still fall under three major goals:
Pointless buttons: They want every button you press to have a meaningful effect, be it giving yourself a little attack speed or shooting a giant ice arrow through the map.
Potential with control system: Make the most of the 2 lever control system with more potential for directional skills.
Potential in design: Adapted to the smaller map size, shorter match times in Wild Rift, and the chance to renew an outdated skill set.
Karma's Private Way
Discovering a new path is nothing new for players who use Karma as a champion. After more than 10 years of existence in the Teamfight Tactics, her skill set has been adjusted many times and many different gameplay styles have been applied. She is the guardian so Vayne can shoot the world, is a near-immortal pick in the top lane, or an indispensable mid lane mage.
If you look at Karma's long battle history, many points can be used as inspiration to build her up for the new journey to come. But for wei2troll, the main inspiration for Karma comes from what she has shown in the short films.
Karma has a skill set worth trying.
"Karma regularly appears in Riot short films and she is so popular that she was the champion that represented Faker in a World Championship. But I always saw Karma as a supporting combat mage, someone who always considered before using force," recalls wei2troll.
"Karma will try to maintain the peace if possible, but she will also not hesitate to act if necessary. She is a support champion that can strengthen teammates but can also destroy you if you go too far or interfere too much. For me, emphasizing this personality in her skill set and gameplay is very important," shared wei2troll.
A key point in Karma's skill set is the ability to strengthen and protect teammates. In PC League of Legends, this ability comes from her ultimate, but in Wild Rift, it has been switched to the available passive.
Karma's intrinsic is the Mantra. She gains 1 stack of Mantras after each cast, and 3 stacks will enhance her next ability. This change helps keep Karma's ability enhancement characteristics intact while ensuring it's not a "meaningless button".
When using the ability, Specialized Mind will automatically create a connection with up to 2 nearby enemy champions and if they do not get out of the skill range in time, they will be rooted for a short time. When enhanced, another link will be created and force these two enemies to separate. If the connecting wires are not severed in time, their feet will be tied to the ground deeper than the roots of the Dream Tree.
"Being able to tie up two enemies is a small upgrade that makes the skill even better," explains wei2troll. "It is different from the PC version because when testing, it feels quite difficult to use 2 joysticks to select the target you want to connect. At the same time, players will have more options to use skills because tying two enemy champions at the same time creates interesting situations."
"This is a great example of keeping the champion's image intact, while also making tweaks to make the mobile experience better," said Product Manager of Champion Design – Maddy "Riot" Madz" Wojdak shared. "Karma's second skill will still feel the same, but it needs a little adjustment to match the two-arm control system on the phone."
Using the ultimate must give a cool feeling. That's when all the skills of the champion are shown and bring a sense of connection with the rest of the skills. It allows gamers to perform powerful combos, changing the course of the whole fight and sometimes the whole match. Karma's ult has always been able to tie up her other skills and give her a multitude of options to fight and turn fights.
Karma's old ult when combined with the passive will be suitable for the long-term, mind-boggling gameplay of PC League of Legends; while Wild Rift is faster paced and shorter. Since her ability enhancement has been returned to her passive, Karma needs a whole new ultimate to give players a chance to enjoy her "shining moments" while controlling her in teamfights.
"We tested countless variations on Karma's ultimate. There was a time when I thought about using the enemy's own strength against them. The first version I tried had the ability to purify the entire team, something that no mages currently possess. The ultimate will purge your entire team and then transform into a damage wave to shoot back at enemies," shared wei2troll.
With all of the above (plus loads of other stuff like models, animations, sound/visual effects…), Karma is ready to step in and rock the Wild Rift world! Hopefully this new battle system will bring a little harmony to the life and win rate of gamers.
General introduction clip Karma. (Source: Channel YouTube League of Legends: Wild Rift)
* Reference: https://wildrift.leagueoflegends.com
You are reading the article
The story of female general Karma from PC to Wild Rift-Information Technology

at
Blogtuan.info
– Source:
24h.com.vn
– Read the original article
here