Giải trí
"Tran Thanh died of Covid", 4 artists "in trouble" a month
A few hours ago, Tran Thanh Immediately posted on his personal page a story about the problem of fake news, in particular information related to "Tran Thanh died of Covid-19". Angry male artist: "I don't understand, what do they get when they post made-up information about someone? Money? Attention? Or just for fun? Am I really satisfied with what I do?
I think the time has come for us to have very specific and strict laws that govern how people use social media. Currently, real and fake information is mixed. Anyone can post whatever they want. No need to verify, no matter true or false. Didn't even think about the consequences other people would have after what I posted.
Those who spread false information like this are not handled strictly, society will be even more chaotic. I hope to see stricter regulations for social media users soon. And also expects everyone to be smart and civilized readers and users of social networks. Verify all the information you receive before you believe it."
Tran Thanh was angry when he received the fake news "died of Covid".
However, in the comments column, there are still many viewers who show a lack of charm. In particular, one viewer joked: "Sooner or later, it's too early to leave because of covid". Prior to this comment, Tran Thanh immediately replied: "You think it's cool to talk like that?" It can be seen that the actor is furious with the jokes and lack of charm of some of the netizens.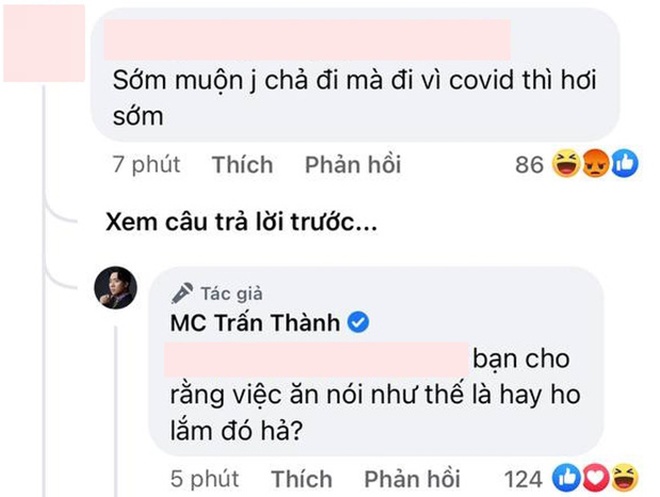 The comedian responded when he was "cheated" by netizens.
Before that, many Vbiz artists were victims of the problem of fake news, even in the last 1 month, up to 4 people fell into this "cry shit" scene. Before Tran Thanh, on March 11, singer Quach Tuan Du also caused a stir when he revealed false information that he died of a stroke.
"Oh so Quach Mister Du is dead so am I a ghost? The MV just came out and I'm happy because the views increased a lot before I couldn't be happy but rumors that I'm dead. Oh how can this be done, everyone, who hates artists so much , in this channel many artists died." Quach Mister Du was angry.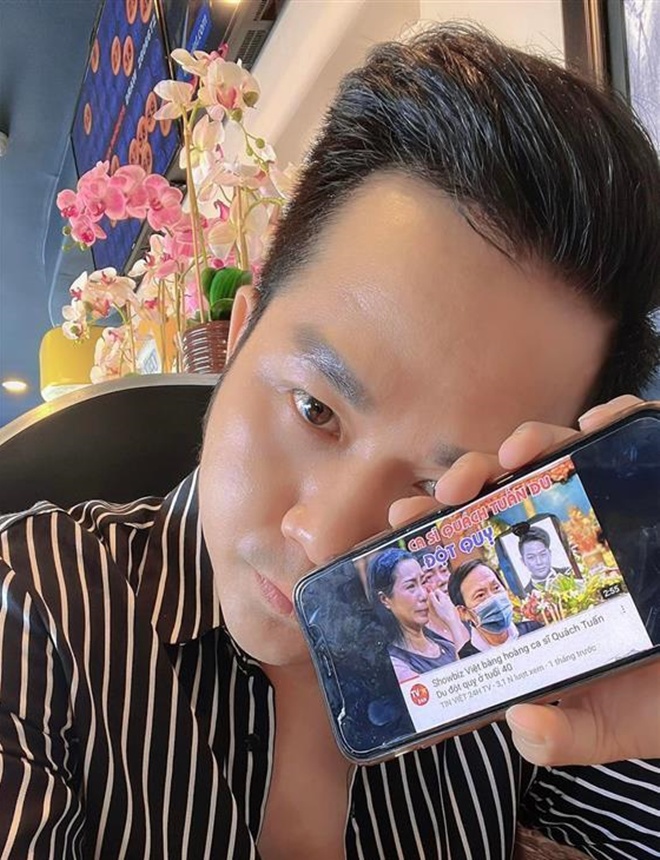 Quach Tuan Du was also caught up in the fake news that he died of a stroke.
On March 10, actor Duy Khanh was also in a similar situation when the Youtube channel reported his death with the caption: "Actor Duy Khanh suddenly dies at the age of 27 due to heart disease". The male artist took a selfie with the phone screen displaying fake news, along with an urgent status line: "Is it bad for you to do that to me?"
It is worth mentioning, Duy Khanh has a history of heart disease. It is known that at the end of 12th grade, Duy Khanh was diagnosed by doctors with a bone inserted into his heart and had to undergo emergency surgery. His health gradually recovered but had to live with a 30.5cm long iron rod on his chest. The actor could barely work hard, if he tried to force himself, he would faint. In late 2021, Duy Khanh underwent surgery to remove the iron rod from his chest and the actor's health is now much more stable.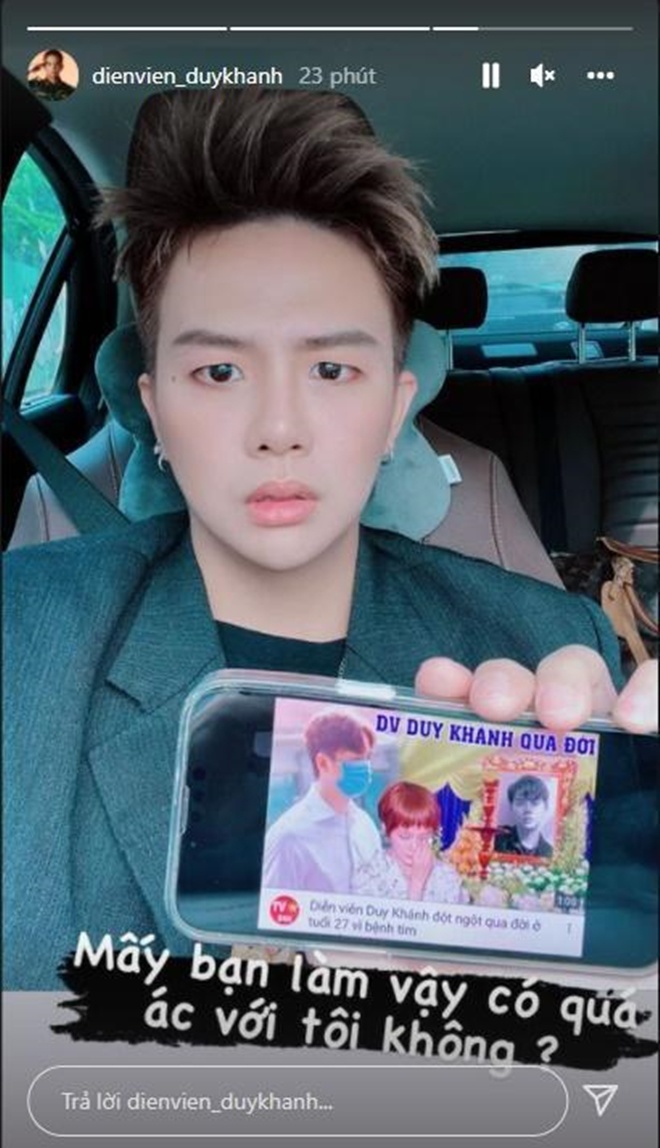 Duy Khanh posted a photo with an emergency status: "Is it bad for you to do this to me?".
Or at the end of February 2022, artist Chi Trung also fell into a fake news situation due to a stroke and was hospitalized in critical condition. Even those who spread fake news choose the image of a male artist lying in a hospital bed, in order to attract the attention of netizens. The defiant actions of the person behind made Chi Trung couldn't help but get hurt. The male artist wrote on his personal page: "Admit a lot of free people."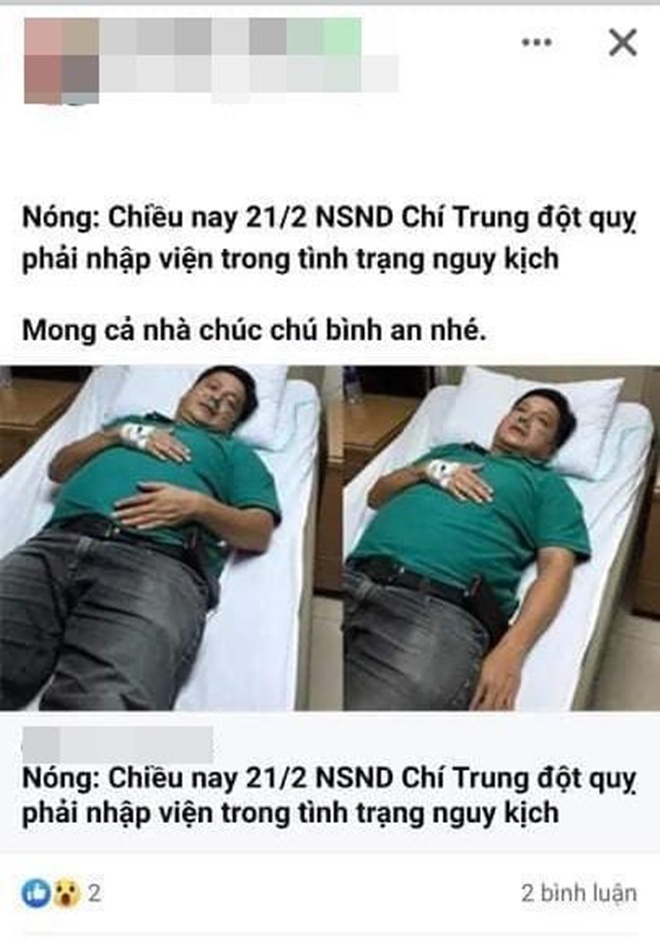 Artist Chi Trung also fell into a fake news situation due to a stroke.
Worth mentioning, this is not the first time Chi Trung is rumored to be bullshit. In December 2021, social networks were also flooded with information that the male artist had serious health problems, fell into a serious and critical condition. At that time, the male artist also posted the correction on his personal page. Affirming to be healthy, Chi Trung also scolded those who spread fake news as "poisonous".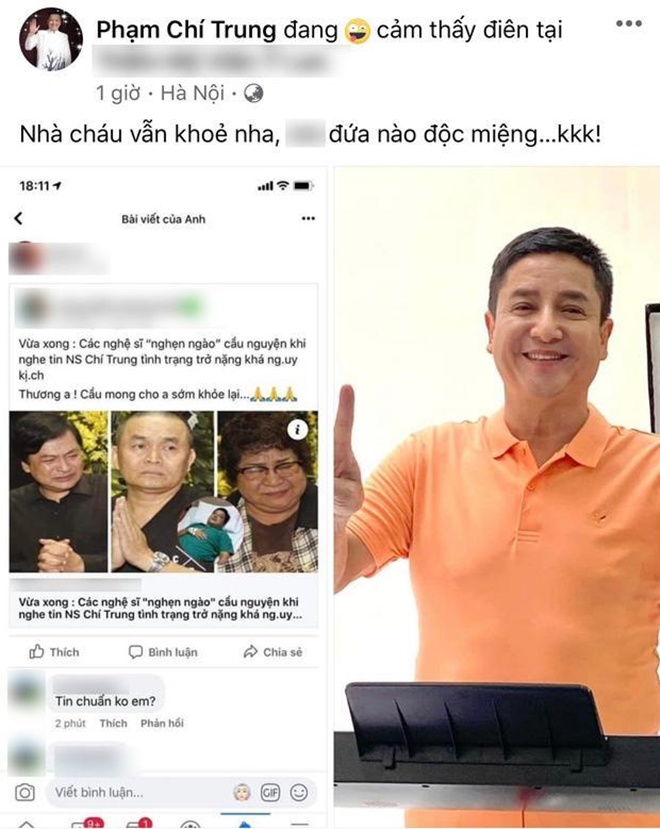 Chi Trung once faced an ironic situation.
You are reading the article
"Tran Thanh died of Covid", 4 artists "in trouble" a month
at Blogtuan.info – Source: Eva.vn – Read the original article here