Tech
A video in China also shocked the public about what the world has considered normal, behind revealing the extraordinary number of human resources for the Zero Covid strategy.
The third collapse eventually resulted in Gao Ying being hospitalized. As a public health worker, she has helped her home city of Hangzhou fight a surge in Covid-19 cases.
For two weeks in a row, Gao Ying did not have time to lay down on the bed to rest. She was exhausted. However, she still held a meeting to discuss local epidemic control measures on March 18. That's when she collapsed for the third time in the elevator and hit her head against the wall. The video was recorded by the elevator camera and shared on social networks.
Gao Ying has worked tirelessly to deal with an outbreak that most other countries now consider normal. The city of Hangzhou with a population of 12 million recorded just 54 symptomatic Covid-19 cases in the two weeks until March 18.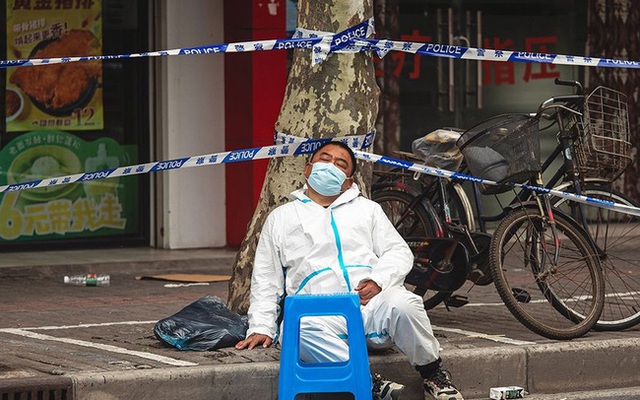 In total, China had about 27,000 new cases of symptoms in March, less than the number recorded in the US during the same time period. However, this is China's largest outbreak since the early days of fighting the epidemic.
This situation makes China's Zero Covid policy even more stressful. This strategy is aimed at eradicating the virus through mass testing, mass tracing, and strict lockdowns. Efforts would require millions of medical personnel like Gao Ying.
Technology such as tracking software helps to some extent in the fight against the epidemic. But much of the work still involves files, phones, and barricades. Some 110,000 neighborhood committees play an important role in maintaining order. Each committee has between 5-9 members and many volunteers. Currently, their job is to track residents, implement lockdowns and test.
For example, a member of a neighborhood committee might ask someone from another city to get tested or quarantine at home for a few days. During the blockade days, they will control who comes and goes. In addition, 7.7 million security guards and food delivery people are also very important during this time.
Smaller cities with about 5 million inhabitants or less can test the entire city in as little as two days. That takes a lot of house-to-house committee members or volunteers helping people get in line to get samples.
Tracing is a particularly laborious task. In Shanghai alone, 3,000 employees are involved in this work. Most of them are public health workers. During a pandemic, they are available 24/7.
Some expressed exhaustion: "During a week of continuous battle with the virus, people stayed up many nights, pushing the body's endurance to the limit. So please can everyone be patient and cooperative when receiving the call".
If one gets bored with country tracing, it's probably because there are too many subjects to track and they don't always cooperate. A person can receive calls from many different units: work place, residence, recently visited places. Police, neighborhood committees and businesses also work on the phone to check people's whereabouts. Scammers are taking advantage of this situation to commit bad behavior.
Before the pandemic, the neighborhood committee did not have much power. However, they can now ask people to stay for weeks at a time. Invasion of privacy is also common now. Cameras are installed outside the houses to ensure everyone adheres to the quarantine.
However, some abuses have angered the Chinese people. Medical workers in Xi'an beat a young man when he broke the blockade to buy a meal of vermicelli. Local officials in some provinces and cities have killed the dogs and cats of people with Covid because of fears they could spread the virus.
But the majority of Chinese people support the Zero Covid policy. For many, the low number of cases and deaths is testament to this strategy. They sympathize with those who do anti-epidemic work.
Gao's collapsing video attracted a lot of attention. One person commented: "This is the third year of the epidemic. Can't we find a way to slowly reduce the burden on the front lines against the epidemic?"
The Omicron variant is highly contagious, making epidemic prevention difficult. Provinces tend to share personnel with each other, depending on where the outbreak is located. But Omiron is spreading across the country and the staff is limited. Doctors revealed that the Zero Covid policy will have changes and the most stringent measures will be lifted.
For now, however, Chinese politicians are just adjusting their strategy. President Xi Jinping has emphasized that "from start to finish", people's lives must come first.
Refer to The Economist
You are reading the article
A video in China also shocked the public about what the world has considered normal, behind revealing the extraordinary number of human resources for the Zero Covid strategy.

at
Blogtuan.info
– Source:
genk.vn
– Read the original article
here