People's travel costs increased significantly when the price of gasoline nearly touched 30,000 VND/liter after many consecutive price increases from the end of 2021. Not expecting fuel prices to fall again soon, consumers tend to switch switch to using electric motorbikes and electric bicycles, helping this product get out of the slump that has lasted for many years.
Vibrant market
In Ho Chi Minh City, we have recorded a large number of electric motorbike and electric bicycle shops, providing a wide range of products at all prices, from around 10 million VND to nearly 100 million VND/piece. Buyers can easily choose a car that suits their budget and needs to go to work, school, to the market, to pick up their children…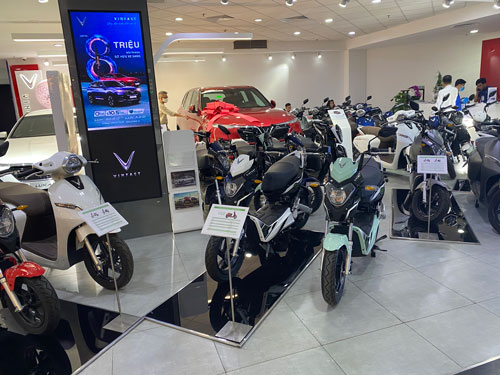 Current electric motorcycle models have a variety of prices, consumers can easily choose
"E-bikes are available at any price. People with ample financial resources should choose mid-range or higher electric motorbikes, and those with little money can choose low-priced electric bicycles or electric motorbikes. Previously, my shop had to be frequented. At a discount, we hope to sell electric cars, but now customers pay more attention to vehicle quality, warranty and maintenance. E-bike products are very expensive because many parents buy them for their children to go to school." – Mr. Nghiem Thanh Hoa – owner of an electric car shop in District 5, Ho Chi Minh City – said.
According to Ms. Le Xuan My, owner of Hoan Xuan electric motorbike shop (District 10, Ho Chi Minh City), in the past, electric vehicles were only interested in the back-to-school season, but on weekdays, very few visitors came to visit and buy. shop. However, in recent months, due to high gasoline prices, the number of customers buying electric motorbikes and electric bicycles has increased significantly.
Mr. Nguyen Ba Canh Son, founder and CEO of electric motorbike company Dat Bike Vietnam, acknowledged that the steep increase in gasoline prices has helped make the electric vehicle market more exciting. Consumption of electric motorcycles of this company in the first 3 months of 2022 increased 20 times compared to the same period 2 years ago. Many times when there is a shortage of supply, customers have to make a deposit in advance and wait for the next car to be delivered.
Meanwhile, a representative of the bicycle company Martin 107 also confirmed recently, the company's consumption of electric bicycle models has grown strongly.
Investment Acceleration
In order to meet market demand, Dat Bike Vietnam has just invested in a factory in Ho Chi Minh City with a capacity of 1,500 bikes/month. Before that, a factory of this company located in Binh Duong was put into operation with a capacity of 1,000 vehicles/month.
Many major car manufacturers are no longer determined to keep their market share of motorbikes but have started implementing the strategy of bringing electric motorbikes to the market to increase choices for customers. In mid-March 2022, Yamaha Motor Vietnam officially produced and assembled Yamaha Neo'S electric motorcycles at its factory in Hanoi with a capacity of 50 vehicles/day. This electric motorcycle model has a speed of 50 km / h, uses a 19.2 Ah battery, can operate 70 km after each full charge. According to the plan, in the first year, the company will produce about 10,000 vehicles and sell to many countries before it plans to sell in the Vietnamese market.
Owning the PCX Electric motorcycle line, Honda Vietnam has a program for dealers to rent electric vehicles to serve a number of professional activities. In addition, the company has provided 180 PCX Electric electric motorcycles to the National Traffic Safety Committee and the University of Traffic Technology for research purposes. With the Honda Benly electric motorbike, this company provides 70 units to Vietnam Post Corporation to serve as a pilot project using electric delivery vehicles and provide a battery exchange model. The above moves are to prepare for the roadmap to bring Honda-branded electric motorcycles to the domestic market.
Vietnamese car company VinFast has reported that the consumption of electric motorbikes has increased significantly in recent times. To continue to encourage consumers to use electric motorbikes, VinFast is offering a preferential program for customers to buy electric motorbikes on installment payments with 0% interest. Currently, VinFast has nearly a dozen electric motorbike models with a fairly wide price range, from VND 12.9 million to VND 60 million / unit. The company's new models can travel 70-120 km for each fully charged battery, at a speed of 50-90 km/h.
Meanwhile, the electric car market also shows signs of heating up when many companies decide to participate. In Vietnam, in addition to imported electric cars, domestic electric car models of Vietnamese car company VinFast also meet the needs of many objects.
Gasoline-saving motorbikes are interested
Information from motorbike shops in Ho Chi Minh City shows that due to the high price of gasoline, car buyers are now interested in models with energy-saving features, such as models equipped with technology that automatically turns off the engine when the engine is turned off. Stop waiting for a red light or when the vehicle driver needs to stop. Notably, although the engine is temporarily off, when moving forward, the user only needs to act on the throttle without restarting the engine.
In addition, another gas-saving vehicle is a hybrid motorcycle with the help of a battery and an electric motor to increase power when starting or climbing a hill.

You are reading the article
Gasoline prices soar, electric cars are expensive

at
Blogtuan.info
– Source:
autopro.com.vn
– Read the original article
here